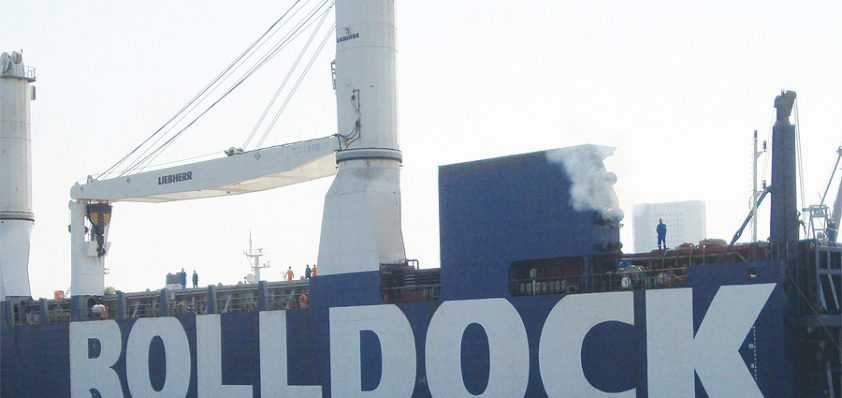 On a roll
Flexible, intelligent and creative, RollDock is a newly formed Dutch heavy lift shipping company, and its formation marks the creation of an ambitious and powerful player in the field of sea transportation of heavy and voluminous cargoes.
Supported by a management possessing extensive experience in the industry, RollDock is able to provide clients with valuable knowledge and an insight into the intricacies of the transport of heavy and voluminous project cargoes by sea. The company has two owners, each with an equal share, and was established in December 2006. Frans van Seumeren, ex owner and CEO of Mammoet, is the chairman and major shareholder.


The organisation's fleet currently under construction consists of identical multifunctional heavy transport vessels, providing considerable flexibility in their nomination. This makes it capable of developing innovative solutions to suit a wide variety of circumstances, and putting RollDock in a position to meet the constantly changing requirements of today's heavy lift shipping. Consequently, RollDock is able to respond to client demand, wherever the loading and/or discharging location of the cargo may be, without having to undergo re-engineering. Once delivered, the vessels will be able to achieve a service speed of 18 knots when fully loaded.
Wout van der Zwan, managing director of the business, expands on RollDock's client base and the new vessels on order: "We have eight new build vessels ordered with one of the biggest contractors in India called Larsen & Toubro, to whom shipbuilding is new. In fact, our first vessel, mv. RollDock Sun, is the first commercial vessel it will have built. We work closely together and have a supervisory team in India. We deal with many customers and we have already booked cargo for next year as well as for 2011 and we expect the first vessel to be operational during the second half of December 2009.
"Our clients are, in general, oil companies, the various engineering houses and the power industry, he continues. "Alongside these sectors we also serve the Navy, dredging companies and crane manufacturers amongst others – there's a wide range of customers as we operate on the international market. The key to maintaining long-term relationships is providing a good service for a reasonable price. That's why we have set up our organisation even before our vessels sail – in heavy lift, you cannot tender without a transport engineering background, and so we made sure we had that in place."
Discussing how RollDock will be able to continue standing out in a competitive market, Wout says: "In competing against other heavy lift shipping companies in Europe, the specification of our vessels helps us stand out because we can load in three different ways; we can load up to 700 tonnes when our two heavy lift cranes work in tandem, we can roll cargo weighing up to 4000 tonnes on and off via our ro-ro ramp, which is adjustable in height to cope with various quay heights, and we can submerge the vessel to float cargo into and out of the hold.
"If you look at developments over the past decade, there are less dock vessels and heavy lift ro-ro vessels available. The last two dock express vessels, which are very old, have been sold to China and the remaining types of dock vessels, like the Enterprise and Explorer, are also old. So, there are not many multi-purpose dock vessels around anymore and by building those we're placing ourselves in a good market position."
Continuing, Wout speaks about further vessels that RollDock will commission and the way in which the business has been established over the past three years: "We have the basic design ready for DP2 classed semi-submersible open wide-deck vessels and we are negotiating with a number of yards around the world, however we have not ordered these yet.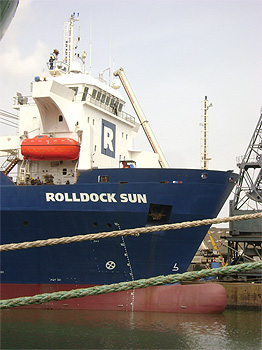 "When we established RollDock, our first task was to set up various internal departments. In heavy lifting the engineering department is important, so we have our own in-house department, staffed by very experienced engineers. It finds solutions to complex questions and our task starts with pre-engineering, which involves estimating how the cargo will fit onto the vessels with respect to geometry, weight, centre of gravity and internal strength. We discuss with the client how the load should be transported from one part of the world to another."
Once the order is confirmed the department then works out the details and sees where and how it can optimise the operation. In this way, a stowage plan and proposal for the lashing is created and presented to the principal. Working plans are prepared and the associated calculations are made, taking into account the loading and discharge procedures, the stowage, lashing, and all nautical aspects en route. "We have a commercial division, which contacts clients and answers price enquires,"
Wout continues. "Our sales and operations department is responsible for the booking of cargo, keeping watch over the entire operation and continuously re-chartering the course to be taken with regard to commercial, technical and operational questions. It keeps in contact with clients in the heavy lift market and anticipates the specific wishes of different principals, which allows the implementation and delivery of a smooth and efficient service for each individual transport project.
"The fleet management department is responsible for the technical condition, class requirements and ISM compliance of our fleet, the daily activities of the crew on board, as well as the technical aspects of new vessels currently being built. Acting as intermediary between crew, management and principal, the department anticipates unforeseen circumstances during operations and communicates with the vessels' crew to work on a suitable solution. It takes care of the new building and later on it will handle repairs and maintenance of the vessels. Besides that, we have set up our agency network worldwide and we have our own offices in Houston, the US, and Italy. Our commercial agents operate internationally."
While RollDock has enjoyed success since forming in 2006, the timing of its launch has not been ideal due to the financial crisis that hit the world's markets in 2008. It is testament to the company's intelligence and ability to fill a niche in the sea transportation market that the past three years have seen the new business achieve a promising start. Wout is cautious about the coming two-year period, whilst being extremely optimistic in terms of RollDock's long-term potential. "Nobody can escape from the effects of the economic crisis and, as far as we can see, 2010 and perhaps the first half of 2011 could be weak for us. We see light at the end of the tunnel however, because in the latter half of 2011 the market will be more favourable.
"Historically, the heavy lift transportation market is about one and a half years behind the bulk and container markets – but with less extreme fluctuations. There are several reasons why we operate in a more steady market. In heavy lifting there are long lead times, for example, we booked the project that we're completing next year for ExxonMobil 18 months ago. Also, in heavy lift there is no speculation – in the bulk market there was a period when China was buying iron ore from everywhere in order to put the steel price under pressure. When someone is building a refinery, there is only one and not two – so there's no speculation in heavy lifting. The entrance barrier to go into heavy lifting is much higher than to enter other ship markets, such as container, because it is specialised work. You need a lot of in-house knowledge and a high investment to build vessels. The outlay is high before you can earn a penny so you need strong investors behind you."
Reflecting on RollDock's qualities in respect of this, and revealing the business' aims for the coming years, Wout notes: "We are a privately owned company with strong financial backers, so we are optimistic about our future, despite knowing the next two years will not be our most fruitful. We have a long-term vision and the demand is there. In five years we hope to own and operate at least eight vessels and the end goal is to become a leading player in worldwide heavy lift transportation."
Everything is in place for RollDock to achieve this aim, considering it has brought together the experience that makes it possible for the organisation to distinguish itself as an expert – thanks in large part to its highly skilled team of master mariners, engineers, fleet and QHSE management. Its approach demonstrates that the needs of the client will always come first, in balance with the interests of the community with regards to health, safety and the environment.
RollDock Shipping BV
Services: Heavy lift shipping