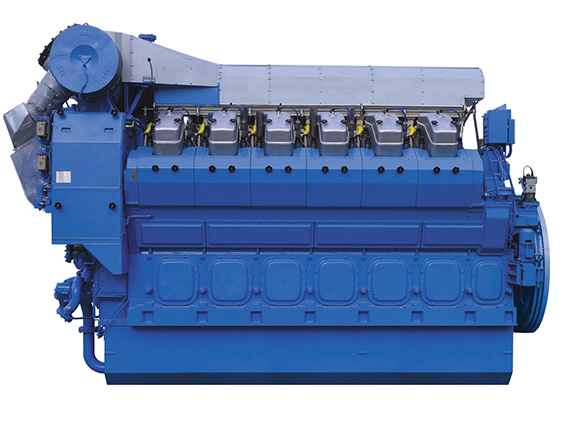 On a roll
Working across the offshore, commercial and naval markets of the marine sector, Rolls-Royce Marine has become adept at providing design, development, supply and support of products and systems for customers around the world.
The company's equipment is present on 30,000 vessels, which represents approximately 30 per cent of the world's fleet. This is further complemented by a network of additional support offices in 34 countries.
As well as being globally renowned, the organisation boasts a long lineage and can trace its roots in the marine industry back to 1849. More recently, Rolls Royce purchased Vickers Marine in 1999, which meant acquiring products and equipment in Sweden and Finland. In that year, the company also acquired Ulstein Group in Norway. This added a new propulsion department, to its facilities, as well as an engine manufacturer in Bergen and a steering gears and ship design equipment facility.
For 11 years, Rolls-Royce has been adding compatibilities to the existing platforms, and has acquired the former Scandinavian Electrical Systems, now called Power Electric Systems, and the ODIM Group. The whole philosophy for Rolls-Royce Marine is based on system capabilities – not only having the ship design for offshore vessels but filling those designs with high-end, modern equipment.
This had made the company into a one-stop-shop, and yards rely on this interface as it removes the confusion when many different manufacturers have to communicate during commissioning and construction at yards. Rolls-Royce Marine's intention is simply to be a total system provider and, with its scope of design applications, it is able to provide its products to a range of platform supply vessels and anchor handling tug supply vessels. It also has vessel designs for coastguards and seismic, drilling and fishing ships.
The company is an unrivalled system provider in its industry and its capabilities are unparalleled, due to its high levels of automation control. Every kind of product, whether its engines, propulsion units or deck machinery, has a common control platform. This means that the communication between the different products is the same, and therefore is unique in the industry.
Rolls-Royce has managed to create a product portfolio that allows it to work with all of its acquired companies as one family. It is also one of the world's leading companies in terms of re-investing a high proportion – between five and ten per cent – of its turnover into R&D. Such a strong focus on R&D has enabled Rolls-Royce Marine to become the pioneer of many important marine technologies, including aero derivative marine gas turbines, controllable pitch propellers and waterjets.
Environmental issues are actively considered within Rolls-Royce Marine, after the success of its second-generation marine gas engines. These doubled piped gas supply, allowing for the configuring of the gas engines in a similar way to conventional heavy fuel oil. This resulted in a high level of safety and, if there is any leakage, the engine will shut down and there will be redundant power to manoeuvre the vessels.
In Bergen, the company has the first second-generation marine gas engines at its test centre at the moment, to be launched onto the market at the end of 2010. Nobody else in the market is producing medium speed gas engines at all, where as Rolls-Royce is working to continuously lower emissions. It is highly focused on reducing the amount of unburnt hydrocarbons coming out of exhausts and wants to be a trendsetter in this area of its operations.
When it comes to the environment, the organisation has achieved a lot with hull optimisation. Compared to offshore vessels ten years ago, today's designs at Rolls-Royce Marine have a substantial 30 per cent reduction in fuel. There is also different propulsion equipment being utilised, which lowers the power demand making it 16 per cent more efficient than conventional propulsion systems. In addition to the gas engine, the propulsion system and the hull efficiency, the company can make a significant contribution to reducing its carbon footprint.
The business' extensive product base and proven experience in ship design and systems integration enables Rolls-Royce Marine to bring the right products together to develop systems that always meet performance requirements. In the future, safeguarding the environment will feature highly in its endeavours, as will protecting oil and gas industry workers.
By analysing the market throughout recent times, Rolls-Royce Marine expects a promising few years ahead. A year-on-year growth is widely predicted, with the business progressing in a direction that gives more credence to the environment, protection and dependability. The recent accident and oil spillage in the Gulf of Mexico will prompt new standards for what's allowed, and what's not allowed, so the key words in the years to come for Rolls-Royce Marine and many others in its field are likely to be safety and reliability.
Rolls-Royce Marine AS
Products: Marine engines and turbines