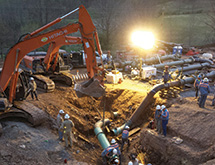 Ronald Lane Inc.'s business value system is the same as its family value system. They believe in honesty, respect and doing the job right. RLI began in 1979. Today, President Ronald Lane manages his pipeline company with the help of more than a dozen family members. This family management team has more than 200 years combined experience in the pipeline industry. They know what is needed to get a job done, and they have the experience to back it up.
Lane thinks maintaining efficiency will keep the business healthy for the next generation of family members. "Efficiency is the key," he insists. "In 36 years, we've learned how we need to approach these jobs. We pick our times to do the worst part of that job and watch weather conditions. There's a lot of factors in how you go about a job. We see a lot of our competition making what we think are big mistakes.
"We're all about quality, not quantity," Lane says. "I refuse to build a company faster than we can keep the quality. For the first 30 years, the pipeline industry was up and down. The last six years have been especially good for us. Some of these companies are finally realizing you get what you pay for, and we believe in giving them a good product and having satisfied landowners. Landowners are our best advertising; we've got a good reputation."
RLI specializes in steep slope pipeline construction. They pay careful attention to weather conditions, knowing that it makes a difference in daily operations. They do things differently than other contractors. They pride themselves in being environmentally friendly and appreciated by landowners. They believe in cross-training their employees for efficiency. Safety is always of the utmost importance, also.
Steep Slope Experience
Operating bulldozers on the steep slopes of the Appalachian Mountains to bury pipelines in the rocky red clay of West Virginia is a special skill that Ronald Lane Inc. has developed over its 36-year history. "You get in West Virginia – what some people call pipeline hell – we call it pipeline heaven," President Ronald Lane declares.
It's heaven because working there is one of Ronald Lane Inc.'s competitive advantages. "The average pipeline contractor lays pipe, welds it together in strings and then they'll take equipment and they lift it into the ditch," Lane explains. "What we do differently is we lay our pipe one joint at a time in the ditch. That allows us to use smaller equipment, and keep our cleanup close behind."
Lane points out that it is easier to hold a 40,000-pound excavator on a 35 to 40-degree slope than a 100,000-pound one. "The less equipment and less people we have on a steep hill, the less chance of error or somebody getting hurt," Lane notes. "We've never had a fatality in our company." On steep slopes, Ronald Lane Inc.'s operators and their equipment are secured by winch lines for safety. Lane says the ditch tends to be 25 percent rock with a heavy concentration of red clay, which can turn slippery in adverse weather conditions.
"For five months out of the year, you've got changing weather conditions all the time, and that impacts the ability to lay pipelines here," Lane remarks. "You can have five days below 25 degrees and the ground freezes hard, and all of a sudden, there's sunshine and 45 or 50 degrees. That makes two inches of red clay grease on top of frozen ground. It's a recipe for an accident." RLI has always made safety a top priority. They started requiring drug testing in 1988, long before it was an industry standard. "We want our employees to return to their families safe every day."
Less Is More
The advantage of Ronald Lane Inc.'s techniques of using fewer workers and less equipment is that the pipeline ditches are backfilled and cleaned up quickly so the environment and landowners benefit.
"It's environmentally the best and safest way to do it," Lane asserts. "It's also the most cost-effective way to do it. We've had companies that kept our man-hours on a job, and compared to other contractors, I was told our average man-hours on a job are about half our closest competition, and the average is 2.5 times our man-hours on a job. We run a pretty tight ship with just enough qualified people and the right equipment to get it done."
Fewer pieces of equipment also means local roads are tied up less when they have to be moved.
"In West Virginia, you've got all these small roads," Lane points out. "When moving equipment, you impact the local traffic. Our equipment is on the right-of-way. It's not being moved around excessively compared to larger contractors. They're always moving equipment.
"We don't do it like that. Our equipment starts on one end of the job and works through the right-of-way with our cleanup operations normally very close behind."
Cross-Training Crews
Cross-training crew members allows Ronald Lane Inc. to keep its crews smaller. "Our pipeliners are qualified to do many tasks," Lane says. "Our guys might build fences one day and scatter mulch the next day or wrap welds. That's one reason we are able to do these jobs with less people – if somebody is off, we can fill in for them. That gives us a big advantage."
The crews of 11 or 12 people are organized into what Lane describes as an assembly line. "If one crew gets ahead of the other one, we make adjustments daily," he explains. "We have a foreman's meeting every morning and make adjustment to crews. If one crew is behind, we'll add a few people to that crew. If another crew is getting ahead, we'll pull people off."
The company has retained employees for long-term employment that it selects from those hired on a per-project basis. "We've got probably 75 employees that are as good as you'll find in this industry," Lane says. "As we hire help as needed, we evaluate them to see if they are going to be the kind of person we want as a permanent employee. We focus on the best and we try to get them to stay with us and make a career out of it. We carry our people through slow times. We attract better people by keeping them busy."
Environmentally friendly
To avoid pipeline slips – large mudslides that expose pipes on steep slopes – Ronald Lane Inc. installs perforated plastic pipe to drain a water vein when one is detected in a pipeline ditch. "We've had an exceptionally wet spring, and the thing about red clay is it slides easy," Lane says. "We've had very few slips in our pipelines, and the slips we've had have usually been because of an existing condition from the right-of-way."
RLI has developed a technique of making horizontal directional drilling (HDD) bores without the use of bentonite or chemicals used by almost every other HDD contractor. This process eliminates West Virginia Department of Environmental Protection notice of violations for frac-outs in streams.
One of the reasons for Ronald Lane Inc.'s success is its respect for deadlines. "When we look at a job, if we can't make that deadline, we don't bid on it," Lane emphasizes. "In 36 years, we have always focused on deadlines. We usually make them early." RLI also builds compressor stations and performs various fabrication services. "Steel pipelines six inches to 30 inches in diameter, however, are our niche and our main focus," Lane concludes.