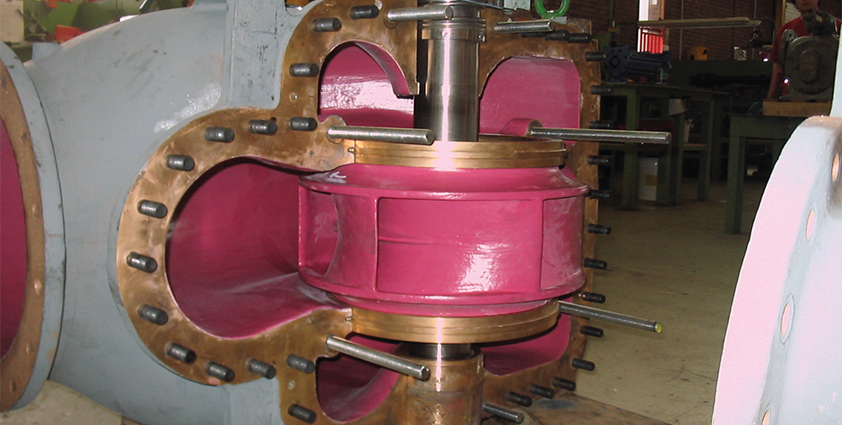 Roodhart Emission Control BV
Leaving it to the experts
As part of the wider Roodhart Group, Roodhart Emission Control is a leading provider of innovative products and services, specialised in satisfying its customers' needs in relation to all manner of rotating equipment.
Offering a wide portfolio of services, the company boasts oil, gas and hydrocarbon processing companies, contractors and operators of power generation plants and entities within the water treatment, distribution and metals sectors amongst its many valued clients.
Specialising in the reconditioning of all types of pumps, Roodhart Emission Control's engineers work in close co-operation with the client to implement innovative solutions that contribute to the overall improvement of operational processes.
"The majority of the company's activities take place in and around the Rotterdam harbour area where 90 per cent of the country's heavy industry infrastructure is located," states John de Roode, owner and general manager of Roodhart Emission Control. "Throughout its various divisions, Roodhart prides itself on its Rotterdam mentality. This 'can do' attitude, combined with a high level of flexibility, allows it to meet its clients' demands on a constant basis. Furthermore, the level of expertise within the company is such that it can help and guide its clients in all their rotating needs."
The company's core activities fall into the categories of sales, coatings and reconditioning works. The three core products at the heart of its sales operation are pumps, mechanical seals and valves. Together with the newest division of the Roodhart Group, the Roodhart Pump Group, the company represents an extensive range of pump manufacturers and is able to provide solutions for all fluid transfer applications.
As well as selling a variety of mechanical seals on behalf of Fluiten Nederlands, Roodhart Emission Control is the official distributor of the complete range of Hartmann Valves in The Netherlands. Hartmann is well known for its professional valves and wellhead equipment that it provides to the gas industry, chemical applications and power plants. Each and every valve in its wide range has been specially designed to meet and exceed its customers' strict product requirements and needs.
What makes Roodhart Emission Control stand out from many other pump businesses is that it is not only an expert seller of pumps, seals and valves, it also specialises in the reconditioning of these same items. As a result of its vast experience of working within the oil and gas sector the company has gained unrivalled knowledge of different pump types and as it is not manufacturer dependent, it can take care of any brand of pump in any size or type presently available on the market.
In partnership with another of Roodhart Group's divisions, Roodhart Sealing Services, the company can supply many spare and upgrade parts for existing mechanical seals at a fraction of the cost that will be charged by the original equipment manufacturer. From its refurbishment facility in Rotterdam, where the company has invested in the most up-to-date equipment to ensure the best possible repair service is consistently delivered, it can also make upgrade recommendations and, in most cases, increase the overall mean time between seal change outs.
Similarly, Roodhart Emission Control boasts full facilities to overhaul and refurbish all types of valves in all material configurations including gate valves, parallel slide valves and globe valves. By paying the greatest degree of attention to detail the company ensures its customers that the valve it has returned is not only guaranteed to be fully operational, but also that it has been tested on site to the manufacturer's complete specifications. Offering a full spare parts inventory that includes stainless steel balls, PTFE seats, PTFE steam seals, body gaskets and complete repair kits, the company also has facilities equipped for plasma spraying of worn and damaged parts to further offer the most cost effective repairs possible.
Using polymers, the company provides coating services for fluid handling equipment that helps protect equipment and structures from the damage caused by corrosion, chemical attacks, severe abrasion, erosion and metal fatigue. A fully authorised Thistlebond product distributor, many companies are able to supply polymer coatings, but few are as competent as Roodhart Emission Control in the application of these products, be it from its workshops or on-site at an end user's facility.
Just one example of the company's extensive history of work in the oil and gas industry is its supply of pumps to Statoil's Asgard B platform. Here the company has supplied two complete GTO API 610 pilot tube pump units. This project also includes the installation of sealing systems for the platform's CO2 removal project. This particular pilot tube design is recognised as the perfect solution for high-pressure applications that demand variable flows while at the same time maintaining stable operating conditions.
"The past year has also seen the unveiling of the company's new IECEx zone "0" pump," John continues. "As well as developing this particular pump in order to meet specific market demands, Roodhart Emission Control's workshop has also recently been IECEx certified to carry out revisions and repairs on rotating equipment in dangerous environments.
"At present the company is in the process of constructing a pump test facility where it will offer testing of pump equipment in accordance with ISO 9906 Class 1 standards. Once complete, the facility will be equipped to handle a maximum pressure of 150 bar and will be able to perform tests up to 1000 cubic metres per hour."
Such large-scale projects encapsulate the company's desire to turn its focus towards securing new business opportunities with Statoil and other major players in the industry: "Roodhart Emission Control is a solid and sound company capable of facing any challenges the future may bring," John explains. "Its offshore exploits are looking increasingly promising and with the assistance of its Norwegian partners PSSI A/S it will continue to look at expanding into this difficult market.
"Roodhart believes that future development and co-operation within the industry will not purely be driven by costs, rather that more emphasis will be placed on establishing and maintaining long-term relationships built on mutual respect. Of course the overall level of service provided by all companies must remain at the highest possible standards, however these are the key factors that arguably will drive the industry forward for the foreseeable future."
Roodhart Emission Control BV
Services: Pump manufacturing and distribution