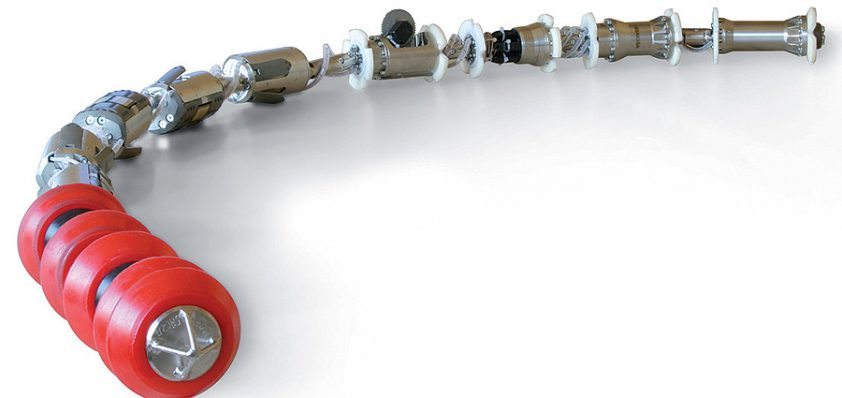 Inspection perfection
Pipelines – no matter what they transport – must have clean inner surfaces and be in good operating condition to work efficiently and cost-effectively.
Moreover, a clean pipeline is a precondition for high-quality inline inspection results.
As an expert in both pipeline cleaning and inspection, the ROSEN Group has provided innovative solutions to the industry since 1980. Active in more than 80 countries around the world, the organisation supports the oil & gas industry with sophisticated inspections, integrity services, rehabilitations and products to ensure that its customers' facilities maintain full operating capacity
throughout their entire life span. ROSEN's aim is to be the leading integrity partner for companies in the O&G industry who operate complex and sensitive facilities such as pipelines, storage tanks, and plants.
Operating from the Group's headquarters in Stans, Switzerland ROSEN is specialised in both onshore and offshore pipeline inspection and employs over 1000 people.
In respect of cleaning services, ROSEN pipeline cleaning tools are recognised as the most effective and efficient in the industry. The combination of these tools with the skills and experience of ROSEN field personnel allows the company to provide its customers with the best possible advice and service. Each cleaning tool is designed to achieve optimal cleaning results in all possible circumstances and pipeline conditions including both standard and narrow bends. Additionally, all tools remove any kind of heavy debris, black powder, paraffin or scale deposits.
ROSEN offers disc and cup-type cleaning tools. Discs and cups are manufactured from carefully selected polyurethane compounds with the most favourable mechanical properties available anywhere.
Supporting these services, ROSEN also boasts a comprehensive range of services and tools in the field of in-line inspection. The company's offering in this area can be divided into six core divisions – geometry inspection, magnetic flux leakage tools, crack and coating detection, combined ILI technology, optical inspection, and leak detection.
Looking at the first of these areas, the earliest ROSEN electronic geometry tool was developed in 1986. Since then it has become the tool of choice, worldwide. The ROSEN Electronic Geometry Tools, RoGeo and RoGeo·Xt, were designed to check pipeline construction quality, to locate undetected thirdparty damage and to allow free passage for any other tool. These tools identify, measure and locate any possible obstructions in the pipe.
The new and tighter pipeline regulations introduced in many parts of the world mean that a growing number of pipeline operators have to quantify a wider range of hazards using in-line inspection. For this reason, ROSEN developed RoGeo·Xt for enhanced measurement accuracy.
XYZ mapping has also been developed to identify three-dimensional geographical pipeline co-ordinates using an inertial navigation unit. Also, the inner geometry of the pipeline is monitored simultaneously.
Moving onto the next area of its work for inline inspection, ROSEN has developed the most sensitive metal loss inspection tools available today. The systems are based on Magnetic Flux Leakage
(MFL) technology and are designed to detect and accurately size pipe wall irregularities. In terms of crack and coating detection, pipeline deterioration by stress corrosion cracking (SCC) continues to be an increasing challenge for the pipeline industry. That's why ROSEN targeted this problem as a priority in developing its new High Resolution In-Line Inspection tool. RoCDÇ is a unique ultrasonic inspection tool, combining EMAT sensors, designed for gas pipelines. It embodies a highresolution concept coupled with the rugged mechanical design and operational performance of the ROSEN in-line inspection tools.
EMAT Technology is based on a novel concept of an Electro-Magnetic Acoustic Transducer (EMAT) that allows the detection of both stress corrosion cracking and disbonded coating. Coating disbondment is understood to be a precursor to SCC by increasing the susceptibility of the pipeline to corrosion. Mastery of the EMAT technique has been elusive in the past, due to the inefficient nature of the electromagnetic transduction and the practical application of guided-wave techniques. Improvements in magnetisation capabilities and a more thorough understanding of guided-wave acoustics have changed this situation.
ROSEN's Combined ILI Technology on the other hand allows customers to configure their own individual tool. For example, the state-ofthe art Corrosion Detection Tool CDP can be combined with the Extended Geometry Tool or the Ultrasonic Corrosion Detection Tool to perform multiple inspections in one run. Since a combination of different technologies ensures timely identification of threats, ROSEN's Combined ILI Technology makes an invaluable contribution to pipeline integrity management.
With regards to optical inspection, the Optical Observation Device (OPD) is a unique ROSEN innovation that integrates a high quality camera with its own lighting support into a robust pipeline cleaning tool. The OPD provides dramatic visualisation of the inside of pipelines, capturing and storing the information within an on-board recording unit for viewing later.
ROSEN also offers leak detection services by using special Flow-Type Leak Detection Pigs. Leak Detection Pigs (LDP) are easy to use and require little time to do their job. They use onboard electronics to record flow rate and direction in water pipelines and then transmit the information to a receiver-analyser on the surface. ROSEN's LDP system can find water leaks as small as one litre per hour.
In addition to cleaning and in-line inspection, ROSEN works to develop solutions for the present and the future. Robotic inspection services are an example of this desire to meet the needs of the market place, and ROSEN uses the term robotic to refer to battery-powered and selfpropelled tools. Both the Robotic Pipe Scanner (RPS) and Robotic Survey System (RSS) fit within this definition and provide unique and effective solutions for inspecting un-piggable pipelines.
The Group's Plant and Facility Inspection Services meanwhile include a wide range of sophisticated, reliable and accurate inspection equipment that offers services for coiled tubing, storage tanks, product lines, flow lines and other above ground pipelines. In addition to this, the company provides asset integrity management software (ROAIMS), which is a collection of interoperable software tools designed to support flexible pipeline integrity management programs.
Completing the organisation's offering, ROSEN has also developed a line of Hydrostatic Testing and Commissioning Equipment and Instrumentation. These components provide the pipeline contractor with customised solutions for the complete delivery of the pipeline to the end user so that it meets all company specifications and statutory regulations.
Across all these products and services ROSEN recognises that maintaining the highest quality standards is a catalyst for success. To ensure the constant improvement of its products and services, the Group has developed the ROSEN Quality & HSE Management System. This is continuously reviewed to keep pace with new technology, standards, regulations and codes of practice, and plays a key role in ROSEN's ongoing success.
ROSEN Group
Services: Pipeline inspection