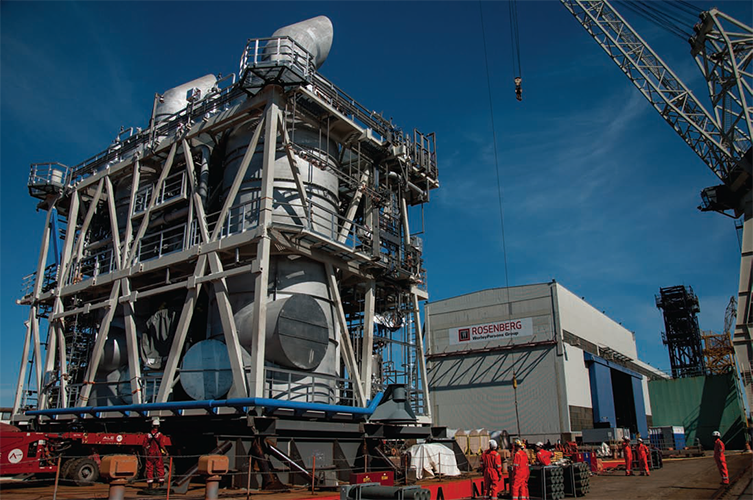 Rosenberg WorleyParsons AS
Field of dreams
In March 2013, Rosenberg WorleyParsons AS was officially established following the acquisition of Bergen Group Rosenberg, a business whose trading heritage can be traced back to 1896.
With initial interests lying in shipbuilding and repair, the company laid roots at Buøy, Stavanger, Norway, where it remains located today. In 1979, Rosenberg made its first steps into the offshore industry with the construction of the Statfjord B deck. Following this project, Rosenberg became involved with many of the major projects off the Norwegian Continental Shelf (NCS), and for over 30 years has remained at the forefront of the industry.
Although traditionally the business has served activities on the NCS, the shift in ownership, becoming part of the worldwide WorleyParsons operation, has brought about new opportunities to explore outside of Norway. New global systems and procedures are being incorporated into the business, and access to new tools and assurance processes will strengthen the technical stewardship and bring about new relationships within the corporation.
Having traded as part of WorleyParsons for almost 12 months now, European Oil and Gas Magazine spoke to chief executive officer Kristin Færøvik: "The last year has been a great journey for us. We have finished the transition phase and now have access to colleagues with expertise and specialist competence, and capacity from other subsidiary engineering companies within the group in different locations around the world.
"The business interest of Rosenberg WorleyParsons remains in brownfield modifications, i.e. modifications to existing installations on the NCS, primarily under EPC contracts. Offshore finalisation, installation and commissioning are still very much a part of what we do, and we continue our line of fabrication work based on detail design or engineering plans received from customers."
The company has been working on the Ekofisk accomodation platform for ConocoPhillips, providing hook up and commissioning assistance. As the project draws to a conclusion, Kristin announces: "Our work on the Ekofisk living quarters, the largest offshore accommodation unit in the Norwegian North Sea with 552 single person cabins, is progressing according to schedule and the customer is very pleased with the performance of our team."
Rosenberg WorleyParsons is currently undertaking a new contract with GE Oil and Gas for the delivery of 14 subsea structures to Statoil's Snøhvit field, and is working alongside its new sister subsidiary, subsea specialist INTECSEA. "This is our first real test of working together with another WorleyParsons entity. It is progressing really well and we look forward to similar working relationships in the future," says Kristin. The work is due to be completed for delivery by May 2015.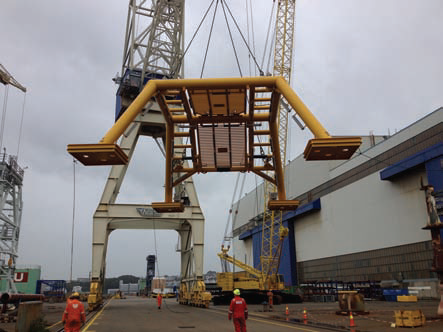 Rosenberg WorleyParsons today is testament to its enduring ability to adapt to changing market circumstances. The facilities have undergone continuous improvement with focus on efficiency and quality, and the organisation is growing in line with an increase in demand for its services.
With a history growing from the exploration success in the Norwegian market in recent years, Kristin discusses the immediate developments in the area: "We follow all the discoveries and developments on the NCS with great interest and excitement, and it is encouraging that the licensing rounds in Norway attract a great deal of interest from so many companies. We are following the Johan Sverdrup project with great interest and look forward to future opportunities there. Although it is just an ongoing FEED contract at this stage, there could be opportunities for Rosenberg WorleyParsons, and the wider organisation, as the project matures.
"We were also awarded a FEED contract to provide engineering for a capacity increase on the Ekofisk field. We continue to work with ConocoPhillips and this latest contract highlights the ongoing nature of this relationship. We are currently in the middle of this project and there is the potential for future developments, which is looking promising."
Through its years of trading, Rosenberg WorleyParsons has established a highly regarded and skilled workforce. Highlighting some of the strengths that attract customers, Kristin says: "We deliver a high quality service and workmanship and customer feedback supports this time and again. We regard one of our main strengths as what comes out of our construction facility, and critically, we deliver it on time. Our knowledge and experience of working to tight installation windows makes us a valuable asset to any large construction project."
The company is nearing the end of a very large construction project for Statoil, where it delivered 12 pipeline end manifolds. With all structures now delivered and installed on the seabed, the project was completed on time and to specification. To maintain its stance as a well-regarded organisation, Kristin explains Rosenberg WorleyParsons' strategy to overcome the skill shortage: "We are continuing to take on apprentices, something we have always done, and we take responsibility for continuing to develop a skilled workforce. Over the last few years we have continued to grow our engineering capacity. We deem this as one of our greatest successes as this has been key to winning EPC contracts."
Rosenberg WorleyParsons has the ability and flexibility to undertake a wide variety of projects from simple, small-scale fabrication to the delivery of large and complex offshore installations. With the support of the wider WorleyParsons family, Rosenberg is well positioned to continue to play an important role on the NCS and beyond.
With ambitions to grow the services that it has on offer, Rosenberg WorleyParsons is undertaking further studies, and continuing to take on larger EPC contracts, through its expanded engineering capacity. As the company settles into 2014, Kristin reviews the targets in sight: "Our priority is first and foremost to deliver on the projects that we have already won. Secondly, we seek to win new work and we are carrying out a lot of tendering, right now in particular for fabrication projects. We are also actively involved in the tendering of EPC projects for Norway."
Through the evaluation of company figures, the progress and growth that Rosenberg has made over the past few years has been clearly significant. Poised to achieve similar financial achievements over the next few years, Kristin concludes: "We aim to continue to develop activity and create an even more robust business, with profitable growth for the corporation. From our position in Stavanger and with the support of the rest of WorleyParsons, we have an exciting future ahead."
Rosenberg WorleyParsons AS
Services; Engineering, fabrication and construction