Upstream solutions
Over the last 12 months leading consultancy, engineering and project management services provider Ross Offshore has expanded its business and gained more contracts.
Reborn in 2011 from a merger between Odfjell Well Management, with a 40 per cent cut, and the former manifestation of the firm, Subsea Technology Group, with 40 per cent, and the minority held by shareholders and management; Ross Offshore has a unique blend of industrial and financial ownership that drives the performance of the company through direction, support and expertise.
Reaping the benefits of the oil and gas boom, Ross Offshore AS has recently been awarded contracts with Statoil, Detnorske, E.ON, Wintershall, Repsol and Tullow. "We have been busy. Statoil is our main contract for the moment and this is a total well management contract where everything is done in our offices; we have found that Statoil is using well management to increase its capacity, which is very positive," says Ulf Vegard Jensen, COO at Ross Offshore. The contract has an estimated value of NOK 200 million – NOK 350 million for the first two years, with the option of two more two-year contracts. It is a significant deal for Ross Offshore, as it adds to an already existing positive working relationship between the two companies.
Keen to find solutions to the biggest challenges, Ross Offshore completed a trenching project in the North Sea in Autumn 2012, a first on the Norwegian Continental shelf. Following this, the company will soon be working for the Borgland Dolphin Consortium operators, which is set to start in Q1 2014. Continuous operations are anticipated to last until 2017. Major projects such as these bring Ross Offshore closer towards its long-term goals in expanding and will also help further develop the company's young, dynamic team of personnel through hands-on experience.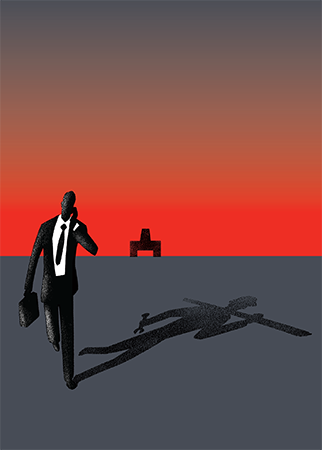 The company offers interesting starting positions to young graduates, giving them exposure to a lot of areas and various different professions early in their career. Giving the graduates a multidisciplinary exposure gives them a boost in their careers, something that Ross' seasoned personnel are proud about as it achieves an old school/new school mix to get young candidates up to speed quickly.
Being a relatively small company, with approximately 250 working for it, Ross Offshore can offer a more hands-on experience and increased opportunities for personnel to develop their competencies in a structured manner. A key focus for the company in 2013 is to secure rig operations for management, as Ulf explains: "Our young engineers are keen to be exposed to the real thing, which should include drilling activities on the rig as well as planning and engineering activities, otherwise the job will not be as attractive. We want them to follow a rig project from beginning to end and have that opportunity to develop."
An ongoing challenge in the offshore industry is resourcing employees with a high education or with the right experience and skills, due to need currently outweighing availability in a highly competitive market. To attract and retain staff the company has focused on being competent through flexibility, smart utilisation of resources and offering an excellent work environment to its engineers, as Ulf highlights: "We attract people to the company all the time and have been successful in keeping the turnover to a minimum. To do that, we focus on flexibility within the work environment, utilising state-of-the-art equipment and online collaboration solutions that make it possible to perform the work wherever and whenever necessary. This gives our clients and personnel satisfaction when performing quickly and efficiently from any location.
In addition to having created a positive and good working environment, we also have a very good off work programme, called 'Ross Welfare', which has trips, gatherings, and other social activities so that people are interested in working for us instead of going to an operator as an employee or consultant. With us our employees get more than just pay."
Consistent in its delivery to customers, Ross Offshore offers a total solution in-house from its premises in Stavanger, Bergen, Sandefjord and Oslo, but this can in some cases, cause challenges with newer customers who may want the Ross back-office staff in their offices, as Ulf explains: "We have to convince clients frequently, by showing that it is beneficial all round for us to have our personnel in our premises and working as one large team with senior staff in the teams performing daily QA and QC tasks. This results in a higher quality product that is produced in a shorter time frame and at a lower cost." This way of finding solutions for customers is showing positive results and Ross Offshore is confident that over time more companies will reap these benefits.
Currently offering four main business streams, Well Management, Resources (consultancy), Subsurface (Reservoir and Petroleum Technology) and Logistic and Marine Management, to operators on the Norwegian Continental Shelf, the firm has a long-term vision to become an international service provider and is evaluating its options further afield. "We are pre-qualified to bid for work for several projects internationally, but the market is very good in Norway at the moment, so it will be a matter of choosing the right opportunities as we go ahead," says Ulf. "Overall our focus is to expand the value chain and become a natural part of the operators' tool box. Securing work that promotes organisational learning and individual development is essential. The resource availability is challenging in Norway, as for any other region, and we believe our way of delivering services, requiring less capacity within the E&P companies, is the solution for many," Ulf concludes.
Ross Offshore AS
Services: Consultancy, project management and engineering