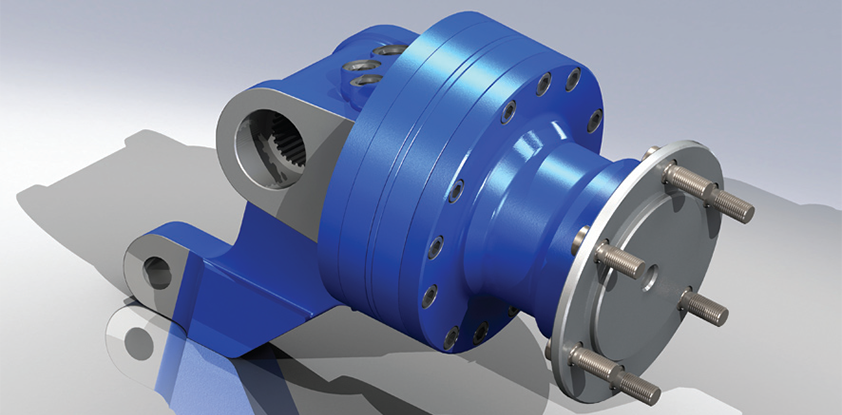 Rising above
"It would definitely be true to say that the intervening time between 2007, when the company last featured within European Oil and Gas Magazine, and 2012 has brought with it several challenges.
Nevertheless, through dedicated hard work across the whole of the business Rotary Power has weathered the economic crises extremely well," explains managing director Geoff Willis. "At the same time as growing its traditional sales, the company has successfully expanded into new technological areas, as well as opening new geographical sales regions.
"Key to this has been Rotary Power's ability to maintain investment, which has been critical to ensuring its international competitiveness. In tough times it is very easy to become opportunistic with selling, yet, despite the turmoil, over the last three-to-four years the company has stayed true to its strategic focus and this has been of great benefit."
A wholly owned subsidiary of British Engines Ltd, headquartered in Newcastle-upon-Tyne and employing approximately 1000 people, Rotary Power's main activities include the design, development and manufacture of high quality hydraulic pumps and motors. A continuous programme of product development helps to ensure that each and every one of these is engineered to meet the exact requirements of today's hydraulic applications. With 40 years' experience, Rotary Power successfully applies products to almost every industry sector including mining, forestry, construction, chemical, agricultural, mobile, industrial, marine, subsea and offshore.
Rotary Power's motors can be found the world over, with particular success beginning to come from emerging BRIC nations, such as Russia and China. In keeping with its ethos of taking the business further the company is also now looking to develop its presence in India, with a sales office now established in Bangalore: "Wherever it may be, the company has always been involved in some form with oil and gas, however one area of interest today is the expansion of the hydraulic fracturing industries," Geoff continues. "Driven by shale gas and oil exploration, this has resulted in a dramatic increase in demand for the company's SMA radial piston hydraulic motors.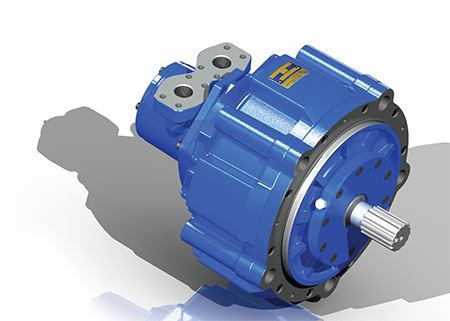 "Rotary Power already boasts a long and distinguished history of using its SMA range within the oil and gas industry, with its strong reputation being built upon providing power and torque, coupled with world class reliability. Additionally it provides a class leading displacement range in these motors, along with the unique, optional features of through-shaft operation and, where necessary, rotating case solutions."
These SMA radial piston hydraulic motors are used extensively to drive the cooling fans of fracking vehicles. These vehicles need a dedicated cooling system for the hydraulics, engine and fluid mix. What Rotary Power's SMA range does is provide the drive for the cooling fan, which itself is fundamental to the operation of the whole fracturing system. In addition, it also provides drives for the chemical blender and the triplex pump, which forces the water mix into the substrate to perform the fracturing of the shale.
"Key to all of Rotary Power's past and recent developments has been its unwavering quest to make its products ever more reliable," Geoff enthuses. "It is clear from its experience of working within the oil and gas sector that the company must continue to enhance its already class leading reliability. To do this it is expending more and more research and development resources into this area. One of the things that is clear is that the industry is increasing its demand for higher motor speeds and motor pressures, and Rotary Power most definitely has the technology to be at the forefront of this."
This understanding of what customers need to carry out their operations successfully, as well as having a clear focus on its strategic aims, has long been one of the primary sources of the company's success: "Along the way Rotary Power has and will always be faced with choices, the secret to being a success is making the right ones," Geoff highlights. "What it has realised over the years is that it can't be all things to all men and that having a clear focus is essential. This remains the company's mantra as it looks to drive forward its oil and gas related interests.
"What is also fundamental to Rotary Power's strategic growth has been the 'up-skilling' of its workforce. This is a company that has always been heavily focused on developing its capabilities from within, supplementing this with recruitment across all disciplines, from apprentices to fully qualified engineers. Meeting the skills challenges is arguably one of the more difficult tasks the company faces, however it is determined to continue with its investment in people." Being acutely aware of the demanding nature of the oil and gas industry, Rotary Power's recent experiences have shown it that if a company can align its thinking, and ultimately its whole business, then success follows in what is a challenging, but also a dynamic and rewarding, field of expertise.
"Rotary Power has what it believes to be a clear three-to-five year development plan, of which oil and gas related industries play a hugely significant role," Geoff says. "With turnover estimated to increase by over 50 per cent in this time period the company will continue to innovate in line with customer expectations, while investing further in people and the skills they can gain. If there is one thing Rotary Power has learnt in its lifetime it is that to be successful in oil and gas one needs to be able to rise to the challenge, and this is what it will always strive to do."
Rotary Power
Services: Hydraulic motors and pumps