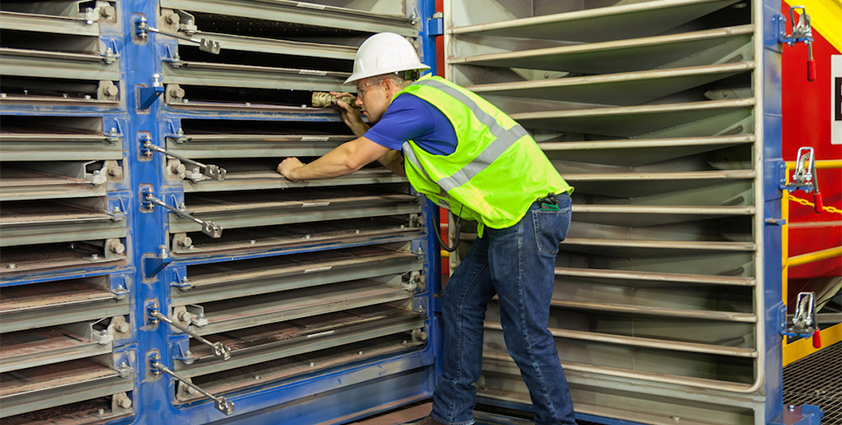 Rotex's aftermarket service division plans to add more high-quality field experts to help its customers continue to achieve peak performance.
Rotex specializes in developing and manufacturing industrial screening and separation machines, but the sale and delivery of a machine is just the start of a more than 20-year relationship with its customers. "Rotex's first concern is the long-term success of our customers," says Joe Taylor, aftermarket sales manager. "Rotex's goal is to be the first call. With a Rotex service division only a phone call, text or email away, we want to be the first call they make when they have a service, training or maintenance need. You only gain that kind of reputation by coming through for your customer each and every time."
Rotex equipment is installed in hundreds of industries with large concentrations of screeners in frac sand and other proppants, industrial sand, potash, salt and bentonite. Rotex has service division offices in five countries including the United States, the UK, Russia, India and Japan, as well as a network of more than 100 knowledgeable manufacturers' representatives, all of which can help move the customer forward.
Customers know that when they call Rotex for service, they will get a quick response from highly qualified, experienced experts that will help them achieve peak performance, which is Rotex's main focus. "That's our total concentration, from the initial equipment and screen recommendation by our application engineers and lab services to the equipment sale, installation inspection, on-site operation, maintenance instruction, ongoing process audit, equipment examinations and personnel training," Taylor explains. "We want our customers set up for success, producing high-quality products, with higher yields with more uptime, and higher profits."
Service in Action
Rotex and TPS have been partnering together for more than a decade. TPS designs, builds and operates all types of mineral processing facilities, offering full turnkey solutions. "TPS provides virtually everything needed to take a project from concept to optimized steady state," TPS President and managing partner John Cross says. "Providing these resources in-house provides us with the ability to be reliable, predictable and accountable, and eliminate any finger pointing."
TPS says its relationship with Rotex has been positive because the company is easy to work with, knowledgeable and responsive. "I often run my screening designs and concepts past them and get their opinion before finalizing a design," Cross notes. "They understand the science behind the application and make solid, proven recommendations. Steven Schmidt, application manager at Rotex, is a valuable resource with a proven track record of success. Rotex provides high-quality products we can count on in the field."
"Customers need a fast response from an expert," Taylor says. "As our customers become leaner and more streamlined, they rely on partners like Rotex for guidance on installation, operational efficiency, troubleshooting and securing OEM parts."
TPS provides operations and maintenance services in addition to design/build services for its customers. The company is working with Rotex to ensure parts and supplies inventories, and field support services, are always readily available. "Rotex has added value for us by working with us on the collaboration of delivery needs versus manufacturing slots," Cross says. "They give us good forecasting of delivery schedules so we can marry delivery with construction schedules. Without this collaboration, we would not be able to hit our construction deadlines."
As Rotex looks to grow its service division by helping more customers like TPS achieve peak performance, the company plans to add more field experts. Rotex prides itself on strategically hiring the highest-quality people. "Because of this practice, we have a deep bench of highly trained technicians with decades of experience," Taylor notes. "In 2019, we are going to significantly expand infrastructure and add high-quality field experts to grow the service team and put more feet on the street for faster response times."