A reliable partner
Rouge Pipeline services is an independent company headquartered in Dubai, UAE that is dedicated to providing a complete range of pipeline services, associated services, online inspection, staffing solutions and manpower services in order to provide a total offering, focus on its multiple worldwide clients and increase prospects across the globe.
The business was originally established in 2003 and became independent in 2008. The management of Rouge Pipeline Services agreed to develop a new profit centre that was exclusively dedicated to pipeline services, online inspection and related manpower services in order to focus and serve better its dedicated clients and prospects.
Since this time the company has continued to expand, building its business in its home region as well as more recently looking to expand further into the European market, a move that has seen an increase in turnover over the last year. This growth has been complemented by Rouge Pipeline Services' extensive range of activities that includes pipeline calliper, hydro-testing and pre-commissioning – onshore and offshore; pipeline commissioning – oil and gas; chemical cleaning; pneumatic leak testing – low and high pressure; leak testing – nitrogen and helium; pipeline maintenance and preventative maintenance – cleaning, chemical, inhibitors, valve stations; pipeline inspections – baseline surveys, inline assessment, corrosion growth analysis, FFP and repair/rehabilitation recommendation; and pipeline decommissioning – product removal.
Despite offering such a vast catalogue of services, Rouge Pipeline Services remains dedicated to serving its customers by working closely with them in order to achieve high quality standards. The company understands that reaching such high levels of quality inevitably starts with ensuring its employees are of the utmost standards. Accordingly, the business believes that successful projects are the result of a cohesive and highly skilled team that relies on the quality of the operating manpower.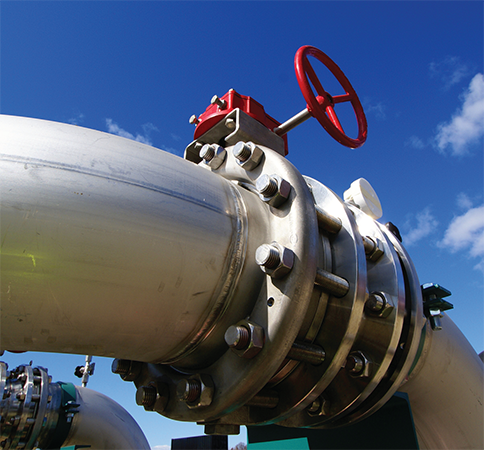 As a result Rouge has mobilised its management team, technical specialists and support staff in a constant effort to implement the provisions outlined in its Integrated Management System. This system enables the company to assess its effectiveness while ensuring constant feedback so that it may evolve in line with the Group's objectives and its clients' best interests. Essentially, this system has a number of key areas that the business continuously looks to address, such as maintaining zero injuries and lowering LTAs, constantly improving quality in engineering and operation, increasing turnover through development, and maintaining and increasing a strong presence in its current operating areas while exploring new market opportunities.
Because of the skill of its staff Rouge Pipeline Services is able to offer clients various staffing solutions. In this field Rouge provides qualified professionals and offers tailor-made services encompassing technical assistance, project management, manpower, recruitment and consultancy to clients such as EPC contractors, E&P operators and contractors.
Though it has only been operational for five years, Rouge Pipeline has already established itself as a successful business capable of undertaking a range of activities that covers many of the demands of the modern pipeline industry. Continued growth, combined with expansion into new market sectors will ensure the business remains the first choice for high quality pipeline services for many years to come.
Rouge Pipeline Services
Services: Maintenance and servicing of pipelines worldwide