One stop supplier
Roxar is a leading international provider of products and associated services for reservoir management and production optimisation. The company has two main divisions – Software Solutions and Flow Measurement.
Roxar Flow Measurement (RFM) offers a very comprehensive suite of topside, subsea and downhole metering and monitoring products. It has a proven track record of commercialising new technology and creating markets, and as a result it has experienced high growth and seen increased product penetration in all markets.
Such is the company's dedication to research and development that 65 per cent of its revenue in 2007 was generated from technology that did not exist before 2002, and the company owns a significant intellectual property portfolio and possesses 60 patents. Approximately ten per cent of Roxar's revenue and 50 employees are dedicated to R&D. Additionally, where there is an emerging market demand for innovation, few companies can rival the speed in which Roxar transfers R&D into fully operational commercial products.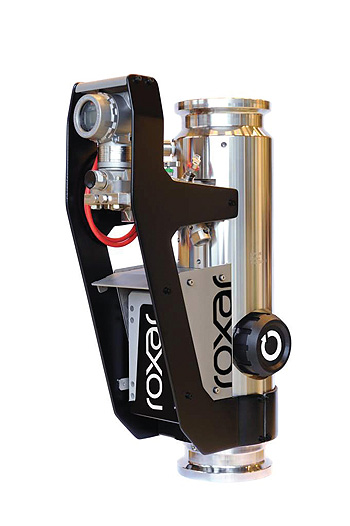 The use of Roxar technology enables users to increase oil and gas recovery, accelerate production and reduce capital and operating costs. Roxar's production and process solutions are designed to help operators achieve maximum reservoir performance from real-time production data. Along with Roxar's data acquisition software and other intelligent devices, Roxar's production and process solutions are critical components in measuring flow and production rates and contributing to real-time decision making. The company's product portfolio includes instrumentation for topside, subsea and downhole monitoring, and industry leading multiphase and wet gas metering.
In fact, the company secured a very important wet gas meter deal in Turkmenistan, as recently as March 2009. Worth 17 million NOK, the contract is for wet gas meters to be installed in the gas fields of Turkmenistan in Central Asia. This strategically important deal reinforces Roxar's growing presence in the Central Asian Republics.
The Roxar wet gas meter has a unique capability and accuracy in measuring water in a gas flow. This allows continuous measurement of water during production and immediate detection of formation water breakthrough in a well. Such information is essential for a safe operation of a gas wells and to prevent a potential loss of the well from hydrate or scale plugs. The meter is also used for reservoir management, optimising the production process and allocation of revenue streams from fields.
Roxar's CEO and president, Gunnar Hviding, comments: "As Central Asia's largest gas producer, Turkmenistan is a crucial supplier of natural gas to Russia, Europe and, in the future, China. Roxar is delighted to be working with operators in a region of such strategic importance to help guarantee this supply and support flow assurance and production optimisation. The news is also a signal of intent from Roxar in its determination to increase its presence in Central Asia and meet the region's challenges head-on.
"Whether it be production well testing, improved reservoir management, or hydrate prevention, the accurate measurement of wet gas flow is crucial to managing Turkmenistan's gas fields. The Roxar wet gas meter, and its proven technology, functionality and accuracy, is unrivalled in meeting these challenges."
As mentioned above, Roxar's customer base is already international, and includes multinationals, as well as major independents and the majority of national oil companies. During the past 18 months, the company has announced major contracts with ExxonMobil, Hydro, LUKOIL, PetroChina, Petronas Carigali, Repsol YPF, Statoil, and Total among others; plus the company is keen to expand its presence in Asia and Brazil. It already boasts a network of wholly owned offices in Europe, the Americas, Africa, CIS, Asia Pacific and the Middle East.
A very significant event for Roxar occurred this year, which will further enable the organisation to meet the needs of its global client base. In May 2009 it was acquired by Emerson, a diversified global manufacturing and technology company with more than 140,000 employees and approximately 265 manufacturing locations worldwide. Roxar will become part of Emerson Process Management, a leader in helping businesses automate their production, processing and distribution in the oil and gas, chemical, refining, pulp and paper, power, water and wastewater treatment, mining and metals, food and beverage, pharmaceutical and other industries. The company combines superior products and technology with industry-specific engineering, consulting, project management and maintenance services.
"We are excited to join Emerson and bring together our common drive for innovation, complementary products, and customer solutions," commented Gunnar, at the time of the acquisition. "Our mission, now supercharged by this union, continues to be one of effectively solving E&P owners' reservoir management problems and helping them maximise production."
Roxar's entire portfolio of products aims to have a positive impact on its clients' profitability. The company creates value for its customers through innovative products and services that help achieve maximum performance from oil and gas reservoirs. It truly is a world-class service provider.
Roxar Flow Measurements
Products: For reservoir management and production optimisation