Handled with care
Royal Vopak (Vopak) is the world's leading independent tank storage company. Including joint ventures and associates, the company employs an international workforce of over 5500 people, and the man in overall charge of this fascinating and innovative business is Chairman of the Executive Board and CEO, Eelco Hoekstra.
Eager to get an update on what has been happening during the six years since Energy, Oil & Gas last featured Vopak, Libbie Hammond spoke to Eelco about the company's portfolio shift and what has been driving its new evolution.
He began by outlining the company's overall vision which is summed up in its strapline 'Storing vital products with care'. "That one sentence encapsulates what we do every day," said Eelco. "As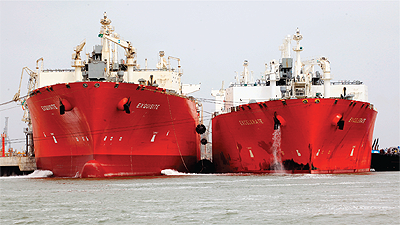 the largest independent storage and handling company for bulk liquids globally, we store different types of commodities across every continent, and we really focus on understanding which products are required to support the basic needs of society, in order to target our storage capabilities to those sectors."
As a result of this approach Vopak works with the energy sector, the manufacturing sector, and the food and agricultural sector. "As and when demand for products changes, we have set ourselves the ambition to adapt our network accordingly to ensure that we always stay in tune with the commodities that society demands – those are what we deem to be 'vital products'."
Just as important as the storing of the products is the 'with care' aspect, and as Eelco highlighted, Vopak aims to ensure that all the products it stores are taken care of in the right environment and the right manner. "Some of these commodities are high in value or potentially harmful or dangerous to society, so we have to make sure we are seen as the most qualified storage experts, and that we take care of the communities that are very close to our terminals.
"As the largest in the industry we need to be leading in our thinking there, as what we construct affects safety and sustainability and we have always taken our responsibility to society very seriously.
"One of the things we have proactively taken a view on is the emission of Volatile Organic Compounds (VOCs), and we have developed a global model that calculates the theoretical emissions of roughly 75 per cent of our tanks. We then have a CAPEX programme dedicated to reducing the emissions that have the largest impact on society first.
"So, we not only measure what VOCs are being emitted but also what their impact is to society – this is beyond what is legally required, but we believe we have to address that from a societal point of view."
This approach is also reflected in how Vopak has undertaken a change of direction in the products it stores over the past few years, and as Eelco explained, this decision was taken to align its network with where it predicts demand will fall in the future. "We looked at what type of products will be 'affordable, available and accepted by society' in the long run – where the products are produced and consumed, and what type of infrastructure is required to bring those products to the market.
"Looking at the energy sector, we see a long-term shift towards more gas at the expense of coal, and in the petrochemical sector we see a shift towards lighter feedstocks; that means more gas based feedstocks in addition to naphtha. Therefore, we've taken the decision to align our network to these demands."
The result of these decisions sees Vopak investing more in gas and petrochemicals, and to be stronger in industrial terminals – Eelco noted that the company sees opportunities in that particular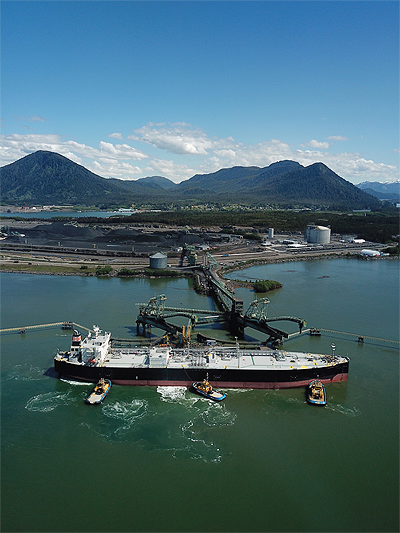 area. "The Vopak of today has diminished its relative position from an earnings and capacity perspective in oil, we have invested substantially more in gas (LNG, propane and butane) and we have invested more in industrial terminals and chemicals," said Eelco. "I think that in the last six years we have divested roughly 25 terminals, in what is really an extensive realignment, and a strategy that is still being executed.
"Another major change that has been instigated since we were last featured in EOG is a total change in our IT architecture. We took the decision to develop our own software in-house, and the result of this is a Tank Terminal Suite – a solution that we are now rolling out globally across our network. It means there is 'one truth' in all of our sites, and it has proven to be a major step forward in our capabilities, particularly when it comes to real-time information, data collection, efficiency at the terminal and information sharing with customers."
Eelco mentioned that while the company had divested some terminals from its portfolio in certain areas, it is also building and expanding capacity to store different commodities, and this is achieved through both new-build construction and company purchases. "We have literally expanded across the globe, and we are constructing as we speak, plus there have been some targeted acquisitions. I think the most notable one is the Elengy Terminal Pakistan Ltd (ETPL), where we now own 44 per cent of this facility, alongside Engro Corporation, which was already a long-standing partner of ours. And our newest acquired share in the only LNG terminal in Colombia. This is the fourth LNG regasification location that we operate and we do use acquisitions in particular locations where we don't have the greenfield or brownfield option to expand.
"On the new build side, in 2019 we worked closely with Altagas on the Ridley Island Propane Export Terminal (RIPET), located in Prince Rupert, British Columbia, the first such export facility for propane in Canada," he added. This export facility opens market access for western Canadian producers to Asia, a premium market for propane.
Pengerang Terminal
"The most significant development in the industrial sector has been the construction and commissioning of the Pengerang Terminal in Malaysia," he continued. First announced in 2014, this industrial terminal was developed and is operated by PETRONAS, Dialog and Vopak, and is strategically located in Asia's main oil trading centre, along the international shipping routes. It is pipeline connected to the industrial terminal which will be serving PETRONAS' new world-scale refinery and petrochemical complex (RAPID) located on the same site.
"Together with our partners Dialog and PETRONAS, we've invested significant capital into this project and we commissioned the terminal this year. I think this has been the most exciting project that I've been involved with – we really feel ownership and share in the success of the manufacturer, and that is what I like about the industrial concept.
"It took ten years of hard work and dedication from Vopak and our partners to bring this project to fruition, and when you look at the countless hours we worked on the design and construction, and the amount of co-ordination and co-operation that was needed to set up the joint venture and make that work, it is a huge testimony to the capabilities of the company. I don't think there are many companies that have the ability to execute such a project, and I see it as a blessing that we had the opportunity to participate in this one."
Vopak has also been expanding in the chemical sector, in 'almost all our existing locations' according to Eelco, and he highlighted the project at the Deerpark Chemical Terminal in Houston as interesting, because of the shale gas developments that are taking place in the US. "With the abundance of relatively cheap gas for chemical manufacturing we've seen huge expansion programmes in this area," he said. "We operate the largest independent chemical terminal along the ship channel in Houston, and one area we realised needed improvement was dock availability, so we invested heavily in technology to ensure our dock handling is very efficient, which reduces congestion in the ship channel. This project illustrates how we respond to market developments in order to best serve our customers."
Finally, in the oil sector, the company is getting ready for the new IMO bunker regulations that come into effect in 2020. "We are represented in almost all ten of the largest bunker ports, so we've stress tested to see what infrastructure is required and invested in that, to ensure the ports are ready for the demand for low sulphur fuels. In the distribution markets for oil there are a few interesting locations where we have invested into expanding to be able to receive more volume, such as Mexico, South Africa and Indonesia. Overall, we are preparing our network for future requirements, in all four types of terminal."
Design knowledge
Given the amount of expansion projects underway at Vopak sites around the world it is no surprise to learn that the company prides itself on its own in-house knowledge regarding the design of these infrastructure developments: "We understand flow modelling – how liquids move and what the optimum design criteria will be for the product that is being stored. That is particularly important for industrial terminals, because you have to understand the operational parameters at the beginning or you could suffer in terms of flexibility and capability later on, so that knowledge is very valuable to us. We also have very clear standards on how we operate and how the terminals should be constructed, but we don't build them ourselves. We are involved in the project management and the quality control to make sure everything is done according to plan."
Looking to the future, Eelco noted that expansion was going to remain at the top of the agenda for Vopak, with both up to three new investments scheduled for industrial terminals and for gas terminals up to the end of 2020. However, with an eye on the longer term, Vopak recently made a smaller scale investment as an equity partner in a new company, Hydrogenious LOHC Technologies. Its Liquid Organic Hydrogen Carriers (LOHC) solution offers the potential to store hydrogen in liquid form by attaching it to a carrier. "This has already been proven to work on smaller scale applications, so over the next few years we will explore if we can scale this technology up for industrial use, as we would be able to use our existing infrastructure to store large amounts of hydrogen. It's a vision of how our existing infrastructure might be used for future purposes, and if you can produce hydrogen, via green energy, there will be significant implications for reducing CO2."
The investment in Hydrogenious and its membership of the international Hydrogen Council once again illustrates how dedicated Vopak to being ready to adapt to the future demands of both the market and of society as a whole. It is clear to see why it has seen such success over the 400 years of its history. By maintaining a strong focus on sustainability, and ensuring the safe, clean and efficient storage and handling of bulk liquid products and gases it has truly earned its position as the market leader and as a shining example of its strapline – 'storing vital products with care'.
Royal Vopak
Services: The world's leading independent tank storage company