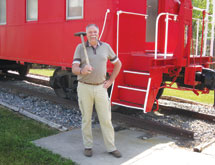 Bill Reimer started R&R Contracting Inc. as a joint venture with his father in 1988. The birth of his business was not accidental; Reimer had loved trains growing up.
"I got a toy train for Christmas when I was five," he recounts. "That was my favorite toy ever. I have loved trains ever since." So when Reimer finished high school in the early '70s, he began working as a laborer for Burlington Northern (BN). Over the next 10 years, he would get a turn at operating most of the equipment at BN, he was one of its first employees to operate a train capable of laying down continuous welded rails.
By the time Reimer founded his company, he was well-versed in the railroad industry and firmly believed that he could do a much better job than other contractors. "I realized that some of the contracting companies were ripping the railroads off," he explains. "I thought I'd give them a better product for a cheaper price." Reimer kept his BN job for two years and performed contract work for others on evenings and weekends. His hard work paid off in 1990 when he was able to resign from BN and dedicate himself to growing his business his way. The company's turnkey focus has been to take transfer stations and other railroad infrastructure from initial design to construction completion.
Deep Changes
Many things have changed in the industry since Reimer started his business. The railroad industry in North Dakota has seen tremendous growth due to the oil and gas boom in the Bakken Shale area. The 200,000-square-mile formation covers parts of Montana, North Dakota and Saskatchewan and contains large oil reserves that have been made accessible using fracking techniques.
The introduction of fracking not only made the extraction of oil and gas viable, but it gave railroads an important role in the area. The trains serve to bring in all the materials needed for fracking, including sand, pipes and drilling materials. The trains are also a faster and less expensive way to get oil to the Gulf coast compared to trucks or pipelines.
By the end of 2011, more than 1,800 wells were operating in the Bakken area. With each well requiring 23 loads of materials delivered by train during construction, the growth of rails was not going to stop. R&R has worked hard to keep up with the urgency of development and makes sure its clients are served as efficiently as possible. "We're trying to identify not only good locations to put out good long track," Reimer says, "we're also trying to put more than one customer on the same track to maximize its use."
The technology that builds railroads has evolved over the years and R&R has kept pace with those changes. "The equipment has gotten so much smarter and better," he notes. "You have the equipment do 80 percent of your work, when it used to be 20 percent. Everything is computerized." The company that started with five employees now has 139, including many engineers who specialize in railroad design. "Back in the day, in the '80s and '90s, people used to come in with drawings on a napkin and you would go out and build it."
Although the Bakken Shale is keeping R&R and others busy, it is hard to find qualified employees. "To have a good employee you have to train them from the ground up because you just don't find trained employees anywhere," Reimer says. The company offers on-the-job training and has adopted new technologies to help it maximize the efficiency of its overall workforce. "All our superintendents and foremen are electronically linked to the office, so we know at every moment where they are, what kind of support they need to get the job done and how the jobs are progressing," he says.
Growth and Success
As R&R has grown, so has its hometown of Grand Forks, N.D. "I remember when this part of North Dakota was full of tumbleweeds," Reimer says. "Now it's traffic bumper to bumper. That's why the train has gained importance."
But as prosperous as the area has become, Reimer has not limited R&R's scope to the upper Great Plains. Just four years after he dedicated himself exclusively to railroad contracting, he opened a subsidiary of R&R in Texas called the Western Railway LLC, followed by another one in Canada, Pan American Railroad Contracting. R&R has continued growing with new locations in Minnesota and Canada.
Reimer attributes his success to his ability to think differently. "I think outside the box and try to come up with solutions. Really, so many things are possible," he explains. "We'll take a look at something and we'll come up with a design that, when someone looks at it, says, 'What were you thinking?' But when you put it to work, it works well and is the right solution for the customer."
Taking Care of Customers
Twenty-four years after its founding, R&R Contracting remains a family business. Reimer's sons Cody and Reid Reimer work at the company, his wife Rhonda takes care of the human resources department and his brother Mark is in charge of sales. Reimer firmly believes in the value of a good reputation and is committed to great customer service. "We have a reputation of taking care of our customers, so we've achieved a lot of our growth from word-to-mouth recommendation," he relates.
Further growth is on the horizon for R&R. "We are planning on making new acquisitions and opening new offices in new regions," Reimer says. "In the next three years we're planning on doubling both our size and our revenue." EMI