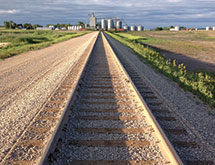 Some companies limit the distances they will go to serve clients, but R&R Contracting Inc. does not, Vice President of Business Development Reed Reimer says. "We'll go anywhere for our customers," he says.
That level of commitment has kept clients coming back, Reimer adds. "At the end of the day, it's about what we can do for the customer, responding and just being there as they need something," he says.
Based in Grand Forks, N.D., R&R provides railroad services, including rail planning, design and construction. Reimer notes that 50 percent of the company's work is for oil and gas clients, with a large percentage in the Bakken formation.
"Right now, a lot of new facilities are being constructed with older ones entering their maintenance life cycle," he says. "On the other side of that, we have the capabilities to perform the civil dirt work, too."
Reimer's father, Bill Reimer, founded the company in 1988. Previously, he had worked on the railroad since he was 18 for Burlington Northern.
When Reimer decided to work for himself, he started R&R as an independent contractor that operated out of his basement. "From 1988 to 1998, the revenue of the company grew to around $10 million a year," Reed Reimer says.
From 2010 to 2011, R&R's business doubled again, thanks to activity in the Bakken in North Dakota. "When that came online, that started our increase in revenue and growth in the company by leaps and bounds," Reimer says, noting that R&R averages $50 million in revenues annually.
Pain and Gain
R&R recently recovered from tough times, Reimer says. "We had a perfect storm of things that companies go through from time to time," he recalls, noting that it began with the firm's 2012 acquisition of Oberkramer Contracting LLC, a Class 1 service and maintenance company.
R&R also made the switch to The PrivateBank, based in Chicago, and was in the process of installing a new enterprise software program to bring its system up to date.
However, "There were a lot of hiccups in that process," Reimer says. "A lot of times, you get promised one thing, but the promise doesn't come true."
The new system did not go live until July 1, 2013, and even then, it still needed fine-tuning. "The company always kept moving forward," he says. "Towards the end of the third quarter of 2013, we started getting the software looking right."
But R&R still had problems to cope with. It discovered that Oberkramer was operating at a hefty loss, after the departure of R&R's CFO during tax season, the company's accounting manager made an error on a banking report. "What the bank said to us [then was], 'You are either going to need to find a consultant [to work with you] or we're going to close the loan,'" Reimer recalls.
Eventually, R&R closed Oberkramer and liquidated its infrastructure. Since then, Reimer says, the company has shifted to the Bank of North Dakota, which has helped it cope with a large debt. "We've got it turned around because we have a bank partner that believes in us," he says.
A healthy amount of work over the recent winter season helped, too, Reimer adds. "We kept crews working throughout the entire winter," he says, noting that it has not laid any employees off. "Even with all the pain we went through, our 2014 is going to be good, and our 2015 is going to be even better."
Branching Out
Reimer predicts more growth for R&R. After opening a new location in Houston, "I see us developing those relationships to make our year-round efforts a little easier," he says, adding that the company wants to expand into different projects.
"We've taken a couple tries at doing transit work," he says, noting that R&R feels like it can take on more. "There's always those other markets to get into as we grow. [But] we're going to keep building track and moving dirt, and do it wherever the customer wants us to do it."