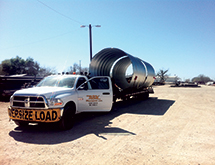 Before even a single drop of oil can be pumped out of the ground, oilfield operators need to make sure they have the right equipment on site at the right time. That's why RSK Transport has been growing steadily over the last three years – because the trucking company has the skills and people in place to get equipment where it needs to be without a lot of hassle. Owner Ryland Kirchoff says RSK Transport brings a level of teamwork and skill to the oilfield services industry that few trucking companies can match, and that's due in large part to the company's emphasis on customer service and the nature of its fleet.
Kirchoff started RSK Transport in 2010 after spending several years working for other trucking companies. Since then, the company has found a successful niche in the oilfield services market, serving more than 200 oilfield and industrial customers with heavy equipment transportation services. The company's fleet includes flatbed trailers, gooseneck trailers and specialty trailers, giving RSK Transport the ability to serve virtually any need for heavy equipment hauling. "We've got a very wide customer base," Kirchoff explains. "I didn't want to put everything all in one basket."
RSK Transport faces some very stiff competition in the markets that it serves, Kirchoff says. This is primarily because trucking is one of the least-technical oilfield services industries, with a low barrier to entry for many start-ups. However, the high liability and lower margins of the business push many companies to undercut each other on price to win customers. "It makes the business very competitive," Kirchoff says.
Despite this intense competition, RSK Transport remains successful thanks to its combination of diverse capabilities and customer service. Kirchoff says that as long as the company holds true to these principles, RSK Transport should remain in a strong position to grow in the future.
Dedicated to Service
According to Kirchoff, one of the things he learned during his time in the trucking industry was that in many cases, the owner-operator model of fleets does more to hurt a company's ability to serve customers than help it. When trucking companies use the owner-operator model, it relies on the drivers to own and maintain all of the equipment, which can create problems in terms of reliability as well as make it more difficult for the company to allocate resources.
"At RSK, I own all the equipment, so all of my employees are company employees," Kirchoff says.
Because the company owns all of its trucks and trailers, RSK Transport can respond to customers' needs with more speed and with greater certainty than companies that use the owner-operator model. Kirchoff says the company's model also creates an atmosphere of teamwork and cooperation that isn't present in trucking companies where every driver is an independent owner-operator. This means RSK Transport's customers can count on not only a higher level of service, he adds, but a more uniform level of service, as well. "It gives me some consistency," Kirchoff says. "We try to always make sure the customer leaves satisfied."
On Top of Things
The extremely high level of competition in the industry means RSK Transport has to be careful about keeping its costs down to avoid passing costs on to the customer. Kirchoff says one of the key elements to ensuring that the company offers a high level of service while controlling costs is to stay on top of fleet maintenance.
Right now, the company's primary concentration is on flatbed hauling, but Kirchoff says the future of RSK Transport should see the company diversify its services. "I would like to continue to grow and expand into more specialized areas of trucking," he says.