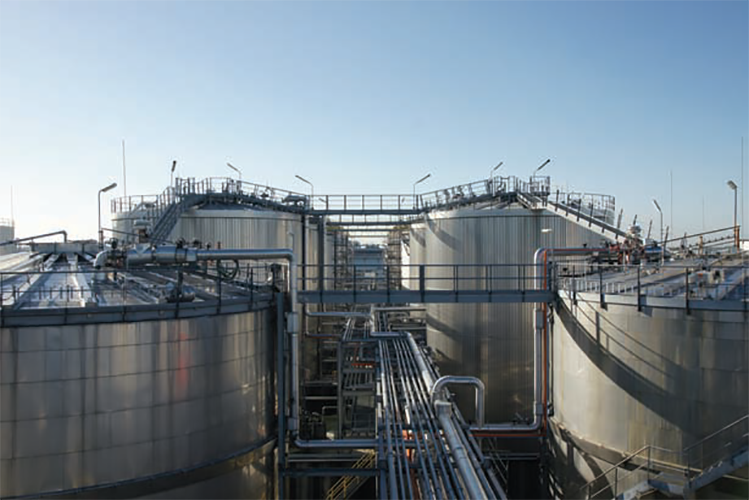 Evolving infrastructure
Formerly known as the Compagnie Parisienne des Asphaltes, the Rubis Terminal was originally founded in 1877.
By 1992 the total recorded storage capacity of the business peaked at over a million cubic meters across two locations in Rouen and Dunkirk. These coastal locations and connections to the main French pipeline infrastructure provided major strategic assets that allowed Rubis to further establish its presence in the chemical and oil markets within France and later throughout Europe.
Rubis Terminal is a subsidiary of the wider Rubis Group alongside the associated company, Rubis Energie. The Group is an independent, international operator specialising in the downstream petroleum and chemicals sector that has continued to grow and expand through a combination of organic growth and acquisitions. Between 1992 and 2002 the Rubis Group acquired almost one million cubic meters of additional storage in France by taking over strategic terminals in Brest and Saint-Priest as well Strasbourg Pétrole and the Propetrol Company. These acquisitions raised the total storage capacity to two million cubic meters. Over the course of two decades, Rubis Terminal has successfully grown to be the number one independent operator in France and the fifth in Europe.
Fifteen locations
Today Rubis Terminal maintains 2.6 million cubic meters of bulk liquid storage and is present across fifteen locations within the Netherlands, Belgium, Turkey and France. The majority of these operate as fully owned facilities, while others are run as joint ventures between Rubis and its partners. While the business is headquartered in France, in recent years it has undertaken targeted expansion outside of its home market. In 2007, Rubis Terminal expanded with the formation of its Rotterdam terminal followed by Antwerp, the second busiest port in Europe, in partnership with Japanese group Mitsui in 2010.
More than 160,000 cubic meters of versatile storage capacity
The terminal at Rotterdam in the Netherlands represents a significant capacity with construction of the Greenfield site beginning during 2007. Rubis Terminal BV went into operation a year later in 2008 with a storage capacity of just over 85,000 cubic meters. Since then Rubis Terminal has embarked on a continuing programme to develop the terminal and its facilities, steadily increasing the amount of storage available at the site. "If you look at the development of Rubis Terminal BV over the last two years, we have expanded our capacity to currently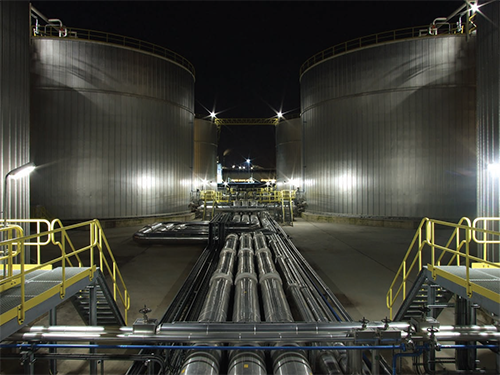 encompass more than 160,000 cubic meters of storage capacity, of which half is chemical and the other half is mineral storage," explains general manager Paul van Herrewegen. "If you look at the size of the current terminal it was originally planned to fill the location to create an efficient terminal in terms of both size and scale, both from a cost and commercial perspective, and growth has been a natural process since. Due to the combination of an increased number of clients and the diverse transportation connections we have at the terminal, all stakeholders, but primarily our customers will benefit from this increase in capacity."
Unique fuel oil configuration
With a state-of-the-art vapour treatment system, Rubis Terminal BV currently reaches pump speeds up to 1500 m3/hour from its three jetties designed for deep-sea vessels up to 225m. A fully dedicated barge jetty completes the highly flexible infrastructure. This allows clients to react quickly to market demands by homogenising and blending different grade mineral products 24/7.
Extension area of 4.5 hectares
As of January 2014 six new tanks went into operation at Rubis Terminal BV consisting of four 2500 cubic meter mild steel tanks and two 2500 cubic meter stainless steel tanks for chemicals. This represented the last of several phases of expansion for the Rotterdam terminal at the existing terminal, and will now be followed on a site adjacent to the terminal in agreement with the Port of Rotterdam for the lease of 4.5 hectares of land. Presently Rubis Terminal is developing new tank sizes, which will vary between 500 cubic meters and 10,000 cubic meters in capacity and will be suitable for chemicals and niche products. "The present expansion represents the first period of development with all phases scheduled to be undertaken over a ten year period," Paul elaborates. "We have an extension area of 4.5 hectares of land to develop and we divided the construction into five phases. The first phase will be available during the fourth quarter of 2016 and will deliver extra capacity equal to 35,000 cubic meters."
Strong interest in different tank sizes
"We will expand to almost double our current capacity in ten years time thus offering a wide range of chemical tanks in an even wider range of capacities," adds commercial manager, Marlies Tol. "We currently see strong interest from clients in different tank sizes that we have on offer. In addition, we also receive a lot of requests for tank sizes we cannot offer, simply because we do not have the right tank sizes available. Adding additional tank sizes is an important step forward for us."
Small and flexible
As the petrochemical market within Europe continues to evolve, Rubis Terminal perceives itself as being well placed to navigate the changing tides of the market. "If you look at our position both geographically and commercially, we are a smaller player that is able to take advantage of the fact that we are small and therefore more flexible," Paul says. "We have direct contact with clients, short communication lines and rapid decision making. Within Rotterdam, we target our market growth mainly in chemicals. In the longer term I believe the market will see a change in production, which is already becoming apparent through the trends in refineries and chemical production facilities where some locations are ceasing their activities. This means that North West Europe will change into a predominantly import based continent, which will require more storage."
The best infrastructure
As Rubis Terminal heads into 2015, it will continue to promote itself as a highly buoyant and agile business that is able to deliver bespoke storage solutions to clients within the mineral fuel and chemical sectors. As the market adapts, Rubis Terminal BV will continue to evolve to ensure it maintains the best infrastructure to meet the needs of is clients, as Paul concludes: "There is a big difference in the logistics for mineral products and for chemical products. Fuel oil is only ship or barge related while chemicals require connections via train and truck as well. It is important to be flexible, especially in the chemical market, where it is very important to be able to adapt in a short timeframe. Generally speaking, when you change the product you also need to change the system.
"Next to being a state-of-the-art terminal for chemicals Rubis Terminal also provides especially designed services for bunker fuels. The availability of two deep-sea jetties with high pump rate capabilities (up to 1500 m3/hour) and a fully dedicated barge jetty completes the highly flexible infrastructure. Together with our homogenising and heating possibilities it allows clients to react quickly to market demands."
Rubis Terminal BV
Services: Independent mineral oil and chemical storage