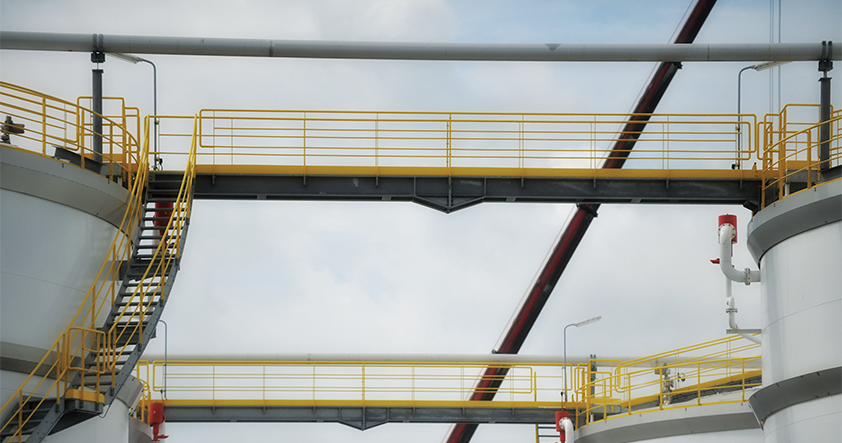 More in store
Rubis is an independent international operator specialising in the downstream petroleum and chemicals sector, through its two subsidiary organisations; Rubis Terminal, and Rubis Energie.
As Rubis Terminal, the Group maintains around 2.6 million cubic metres of bulk liquid storage capacity across 11 sites in France, the Netherlands, Belgium and Turkey. In France, where the company is headquartered, Rubis Terminal is in fact the largest independent third party operator.
In recent years though, its greatest growth has been outside this home market, firstly with the formation of its Rotterdam terminal in 2008, followed by a joint venture in Antwerp, Belgium in 2010, and as of 2012 a new joint venture site in Turkey. As the secondary arm of Rubis, Rubis Energie is an LPG and petroleum product distributor with a presence across three continents, where it specialises in niche markets.
Located in the busy port of Rotterdam, the Netherlands, Rubis Terminal BV is a fairly new addition to the tank storage market. Construction of the greenfield terminal began in 2007, with Rubis Terminal BV opening for business a year later with a starting storage capacity of just over 85,000 cubic metres.
The company is a recognised specialist independent provider of storage and transhipment services for minerals and chemicals. As such, its core products are fuel oil as well as chemical components, although the ample jetty facilities and multimodal access of the site means it also undertakes the transhipment of additional products. Furthermore, Rubis Terminal BV can undertake added value services such as blending for fuel oil, which are directly related to its storage activities. "As a fairly new terminal not only is all of the equipment state-of-the-art, but the organisation itself is brand new," describes Paul van Herrewegen, managing director of Rubis Terminal BV.
"As such, we focus heavily upon safety in all of our operations and continuously upgrade our compliance to the very latest standards to ensure this remains at the highest level. We also have a very strict environmental permit as a zero-emission terminal, which means that processes such as vapour recovery are standard for all products. As a smaller operator, we play a bit of a different role to our larger competitors as more of a niche provider in the Rotterdam market, which means that we do not try to target specific products but instead are focused on the customer. We use our size to our advantage to be able to act fast with short decision lines, which means we can work to deliver exactly what the client wants in a very short timeframe," he continues.
Since Rubis Terminal BV began operations the site has grown its storage capacity to just over 125,000 cubic metres, with much of this growth driven by the chemical side of the business. Furthermore the company has the opportunity to maximise its current facilities to a total of 185,00 cubic metres of storage, with the construction of four 6300 cubic metre mild steel tanks for chemicals that will be operational at the start of next year, and a further six 2500 cubic metre tanks for the third quarter of 2013.
This does not mean that Rubis Terminal BV's ability to grow beyond this is hindered though, as Paul reveals: "At the end of last year we formed an agreement with the port authorities to lease a neighbouring piece of land of about four hectares, which will secure the future growth of the site up to 300,000 cubic metres storage. We have entered these plans to the authorities and are currently undergoing the process of obtaining the necessary environmental permits, ahead of our aspirations to have first capacity available at the new site by the third quarter of 2014. As with our current facility, we are striving to grow in the field of chemicals and related products, but may also look to store niche products if there is specific demand."
With such a large investment planned for the immediate future. Rubis Terminal BV shows a certain level of confidence in the storage markets of Europe long-term. Sharing his thoughts on some of the potential developments underway Paul says: "Although perhaps not the case for Rotterdam itself, in terms of the general market outlook over the next 15 to 20 years, we see that production from refineries and chemical plants is starting to move away from north-west Europe into other parts of the world, or stopping their activities to be replaced by new players in markets such as the Middle East.
"However, although these activities may move, the consumption of north-west Europe remains, so local storage support is still needed by the fuel and chemical businesses to supply these markets. Longer-term we also see developments taking place to replace fossil fuels with renewable forms of energy, potentially with bio-mass liquids, which may require storage support," he adds.
Although Rubis Terminal BV is still quite a young market player, the experience and mind-set of the wider Group has been beneficial in helping build its reputation. Moving ahead, the company is continuing to set itself apart further by the speed with which it can provide tailor-made services and specialised solutions. "If you look at Rubis Terminal, each location as well as our head office in France all share that same customer focus and aspiration to always find the optimal solution. Although the markets may be different going forward looking at the product portfolio, this customer-centric approach remains the same. Our ambition is to remain a player in the tank storage market, not to necessarily become the biggest, but to grow within the global opportunities and the niche markets where we see ourselves as having a role," concludes Paul.
Rubis Terminal BV
Services: Storage terminal operator