Rubis cubes
Leading European independent company Rubis Terminal stores petroleum products, chemicals and liquid gases in both Rotterdam, Europe's busiest port, and Antwerp, the second busiest, in partnership with Japanese group Mitsul. Operations for Rubis Terminal began in Europe in 2007, however, its history stems back to 1877, when Rubis Terminal, formerly the Compagnie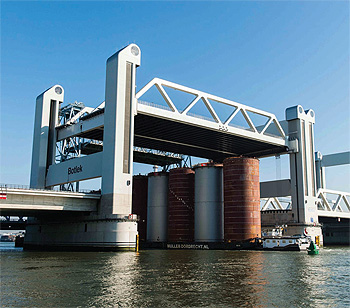 Parisienne des Apshaltes (CPA) was founded. After nearly 100 years in operation, the company totalled in 1992 more than a million cubic metres of storage capacity in Rouen and Dunkirk, whose seafront locations and connections to the main pipelines in France offered integral strategic assets for the development of oil products and chemicals on the French market.
Following this development, Rubis Group, one of the leading European companies specialising in the distribution of petroleum products such as fuel and LPG as well as storing liquid products such as petroleum products, chemicals, fertilisers and agro fertilisers, acquired almost one million extra cubic metres in France during 1995 and 2002. This feat was completed through the take over of strategic terminals, including Brest, Saint-Priest, Strasbourg Petrole and the Propetrol Company (Villeneuve-la-Garenne, Salaise-Sur- Sanne, Village-Neuf, Strasbourg Chimie); this development resulted in the total storage capacity reaching approximately two million cubic metres. From these strategic developments, Rubis Terminal set the foundation for it to become the number one independent operator in France and fifth in Europe.
With Rubis Terminal expanding into Europe, firstly with a terminal in Rotterdam, then in Antwerp, the company has spent the last few years developing and enhancing facilities to remain competitive in a challenging market, as Paul van Herrewegen, General Manager of Rubis Terminal, comments: "The construction works upon receiving the permit and gaining our first customer contract began in 2007, following this, our first customer stored fuel oil in May 2008, which is when activities officially began.
During the same year we added four chemical tanks, which were in use from the final quarter of 2008; from there we gradually grew more into chemicals, adding between ten and 25 cubic metres of storage capacity year-on-year, which meant we had a capacity of 160,000 cubic metres of storage capacity by the end of Rubis terminal one, otherwise known as RT-1. "During operations, an opportunity came up for expansion when our neighbour stopped its activities; with this company, Evonik Carbon Black we had running utilities contracts with them. Upon the divesting of their activities, we claimed some extra land, which was divided between ourselves and the other neighbour; at the area, we call Rubis Terminal 2 (RT-2) we could obtain we have split the land into five phases, with phase one now finished and in commission. In this phase of RT-2, we will add 35,000 cubes, with tank sizes between 1,200 and 4,000 cubic metres of storage capacity."
During this time of major changes in the European petro-chemical sector, Rubis Group acquired 50 per cent of the Delta terminal in Ceyhan, Turkey in January 2012. Since then, major investments have been planned to increase this storage capacity to one million cubic metres and to build a jetty able to receive Suezmax tankers (VLCCs). By having strategically located terminals with maritime access and connections to the main networks of pipelines, the group has added a major asset to its logistical chain, which will benefit customers that wish to maintain and develop their strategic models.
While the Botlek Chemiehaven, based Rotterdam terminal currently boasts 197,000 cubic metres capacity from 42 tanks, there are plans to extend capacities to 310,000 cubic metres in 2020. Current services at the ISO 9001/CDI-T, ISO 14 001 accredited terminal include different vapour recovery and processing systems that cover the whole product range, from marine fuels to high benzene content, product circulation in tanks, demineralised water on site; ship/barge/train transshipments, degassing of ships and nitrogen blanketing to name a few. However, to continue to meet each customer's requirements, Rubis Terminal BV is keen to continue expanding its storage and handling capacity to ensure increased adaptabilty and reliability. The same goals are also set for the Antwerp terminal, which currently has a storage capacity of 96,000 cubic metres as well as 14,000 cubic metres for gas through its 34 tanks that are between 1500 and 4600 cubic metres in size.
"We try to provide tailor made solutions to customers through flexibility, so we can make changes that the customer needs for its products in the agreed time frame. What we aim to do in the extension phase is to have the possibility of connecting to all transport modes, or have it prepared or installed in the future so additional requests can be added relatively easily, should the customer require them," says Paul. Examples of how the company will increase flexibility include adding new tanks between 500 cubic metres and and 10,000 cubic metres, which will be suitable for both chemicals and niche products. Paul continues: "If you look at the market at the moment, demand is going up but pricing is not yet, nevertheless there is growth in the chemicals sector. In the longer term, there is a question market over edible oils and fuels as the industry seeks to replace fuels for other sources of energy. The future looks positive for us, but also challenging as growth in the chemicals sector alone won't be double digit but gradual; this means we have to offer added value to attract customers to us over competitors through our tailor made solutions."
Having positioned itself as a customer focused, flexible, honest and transparent terminal operator, the future looks positive for Rubis Terminal as it pushes forward with its plans for Rubis Terminal two, with phase one anticipated to be operational in the final quarter of 2016. "Over the coming years it is our goal to remain strong in the areas we have a strategic advantage and expertise, while also being open to change due to the fact we are getting bigger," Paul concludes.
Rubis Terminal BV
Services: Storage of mineral oil products and chemicals