Chains of command
The RUD Group is a leading supplier and manufacturer of chain systems and components covering multiple industries including the international oil and gas sector.
Based in Germany and owned by the Rieger family, its roots stretch back to 1875 when Carl Rieger and Friedrich Dietz established Rieger und Dietz (RUD) a company to meet local needs. Today the RUD group has expanded its presence to 14 manufacturing plants and 17 sales offices across all continents.
Its UK subsidiary RUD Chains Ltd is a sales office established in Whitstable approximately 30 years ago as a supplier of snow chains to the motor industry and tyre protection chains to the quarrying industries, evolving to meet the needs of multiple industries. David Bradley is manager of lifting applications, the department dealing most closely with oil and gas companies.
"Anything that needs lifting generally requires lifting equipment, and that is where our products are used," he begins. "In the oil and gas industry RUD chains are used for hoisting between ships, into rigs, or at port. Companies supplying the oil and gas industry use hundreds of our lifting points all over the world. When it comes to the industry, what is important is corrosion protection. Some of our products have an innovative anti-corrosive coating on them called Corrud that has proved very suitable for offshore applications, and it has been very well documented that our chains and lifting points withstand the arduous conditions. This has been important in establishing our reputation. RUD products are very well known and people know how to use them."
Anti-corrosive protection is just one example of RUD tailoring its products to meet the requirements of clients. More recently the company has begun implementing radio frequency identification (RFID) technology into its entire range of lifting applications as part of a drive to make the end user's ownership more efficient. All products are required to undergo regular, thorough examinations, the intervals between examinations should be decided and carried out by a competent person. Presently this is done with a 'paper history' of previous examinations, the information found on the product or tag and the experience of the competent person. The recent introduction of RFID has streamlined this process even further because it is able to link directly to computer databases containing additional information.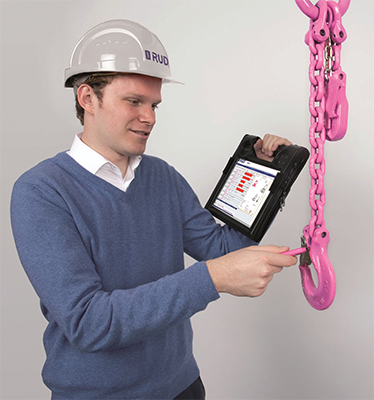 RUD Chains Ltd has recently been nominated as a finalist for The British Construction Industry Awards for its innovative RFID technology and the many advantageous features it offers.
When purchasing from RUD, ultimately all products will come with RFID chips embedded during manufacture, with the option of linking to a RUD-owned server based in a bank vault in Stuttgart, Germany, for security. This facility provides clients with a wealth of storable information including images of the product, order history, batch numbers, inspection records and inspection criteria and other miscellaneous data. When the inspector scans the RFID chip this becomes instantly accessible: particularly useful for inspections, as a record of previous reports will reveal the progression of an item's condition.
"What RUD has done is modernise the technology so that it is embedded into the metal," elaborates David. "In the past this wasn't possible because the metal would block the signal but technology has recently developed to overcome this problem. The challenge facing RUD now is encouraging inspectors to use RFID reading equipment. If there are a hundred items and only a couple have RFID, there is no point in going to the expense of buying the reader and a laptop for it. With RUD manufacturing thousands of products a year, all of which have the technology, there is a great likelihood that this will become a standard in the future. RUD will not be increasing the price of the product so, if an inspector can borrow another's reader, more efficiency can be gained for very little cost. A trial is currently being carried out with a company with up to 3000 items of lifting equipment to see how the system works out."
Since its inception, RUD has always pursued innovation as part of its desire to provide users with an enhanced experience. This has included research and development on its own products in order to draw out further benefits as well as taking on the challenge of advances made by other companies, seeking to provide an even better alternative. As a brand that has been around for nearly 140 years this spirit is as strong in today's extremely competitive world, where price must be balanced by quality and technology, as it ever was.
With a strong product and excellent reputation behind it, RUD Chains Ltd's job begins on good footing. With 30 years of its own history, and with David himself having 17 years in the company and 36 years in the industry, it should therefore be no surprise that the company has performed impressively during the last few years. "RUD Chains Ltd has increased its turnover year on year even through the recession," he explains. "Sometimes I scratch my head and wonder who is buying all the units but the figures show that our lifting products sales have grown bigger for many years now. That is thanks to the team at Whitstable, excellent products and ideas from Germany, the hard work of our dealers, and of course our end users who want to use RUD chains."
The future of RUD, therefore, is to build on the things that have already made it a success story. A focus on innovative products with good customer service from its sales branches such as RUD Chains Ltd is at the core of its strategy for the future. "In particular, the bringing on board of Katie Crane last November as marketing manager has been fantastic," David adds. "I am an old-fashioned knock-on-the-door-for-orders man but she has introduced new media such as Twitter and Facebook that has resulted in a definite increase in orders. I see all sorts of opportunities at the moment and new technologies like this will be essential to RUD's future."
RUD Chains Ltd
Products: Specialists in chain components and systems