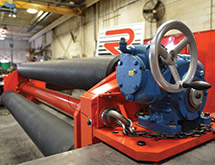 Not many companies can say that they invent new solutions for their markets, but Rulmeca Canada Limited can. "When the industry doesn't have a product for the customers, we design it and we build it," CEO Joe Hartney declares. "We are best in difficult situations and service life is our forte."
The Wallaceburg, Ontario-based Rulmeca Canada is a manufacturer of motorized pulleys, idlers, rollers and other specialty products. The company's roots go back to Precismeca, which started operations in Sulzbach, Germany, in 1947.
The company initially repaired and manufactured conveyor rolls for underground coal and potash mines. Twelve years later, Precismeca formed a sister company in Saverne, France, which was followed by a manufacturing facility located in Alberta, Canada. In 2000, they became members of the Rulmeca Group with manufacturing centers that are strategically located throughout the globe.
Rulmeca also expanded its product lines to include motorized pulleys and additional conveyor equipment. In 1975, Hartney says, the company came to Edmonton as Precismeca Canada to supply idler requirements for the Great Canadian Tarsands mine in northern Alberta.
Owning the Markets
Today, the company operates as Rulmeca Canada from its 60,000-square-foot facility in Wallaceburg, which serves a diverse range of clients. "Seventy percent of our work is repeat business," Sales Manager Todd Mason adds.
One of the company's largest client bases, he notes, is the oil sands industry. "We supply the majority of that market," Mason says.
Rulmeca Canada's clients vary in both size and diversity, from large chains to specialized independents. "We try to find distributors that have a passion for assisting others as we do," he states.
Being the Best
Rulmeca Canada provides standard catalog items, but "we go much further than that," Mason asserts. The company often will study its clients' businesses so that it can create customized products.
"It's a holistic approach," he states. "We have to look at their maintenance costs and their habits, and we have to find solutions that match internal endeavors."
Rulmeca Canada also sets itself apart through product superiority, Hartney adds. "We have the highest-quality products in the industry, bar none," he says.
"Our customers would agree," Mason adds. "The word on the street is Rulmeca Canada manufactures a very good, high-end product that lasts longer. A conveyor with 100 percent Rulmeca rollers is going to run longer and quieter."
Another product that brings the company pride is its motorized pulley. With today's energy costs increasing coupled with the need for businesses to reduce maintenance cost, the motorized pulley is fast gaining notoriety and value in the market.
Another specification growing in today's capital projects is the need to reduce noise; the motorized pulley provides silent operation without effort.
ISO-certified Rulmeca Canada maintains high quality through an in-house program. "We are constantly audited by the ISO people as well as customers," Hartney says. "We welcome that."
Along with being an active member of CEMA (Conveyor Equipment Manufacturers Association),Rulmeca Canada has earned welding certification from the CWB Group.
"If they don't like what they see, they can stop production," Mason says of the CWB Group. "We must have the highest-quality elements."
Staying Competitive
Rulmeca Canada operates in an extremely difficult market, Hartney says. "There's a lot of pressure on manufacturers, warranties, deliveries and schedules," he states. "Cost is constantly being driven down."
The company copes by practicing better buying and scheduling, and utilizing automation, Hartney says. Currently, "We're purchasing another robotic welder," he says.
"It reduces our manufacturing time and increases your assurance of quality," he continues. "It does everything you want it to do."
Rulmeca Canada also strives to employ the best people. The company seeks machinists, CNC operators, welders, engineers, salespeople and professional designers, all with the ability and desire to build the safest, quietest and most robust bulk material conveyor companies.
On the business development and sales sides, it looks for traits such as a desire to help and problem-solve. "The same could be said for our technical department and production department," Mason says. "They have a passion for what they're doing.
"It's nice to know we can rely on more than one person for a task," he adds. "I believe this makes us much more competitive."
Showing Off
Rulmeca Canada recently appeared at the CIM show in Montreal, and looks forward to its future appearances later this year, Mason says. In June, the company exhibited at the Elko Mining Expo in Elko, Nev., and then later at the Oil Sands Trade Show and Conference in Fort McMurray, Alberta, in September.
Additionally, "We're all set up to be at the [MINexpo] in Vegas, which I understand is the largest mining show in the world," he says. "The big thing we get to do is show off the innovations that we've developed."
Not only are these innovations created internally and with customers, "We work with the University of Windsor on testing and improving products," Hartney says, noting that the company recently developed some new designs targeted at both light and heavy duty markets.
These new designs both reduce safety concerns and improve product flexibility, he says.
Valuable Assets
Rulmeca Canada enjoys longevity among its staff. "There are lots of long-term employees in the key areas," Hartney says, noting that some of its senior employees have more than 30 years with the company.
Hartney has been with Rulmeca Canada for 23 years, and Mason will celebrate 10 years with the company this August. Both praise the company's working environment, which is centered on the employees as much as it is on customers.
Rulmeca Canada has enjoyed increasing sales in the past few years. Although commodity markets and production cycles are down, "We're managing to hold our own and grow to new industries and new market segments," Mason says.
Hartney sees growth ahead for Rulmeca Canada with new products under development. "We have some things in the fire," he says.
The company also is responding to the requests of its customers for both increased noise and dust control. "Noise pollution is a big issue," Hartney explains. "There are so many things you can do with a product to reduce the noise."
With Rulmeca Canada's involvement in multiple market segments, "We are certainly stronger in some areas than others," Mason says. "The U.S. aggregate markets are going to be a major area of growth," along with the North American Coal markets.