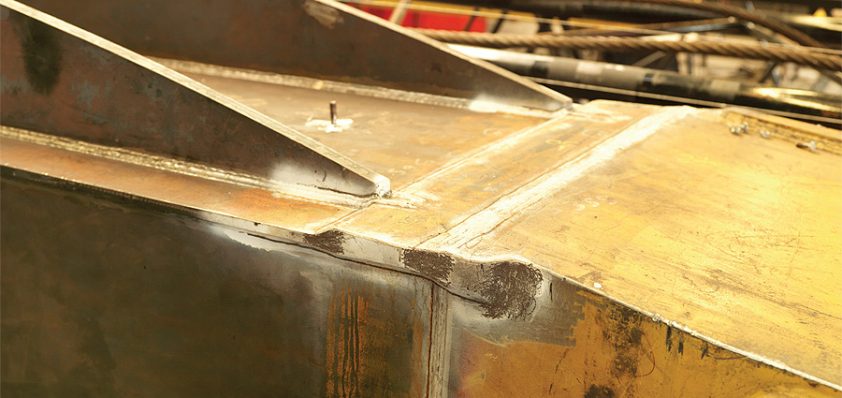 Rusch Special Products BV
Filling a niche
Rusch Special Products began operating in 1991 as a repair company for mobile cranes, excavators and access platforms.
The business quickly grew from a small staff of seven to 55, progressing from a repair company to a large maintenance business, servicing offshore rigs. The company gained invaluable experience repairing various different types of equipment and gained a strong understanding of heavy machinery.
Today, Rusch is made up of several sub divisions, though the business is focused predominantly around lifting and heavy machinery, but covers a wide range of additional specialist areas as well. In this way the company offers an extensive selection of services that are unavailable elsewhere. Repair work the company has carried out on outriggers has earned it a worldwide reputation for innovative solutions, tailored to unique specifications. Additionally, Rusch is a certifying authority for lifting gear and its latest development began in 2005 with the design and fabrication of demolition machines.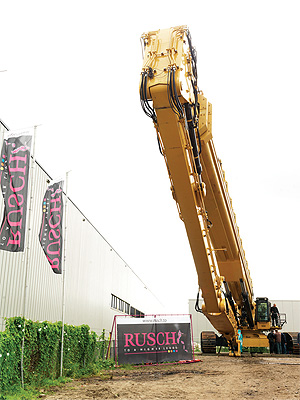 Aside from repair, development and construction, Rusch also provides security standard certification. The company's activities are categorised into several divisions, including fixed and mobile taps, ground resistance machines, fire material, hydraulic tools, construction, caterpillar taps, shovels, and forklifts. Rusch provides these services to companies within the transport sector and the offshore industry, and the business is active in Scandinavia, Germany, the UK, France, Spain, Italy, Turkey, Egypt, Brazil, Mexico and the Netherlands.
Managing director of Rusch, Ruud Schreijer, describes the business' main strengths: "We are knowledgeable in both the mobile crane industry and the very special use of high tension steel. Combining this technique with our knowledge of excavators, we can create a completely new machine. We are very flexible and constantly look to improve the solutions we provide from a repair point of view. We see this as something that really sets us apart from other manufacturers." In terms of maintenance work, the company offers a full service program to its clients. Ruud elaborates: "We inspect the cranes roughly once a year, depending on the client's system. Our teams of experienced personnel deliver the inspections and repair work. They are available 24 hours a day, seven days a week, and are equipped with an extensive store of components for any make or type of crane.
"In 2005, when the company began to offer demolition work, it built what was at the time, the tallest demolition rig in Europe at 60 metres high. We have just completed a record 90-metre machine, which was only possible through the combination of these two techniques."
The 90-metre demolition rig underwent testing at Rusch's factory near Amsterdam before being delivered to client, Euro Demolition, in August 2008. Speaking at the time of the completion, Ruud said: "We have been pushing the design boundaries with this machine, and at the end of the day, we have found that almost everything worked as well as, if not better, than we originally expected."
Rusch will continue to carry out crane repair work, while also developing its new demolition machines. Ruud outlines the plans for the new line: "This new area poses a lot of challenges. We have a lot of experience across the board in our company that I feel we can bring to the sector. The removal of platforms is something we aim to continue over the next ten years."
He goes on to describe the benefits of the product: "As far as I know, we are the only company who has actually produced this type of machine. We have manufactured the demolition rig according to the exact specifications of our client. The crane we are currently building is based on a Cat 5130 with a standard weight of 180 tonnes, when we have finished modifying it, it will weigh 300 tonnes, which shows the extent of the alterations we will make. The width of the machine will be extended to almost nine metres and so will the track length. A 25T Genesis steel shear will be attached to the end, enabling the machine to cut through tubes of 900 millimetres diameter and a thickness of approximately 2.5 inches, at a height of 32 metres."
Now that the company has finished manufacturing its new crane, it aims to expand its new product line in the near future. Ruud comments: "We hope to have a full range of cranes available in the next five years. They will be suitable for more applications than simply oilrigs – we are currently in the stages of finalising one that can retrieve shipwrecks, which will be able to go to depths of 20 metres. These machines fill a gap in the market, as within the demolition industry, there is no other manufacturer producing a demolition machine like this. For this reason, we're very excited about how the new product range will develop."
In terms of challenges related to the new machine, Ruud describes the problems the company has faced with its launch: "The machine is so unique that it is very difficult to ascertain the rules and regulations for it. We have to carry out the necessary research ourselves to answer various questions relating to health and safety, and structural security, such as, the safe distance one must stand from the machine if it is 60 or 90 metres high and analysing what kind of forces will be on the structure. We are at the very start of the manufacturing line in this sense, which we see as an advantage as we can fully research and understand our product before supplying it to the customer."
Looking ahead, Ruud is confident that while the new high reach demolition rig will open up a new area for the company, Rusch will continue to deliver the quality it is known for: "At the moment, we build two cranes a year and we don't want to increase this too much as we believe that would negatively affect our machines. Our goal is to produce between four and six cranes per year, all of which will be tailor made and of the highest quality."
Rusch Special Products BV
Services Repair of mobile cranes and excavators