Lifting and moving
Rusch Special Products (RSP) is a manufacturer of specialised hoisting equipment to heavy industry, with a particular focus on the oil and gas sector.
It is a division of lifting equipment supplier Rusch, set up to undertake in-house development of the company's own machines, and since its establishment has delivered innovative crane solutions to clients. It is currently looking to expand into the decommissioning and demolition markets.
Parent company Rusch was founded in 1991 as a mobile crane repair business, where it was one of the earliest companies to develop high-density steel welding procedures for mobile crane boons. In 1993, the offshore services department was set up and, after 15 years of experience with supply and repair of lifting machines, the special products department was created in 2006 to oversee in-house production.
Founder and managing director Ruud Schreijer tells of how the division has been innovative since it's beginnings: "We began by producing a special high-reach demolition machine that combined the capabilities of both crawler and telescopic cranes with an excavator. Though both mobile cranes and excavators look similar, they have essential differences: excavators have a heavy body and are close to the ground to remain stable, whilst mobile cranes were developed with light construction because they had to move over roads. Excavators remained short because increasing their height caused problems with stability.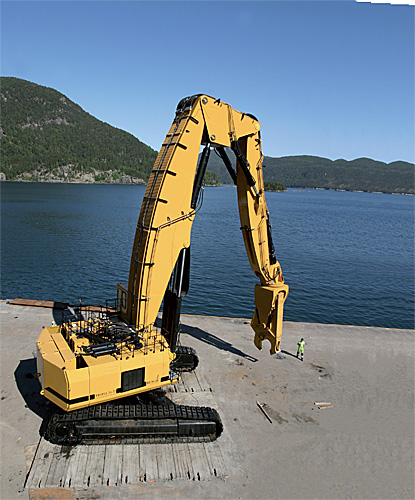 "We solved this problem by taking structural solutions that had been developed by the mobile crane sector and applying them to excavators. Therefore, we were able to get this machine up to 60 metres in eight, which was ten metres taller than the next highest available in Europe and only five metres shorter than the tallest in the world. After that, in 2008, we manufactured a 90 metres version and that was by far the tallest in the world."
This type of forward thinking approach has remained central to the practices of RSP, and though it remains a relatively small company, there has been large investment into the development of machines that address gaps in the market. For example, it is currently engaged in the creation of four new multitasking, subsea cutting tools with up to 100 metres of reach which are equipped with telescopic knuckle booms that allow them to be mounted on the back of barges. Three have so far been constructed with the fourth to be completed in the coming months.
The company's production is customer-driven, with a bespoke tailoring service at the heart of its project portfolio. Ruud talks about this aspect of RSP in greater depth: "We talk with the customer and listen to what they need from a tool and we generate several ideas together. I then take these ideas to engineering who create animated computer models from the plans, then return those to the client before settling on a final concept design and going into production. The machine could be anything from excavators to remotely operated vehicle (ROVs) to stainless steel yacht cranes, even amphibious platforms. As long as it has something to do with hoisting, lifting or heavy machinery we can make it."
Though successful, Rusch has remained fairly small in terms of size and facilities; the company, however, counts this amongst its strengths because it lends both flexibility and a personable aspect to client relationships. Because it has extensive experience in the use of high tensile steels, it is able to offer unique options that most other engineering firms do not have. For example, though high tensile steels are a standard in the mobile crane industry it is almost unheard of for excavation machines and, as highlighted above, this has proved innovative and beneficial for customers such as its current primary client, Norwegian demolition contractor AF Decom Offshore.
Looking to the future, RSP remains committed to creative solutions: it is currently working with an oil company to develop a platform delivery system that cuts the platform into smaller units. By reducing each section into something weighing, for example, 1000 tonnes instead of 15,000 tonnes, the size of cranes – and therefore the cost – can be reduced.
With this and the subsea cutting tool projects underway, as well as receiving numerous other enquiries, the market is beginning to look up again after the crash of 2008 and 2009. "We believe that 2011 and 2012 will see a much more activity," Ruud comments. "Over the next five or six years we expect the decommissioning sector to become an increasingly important business as its need for special machines to carry out shutdown projects quickly and cheaply grows. Another interesting growth sector is the scrapping of ships and shipwrecks. With new legislation coming in that will make single-hull ships redundant, to be replaced by double-hulled vessels, many older vessels will need to be disposed of. Similarly the disposal of shipwrecks, which are currently carried out using conventional methods such as diamond wire cutting, is beginning to chance.
He concludes with an understandably upbeat view on the future: "At this moment there is nobody building special machines for decommissioning and demolition on a large scale. There are many ideas but which is the most successful only time will tell. We think we can gain a fair share of the market, and in five years hope to be a major supplier of tools to both the onshore and offshore industries."
Rusch Special Products
Products: Hoisting machinery