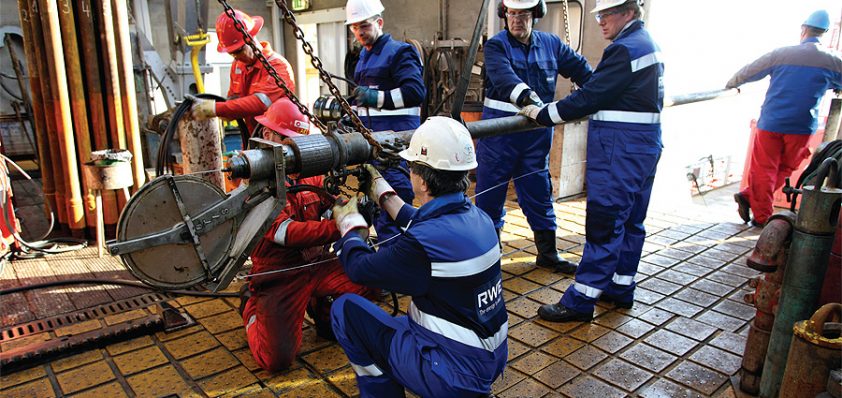 Out in the field
With over 110 years of experience in the industry, RWE Dea AG is Germany's market leader in drilling and oil and gas production.
Operating as a division of the RWE Group, which is one of Europe's largest energy corporations, the company has a strong market presence throughout Europe and North Africa. It also works as operator for Germany's largest and most productive oil field, the Mittelplate, which is situated in the Wattenmeer National Park in the North German state of Schleswig-Holstein.
When it began production in 1987, the reservoirs at Mittelplate contained approximately 110 million tonnes of oil, with a human recovery factor of 50 per cent. In just over two decades of operations, RWE Dea AG has produced 22.5 million tonnes of oil from the site, leaving around 30 million tonnes still to be extracted. The company recently reached peak production from this field of 2.2 million tonnes for 2008 across its 24 production wells including 7 extended reach wells (ERWs), the longest of which is 9275 metres in length. The reservoirs are up to 3000 metres true vertical depth (TVD) and the company has seven ERWs based on the shore to drain its upper segments. The other 17 wells are based upon the artificial Mittelplate Island, which is comprised of concrete and surrounded by steel piles.
Being situated at such a unique location, the Mittelplate operation demands an exceptional degree of care and expertise, according to Uwe Balasus Lange, senior district manager at RWE Dea AG: "This is an unusual project not just in Germany, but throughout the industry worldwide. It's the only artificial island to be situated right in the middle of a protected National Park, which means we must take every measure possible to ensure our activities have minimal environmental impact. We are therefore very proud of the fact that in nearly 22 years of operations, we haven't encountered a single spill." Such is the ongoing success of the Mittelplate project that the company is continuously looking to increase its production capacity. He continues: "We just ran a new completion test for well number 25, and we also plan to start drilling our first multilateral well there by the end of the month. The latter will be a pilot project that should be completed by early 2010."
Such complex, long-term projects as this one require meticulous planning, preparation and maintenance on various levels, and so RWE Dea AG has vital contracts with several key partners to help organise its operations. One such company is ITECS, whom it relies on for resource planning, as Uwe discusses: "There are so many different procedures involved with projects like this – we have to manage various smaller operations and routine work, such as electricity production, maintenance, corrosion protection, shuttle services for employees, accommodation logistics or nautical engineering. ITECS can co-ordinate this for us by talking to all of our project managers to find out how many people we are sending out, when we are sending them out, what the job will entail and where they will be working. After gaining all the necessary information they can then go ahead and create timetables or organise shifts that will help us achieve the most efficient method of operation possible."
RWE Dea AG stands out amongst its competitors for a number of reasons, one of which is its vast experience in the industry. Uwe explains: "Our expertise in running electric submersible pumps (ESPs) is unrivalled, and we have developed them so that they can now last for more than seven years. To have pumps with that sort of lifespan is an incredible achievement, and it is through innovations such as this that we can remain ahead of the game." Being part of the larger RWE Group also gives the company many benefits, as it ensures that there are always resources available to carry out such large-scale operations, even amidst the current financial situation. Uwe elaborates: "We are lucky to have a very strong Mother company that remains 100 per cent committed, promising to provide us with 800 million euros a year for the next ten years so we can continue to grow as a business. It is through the RWE Group that we are able to have a program in place over the next decade to drill another 20 wells from Mittelplate, at a rate of two per year. Even if oil prices drop dramatically we will continue our activities – we know the economy will soon recover, and we are a company that plans for the long term rather than month-by-month."
The reason for such a large investment every year is so that RWE Dea AG can meet its eventual target of doubling production (oil & gas), a feat it hopes to achieve within the next five to six years. "We will continue to invest in our core regions, which are central Europe, the former Soviet Union states around the Caspian Sea, as well as countries in North Africa such as Egypt, Libya and Algeria. Recruiting experienced staff is always part of our policy too, and we hope to increase out employee numbers from app. 1200 to 1250 by the end of the year in order to maintain our growth," Uwe concludes.
RWE Dea AG
Services: Drilling, oil and gas production