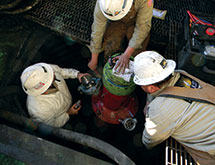 Knowing what is going on thousands of feet down an oil well is difficult to ascertain without the latest specialized equipment. The best way to monitor an oil well is to plan for its constant monitoring before it is drilled, recommend the specialists at SageRider Inc.
"We typically will sit down with a client and discuss what they want to achieve," Fiber-Optic Project Engineer Bill Shroyer says. "We want to find out what their goals are, what they want to monitor and what they are trying to learn. We will customize or design a monitoring system around their well parameters that will help them achieve that data acquisition they need to get the information."
A monitoring system may require additional diameter for the wellbore. "It's very important to work with the client before the hole is drilled to make sure the geometry matches and that there's no areas that might hang us up," Shroyer emphasizes. "Installation can be tricky. Any time you have a hole drilled into the ground that extends out for three miles, there's always some uncertainty with the way the hole is drilled that can affect your ability to install these sensors and monitoring equipment all the way to the depth that they need to be installed at.
"There are some things we do working with our clients and the drilling teams to ensure that we achieve the right hole conditions – that they drill the right hole size – and make sure they are taking into account all the equipment we will be strapping to the outside of the casing," Shroyer continues. "A lot of times, we've seen from our competitors that all of those factors are not often accounted for. What ends up happening is you get an installation just halfway in the hole and don't get it down to where you need to collect the data. If you can't get it down to where it needs to be, all that is wasted money and you can't get the data the client needs."
Permanent Monitoring
SageRider Inc. specializes in what it calls a permanent monitoring installation. "It's typically on the outside of the casing," Shroyer explains. "This type of installation has to be planned ahead of time. We have to take into account the system design and the wellbore design before the installation, but sometimes we run into clients who don't have time to plan for this. There are other ways to convey a monitoring system into a well. For example, it can be strapped to the outside of the production tubing. Our specialty is really in the permanent monitoring installation, but we certainly get involved in some of these shorter lead-time installations, as well. The wellbore geometry already exists, so we know what size hole and tubing we're dealing with. It's a matter of customizing our equipment to make it fit the situation."
Clients ranging from major oil companies to small independents throughout the United States and in some international locations – such as Israel, Argentina and New Zealand – want SageRider's monitoring to tell them what is going on in their wells.
Some of SageRider's equipment – such as its specialty downhole perforating equipment – is patented by the company. Other equipment the company uses is standard technology, but it is customized in unique configurations by SageRider. "One of the big differentiators that our company has over others is the experience installing these systems successfully into the ground," Shroyer stresses. "We've got a far better track record than our competitors, and that is starting to prove itself out all the time."
Constant Development
SageRider manufactures most of its equipment itself, assembling much of it from outsourced components. The company does not have its own manufacturing plant but rather contracts with machine and fabrication shops mostly in Texas. "We're always in a state of constant development," Shroyer asserts. "That's another one of the strong points that we have. As a smaller company, we're not bound by a lot of the red tape and larger burdens and overhead that a lot of the larger companies are. A larger service company might take 12 to 18 months to go through an engineering evaluation to deploy a new tool downhole or a new concept downhole. Because we're a lot smaller, we can devote the time and resources immediately to developing a tool or a system that will satisfy a client's need and deploy it in a relatively short period of time, from concept to engineering to development to prototyping within a six- to eight-month timeframe. So we're always adding new tools."
Among these are the SageRider Coach Gun and the Revolver System, which were developed by customer request. Development of these products reveals one of SageRider's competitive advantages. "We can offer a system to our customer at a lower overall cost than our competitors simply because we don't have such a large overhead," Shroyer asserts.