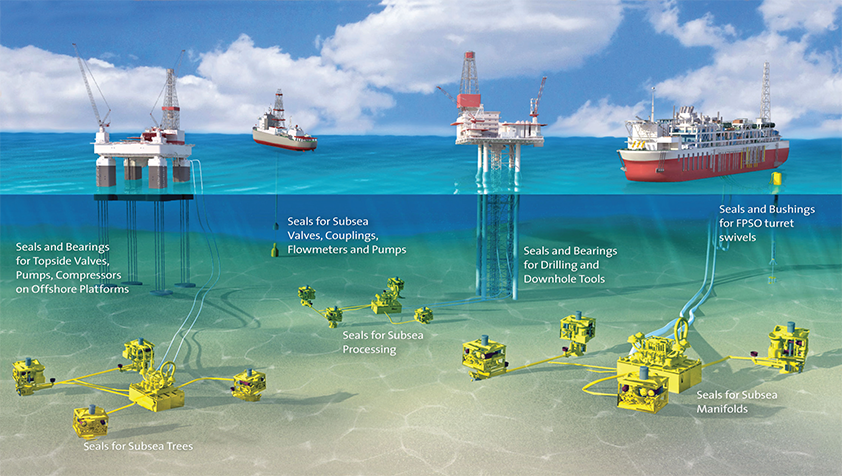 Saint-Gobain Performance Plastics – Seals Group
Innovative approach
Established in Garden Grove (California) in the fifties and in Belgium as of 1983 as part of the Saint-Gobain Group, Saint-Gobain Seals Group has approximately 700 employees worldwide and a global presence, with 14 manufacturing sites in Europe, the US and China and more recent sites opened in Poland, Brazil, Mexico and China.
Saint-Gobain Seals Group is market leader in the design and manufacture of innovating seals and polymer components for various industries. However, one of its core markets is the oil and gas industry, as Christophe Valdenaire, oil and gas market manager for Saint-Gobain Seals Group, elaborates: "We focus on the oil and gas sector, supplying our flagship product line OmniSeal® polymer spring-energised seals for engineered topside and subsea valves, FPSO turret swivels, liquid transfer equipment, pumps, compressors, just to name a few."
As a global leader in the energy sector, Saint-Gobain Seals Group is dedicated to working with its clients to deliver custom-designed polymer and sealing solutions. "We are a made-to-order company so we work with customers on their projects for sealing solutions and these relationships are based on our engineering skills, materials expertise and the client's specific demands," says Filip Staelens, operations manager of Saint-Gobain Seals Group Europe.
The Omniseal polymer spring-energised seals can operate in harsh environments, reduce friction and downtime and extend the service life of equipment. OmniSeal is a popular choice for those in the oil and gas industry due to its extreme reliability and durability under extreme temperatures and high sour gas (H2S) concentrations.
More than a seals manufacturer, the company is a materials expert, combining over 50 years' experience in materials and component technology to provide superior engineered polymer and thermoplastics solutions for a number of applications under its wholly owned brands Rulon® and Meldin®.
Through conducting its own R&D on its materials in-house, the company has created high performance seals that range from three to 3000 mm and work in control elements offshore, onshore and even for subsea. The seals can be made out of NORSOK M710 certified materials and are suitable to meet the strict requirements of Low Fugitive Emission industry standards, such as ISO 15848-1 and SHELL MESC SPE77-300.
Able to work under the harshest environments, from high pressure, high temperature, to cryogenic, Saint-Gobain's superior OmniSeal products are well suited for the oil and gas industry. "Our solutions can be used from cryogenic at minus 196 degrees Celsius for liquefied gas applications to 315 degrees Celsius in high temperature environments and we work within that range for the oil, gas and energy industries," says Christophe.
As an integral part of the global giant Saint-Gobain, the Performance Plastics division contributes approximately 2.5 per cent of the 40 billion euros revenue that the group makes overall, equaling a turnover of around one billion euros. Following 300 years of excellence it was recognised as one of the 100 most innovative companies in the world for the second consecutive year in 2012, as Filip explains: "We were nominated for the award as a complete company and there are a number of reasons for that. A significant amount of money is spent on our R&D facilities and we put a considerable amount of effort into high pressure, high temperature aggressive environment testing on our materials and seals. We are also working within a global innovation programme to improve the level of sales for our new products that have been developed over the past three years; currently our sales statistics for new products is at 45 per cent."
Innovation is a key focus for the company and it is aiming to find solutions to cope with high pressure applications; it is also aiming to develop sealing solutions that can be used at 20,000 psi in deepwater, with greater pressures and higher temperatures to coincide with oil and gas exploration and production into deeper water reservoirs. This requires collaboration across the industry and Saint-Gobain feels positive about the challenge. "New solutions are needed to unlock deepwater oil and gas resources from high pressure areas at 20,000 psi as the current technology only has a technical limit of 15,000 psi," highlights Christophe.
Over the coming years it will be focusing on expanding into new areas, such as India, Russia and the Middle East, while developing recently opened plants in China and Brazil. "Our vision is to expand our global presence in the oil and gas market, which is forecast to keep growing for the next ten to 20 years. The boom is great for our customers, but at the same time finding and winning oil is becoming more complex as new technologies are needed for use at 20,000 psi. We are in a strong market position as there are limited companies that can offer the solutions we can, so these challenges are an opportunity for us," Filip concludes.
Saint-Gobain Performance Plastics – Seals Group
Services: Innovative sealing and polymer solutions