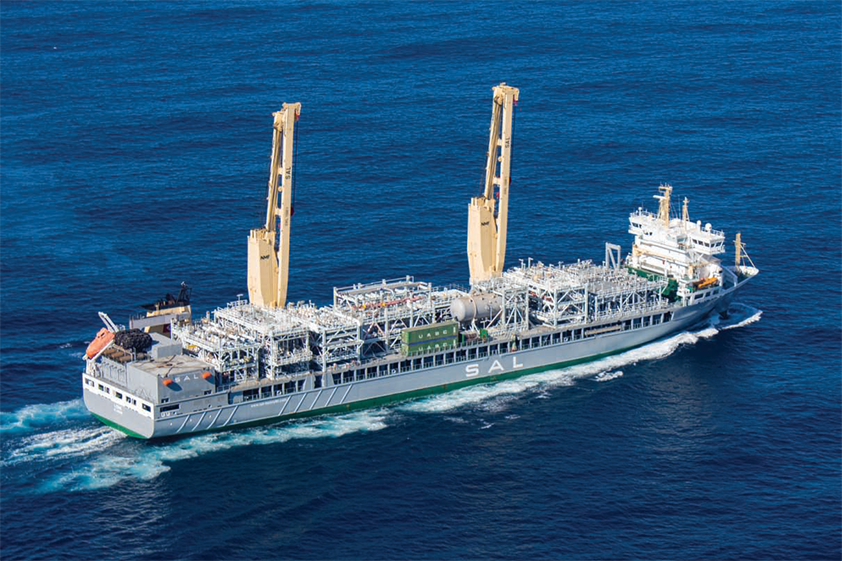 Loads of success
There are some industries around the globe that manufacture products of such size and scale they require special assistance with transportation.
These could include oil and gas equipment, the renewables sector, modules, port handling equipment, port construction, floating cargo, heavy machinery or power plants – and when they need help, they call SAL Heavy Lift. A member of the "K" Line Group, SAL Heavy Lift is one of the world's leading carriers specialising in the sea transport of heavy lift and project cargo with a combined crane capacity of up to 2000 tonnes.
This year SAL Heavy Lift has added two ships of Type 116 to its fleet, now consisting of 18 heavy lift vessels, to serve clients with lift requirements of up to 900 tonnes. MV Calypso and MV Amoenitas are equipped with two cranes of each 450 tonnes and have the highest ice class. As SAL's type 183 and 176 vessels are well planned ahead, the fleet's expansion with type 116 responds to the growing demand for its mid-range services on the part of customers worldwide.
"We see these vessels as a good bridging for getting modern tonnage into our fleet," says Lars Rolner, managing director/COO. "We have had, and still have, some nice project-related business and we are pleased to note that the 176 types have been fully booked. Moreover, there are also good signs in the market for an improvement of the high-end segment," he concludes.
The oil and gas equipment sector is one industry that often calls on the specialist knowledge of SAL Heavy Lift. SAL possesses extensive experience in this area and as a result knows exactly what is required to ensure safe, efficient loading, securing and sea passage for the often unique products that this segment creates, including absorbers, reactors, coke drums, pipe laying towers, reels and carousels.
In August/September MV Frauke delivered two carousels to Angola. The cable had been spooled onto the carousels in Panama City. In September, MV Grietje loaded two absorbers, one column, one reactor, one regenerator and one reboiler with a unit weight of up to 600 tonnes, and a total of 2400 tonnes and 13527 cbm. A special aspect was the three-crane-lift cargo operation. The cargo was loaded in Korea and transported to Saudi Arabia.
For offshore projects, SAL Heavy Lift established SAL Offshore B.V., a wholly owned subsidiary in the Netherlands in 2012. SAL Offshore's fleet holds a strong offering to the market with the main installation vessels of Type 183: MV Lone, a DP Class 2 vessel, and MV Svenja, a DP Class 1. With the successful installation work at the Costa Concordia wreck removal, another important step was taken to become a designated expert in the offshore installation industry. Platforms had to be installed in up to 45 m water depth, the largest weighing 1000 tonnes – a record-breaking subsea installation for an HLV.
"We want to expand further and grow within the super heavy lift market and the offshore installation segment. With our modern fleet combining transportation and offshore installation, we see great potential for the installation of mooring spreads, transition pieces, foundations, tidal turbines, and oil and gas equipment," says Lars. "It is great to see how we are performing in each of our business segments. We have many clients who praise the crew, the vessels, the high level of HSSE and the service we provide. All of this makes the difference between SAL and other carriers."
SAL Heavy Lift
Services: Sea transport of heavy lift and project cargoes