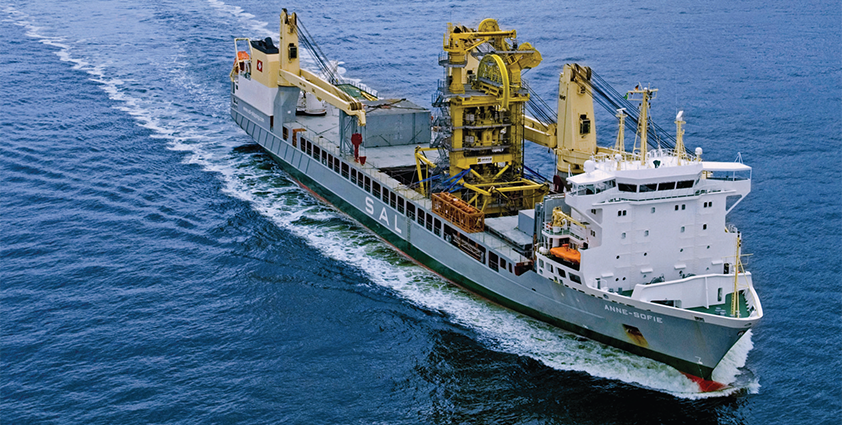 True heavyweights
Operating as an exclusive agent for a fleet of 14 heavy lift vessels, SAL Heavy Lift provides a broad range of customised and highly reliable sea transportation solutions capable of carrying all types of cargo, from heavy machinery and equipment for the oil and gas industry to offshore wind energy equipment, cranes and floating cargo.
As well as operating a modern, well-equipped fleet the company has an in-house engineering department, which gives it a significant edge over many of its competitors.
The history of SAL can be traced back to 1865, and since that time various generations of the Heinrich family have steadily taken the business forwards. "SAL is essentially a traditional heavy lift vessel company that operates in the high end of the heavy lifters," says Sune Thorleifsson, project director at SAL. "We have 15 ships at the moment in operation at sea ranging from 550 tonnes up to 2000 tonnes. We are the only heavy lift carrier able to operate with a service speed of 20 knots, which is quite an advantage to clients in the offshore sector, particularly when time pressure is very important."
The competitive edge of the vessels' high speed capabilities makes Sune very confident in the potential of the company's fleet: "We really are at the top end of the heavy lift market in terms of our capabilities as we have four ships that can lift up to 1400 tonnes and are awaiting the delivery of two new buildings with a combined crane capacity of 2000tonnes SWL in December 2010 and March 2011. This will be the largest heavy lift vessel in the market and will serve to strengthen our overall position considerably."
The strength of SAL's fleet means that customers across the world regularly use the business for their heavy lift requirements. Apart from working with oil companies on refinery and other heavy lift projects, the company regularly carries out work in the power generation, crane equipment and renewable sectors. "We work all over the world," says Sune. "In offshore operations we essentially act as a large offshore support vessel loading equipment from where it is manufactured and carrying it to wherever the client needs it as efficiently as possible. We also operate as service vessels for FPSOs, which benefit from our fast transit times and large crane outreach when in need of equipment. To further improve our offshore activities, the latest new buildings with 2 x 1000ts cranes are also equipped with a Kongsberg Dynamic Positioning System allowing for exact positioning of the vessel. Apart from servicing the oil and gas industry with such systems we further see a large demand in the offshore wind industry where windmill installation at sea remains a challenge.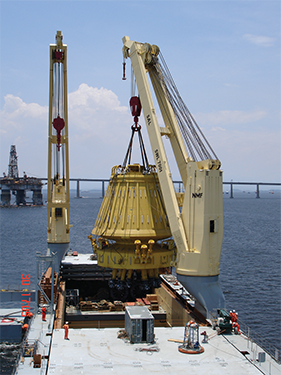 "In the oil and gas industry one of the advantages of using heavy lift vessels is to avoid double banking and costly formalities when loading and discharging offshore," he continues. "Our benefit is that we do not go into any port, but instead stay outside and then deliver the goods to the installation, which is a great added value to the contractor. All the equipment in the sector is growing rapidly, to the point where you now see products weighing up to 800 tonnes."
As Sune previously mentioned, where SAL gives its clients real added value is in the overall service it provides. This includes associated services such as its in house engineering department: "We are increasingly seeing this to be absolutely vital when we are bidding on tenders in the oil and gas industry," he explains. "If we did not have the technical skills and the technical man power behind the sale we would not be able to provide the complete solutions for our clients that they demand. In terms of our overall business it is vital we have that service, and continue to develop it, particularly as there is a growing demand from the clients as the projects get more and more complex and difficult."
Another key element is SAL's strong emphasis on health, safety and environmental (HSE) protection. All vessels are certified for ISO 14001 and OHSAS 18001 the highest certification standards in this domain. In addition, all of SAL's recent new buildings are equipped with an 'environmental passport', ensuring SAL's dedication to environmental protection.
In order to remain competitive SAL places considerable emphasis on regularly updating its fleet by adding new vessels with increased capabilities. "We placed a new building contract last year and we are due to receive the first of these vessels, the one that is able to lift 2000 tonnes that I mentioned previously, on the 9th December," Sune says. "We have taken delivery of more than 50 ships in the last 30  years and the fleet we have now is thanks to this continuous development.
"The first new 2000 tonne heavy lift vessel – which is the first of its kind worldwide has already secured work. She will be working on the Norwegian Coast carrying out a range of lifting projects with various clients. The projects that have been booked could only be carried out by this latest type so we are very glad to see there is a demand for it, because when you make a substantial investment of this scale you are obviously uncertain on to how well the market will react."
Clearly Sune does not need to be too cautious. SAL has cemented a considerable reputation in the industry, and with these new vessels added to its fleet this can only continue. "I think that when the market stabilises a little more we will see further projects develop and there will be a larger need for heavy lift vessels. Apart from Europe we are looking at other markets and have recently signed some contracts in Russia so I certainly believe that we can continue to expand in the future," he concludes.
SAL Heavy Lift GmbH
Services: Heavy lift vessels