Core expertise
With a production of around eight million tonnes of steel per year, Salzgitter AG is the second largest steel company in Germany, as well as a leader in the European market.
As the management holding company for the Group's activities, Salzgitter AG co-ordinates its five divisions: Steel, Trading, Tubes, Services, and Technology. Within these divisions are around 200 domestic and international subsidiaries.
In many cases these subsidiaries can look back at a long history of their own, but as a whole Salzgitter has a long tradition in steel extending back more than 150 years. During this time the company has continued to advance through organic and external growth, which has also enabled it to supplement its core steel business with complimentary services.
In 2000 Salzgitter acquired Mannesmannröhren-Werke, resulting in the creation of the current Tubes division. As a well-known name in the steel tube industry, Salzgitter integrated the expertise and experience of Mannesmann into this new business area.
As a result the product portfolio of the Tubes division is particularly expansive including seamless tubes, seamless and spiral-welded large diameter pipes, stainless tubes, precision tubing and medium line pipes. Subsidiaries operating in this sector include Salzgitter Mannesmann Grobblech, Salzgitter Mannesmann Großrohr, Salzgitter Mannesmann Line Pipe, Salzgitter Mannesmann Precision, Salzgitter Mannesmann Seamless Tubes and Salzgitter Mannesmann Stainless Tubes. Europipe is a joint venture between Mannesmannröhren-Werke and Dillinger Hütte.
Salzgitter Mannesmann Großrohr
For more than 50 years Salzgitter Mannesmann Großrohr, has been producing spiral-welded pipes from its mill in Salzgitter, Germany. Manufactured in a range of diameters from 24 to 66 inch, 95 per cent of this production is aimed at high-pressure services such as oil and gas transmission lines. Dr Franz Martin Knoop, managing director of Salzgitter Mannesmann Großrohr, elaborates upon the main markets of interest for the company: "Today the change in the European and global gas markets has seen the transmission split from the procurement or sale of the product, but in every European country there remains at least one or two major companies responsible for transmission lines.
"At the end of the last century we also moved into more international projects, and as such have produced pipes for use in North and South Africa, the US, and Algeria to name a few. Yet we still try to maintain this balance between global and more localised projects."
Whilst many spiral-weld production mills also produce pipes for structural applications, or use in utilities, Salzgitter Mannesmann Großrohr has made the conscious decision to focus almost exclusively on high pressure service materials. This enables it to ensure consistent compliance with the higher standards and qualifications of the oil and gas industry.
Spiral-welded pipes have however not always enjoyed such a positive relationship with the industry. Much of this is down to the manufacturing process, which results in a much longer weld seam then other methods, such as UOE construction. Franz highlights how research work is helping to dispel some of these negative perceptions: "Intensive research and development work has been carried out on this subject, and increasingly the results indicate that spiral-welded pipes are at least equivalent to UOE tubes. Technology is also continuing to move forwards – as an example we have developed the first in-situ online dimensional control for pipe diameter in spiral-welded tubes, enabling us to achieve the lowest tolerances on diameter normality that is possible."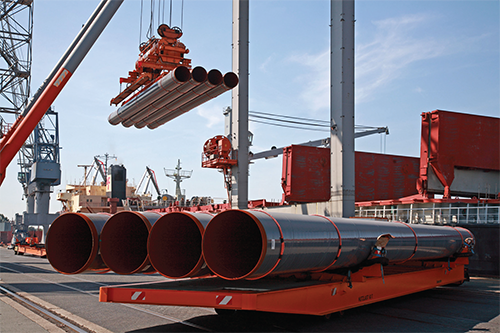 In fact, Salzgitter Mannesmann Großrohr has long been a technological leader in spiral-weld production, and as such employs a high degree of automation in its production plant. The company also works closely with other Salzgitter subsidiaries, namely Salzgitter Flachstahl as a raw material steel producer, and research institute Salzgitter Mannesmann Forschung, providing it with greater traceability throughout the complete production process.
Salzgitter Mannesmann Line Pipe
Elsewhere within the Tubes division, Salzgitter Mannesmann Line Pipe prides itself on being a global partner for high frequency induction (HFI) longitudinally welded steel pipes. These are utilised in a number of different industrial applications including oil and gas, drinking water and sewage systems, machinery and plant construction, and even structural tubes. Pipes are available in outside diameters of 4 ½" (114.3 mm) to 24" (610 mm) and wall thicknesses of up to 1" (25.4 mm); they come in mill lengths of max. 18 m. MLP also offers a full range of external coatings such as 3LPE, 3LPP, FBE, FZM as well as linings, among which are epoxy flow coat and cement lining.
By pursuing innovative research and ongoing development, Salzgitter Mannesmann Line Pipe has become renowned for the highest standards and comprehensive expertise in HFI welding technology. From its two sites in Hamm and Siegen, Germany, the company also works closely with national and international institutes – not least Salzgitter Mannesmann Forschung, in order to not only improve the current welding process but also support new products to the benefit of its customers.
These development activities are especially focused upon the quality and safety of HFI welded pipes. From the initial inspection of the raw material, production is monitored fully using ultra-modern test equipment, and verified with a final inspection of the completed pipe to ensure all properties meet the exacting requirements of Salzgitter Mannesmann Line Pipe's customers.
Salzgitter Mannesmann Forschung
As the central research group of Salzgitter, Salzgitter Mannesmann Forschung carries out development work for all the steel pipe producing subsidiaries within the Group, as well as external industrial companies dealing with metals. Initially established in 1932 as the Mannesmann Forschungsinstitut (MFI), the business was tasked with developing steel pipes and products for the former Mannesmann Group. In 2004 the research activities of the MFI were integrated with those of the Salzgitter Materials Centre, which had also been active since the end of the 1930s, to create Salzgitter Mannesmann Forschung. The company continues to operate from its historical locations in Duisburg and Salzgitter.
"We develop steel pipe as a whole component, which means not only the material alloy, but also the process for producing longitudinally welded large diameter, or spiral-welded large diameter pipes, and even seamless pipes," describes Dr Manfred Keller, R&D co-ordination and standardisation at Salzgitter Mannesmann Forschung. "In addition we also develop and apply new testing technologies in both destructive and non-destructive methods, and have machinery in our laboratories to carry out rolling and welding tests."
He continues: "Another area we deal in is technical calculations, mainly in terms of finite element simulations to test both the behaviour of the pipes under load, and the behaviour of our machinery during production. This is to determine whether they are strong enough to manufacture pipes out of the latest steel grades, which are often high strength or greater wall thickness. We believe that we are unique in bringing together all of these activities under one roof, with very few other research institutes able to offer such a complete service."
In terms of steel for pipeline applications, there are a number of new user demands that are helping to guide the focus of Salzgitter Mannesmann Forschung. The first of these is the desire for larger transportation quantities within the line pipe, which either requires increased pressure, a larger diameter pipe, or a second parallel line. This requires a much higher strength material to withstand the increased internal pressure. The growing trend for arctic operations also requires special grades of steel, which are resilient even at very low temperatures.
Deepwater developments are also a concern in terms of creating steel that is capable of withstanding the immense external pressure caused by depths of up to 3000 metres without collapsing. Finally, Salzgitter Mannesmann Forschung is carrying out work into corrosion resistant alloys for the transportation of today's oil and gas resources, which increasingly contain corrosive constituents like carbon dioxide.
Despite the global desire to move away from traditional energy sources in the future, it is clear that for the short to mid-term gas and oil will remain vital in meeting the world's growing energy consumption. Although these sources may change in terms of developments such as the advance of non-conventional gas fields, the need to transport energy is unchanging, and therefore Salzgitter is confident in the strength of its market for the years ahead.
Salzgitter AG
Services: Steel and steel products