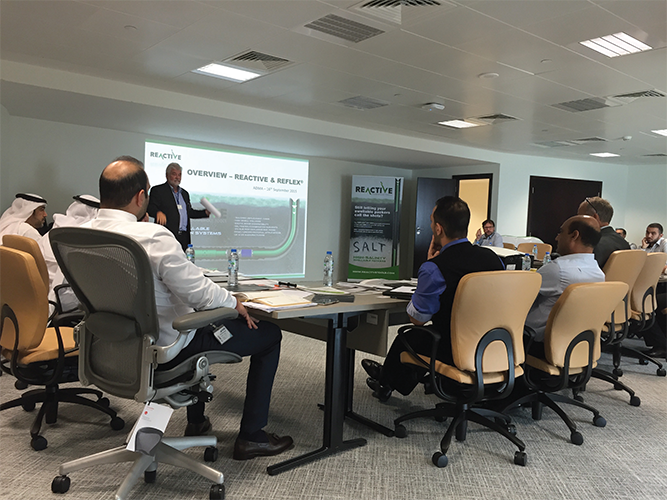 Driving innovation
SAMCO was originally registered in Abu Dhabi back in 1993 but its oil and gas operations didn't take off until 2012 when the company gained its commercial licence CN-1176631 to operate in the on and offshore industry. Around this time, CEO Rolv Flaaten was brought in to manage the company as it sought to represent proven high quality technology firms from across the globe in the rapidly developing Middle Eastern oil and gas market. With major names such as Saudi Aramco, Total, ADMA OPCO, Al Hosn Gas and Bunduq present on its client list, SAMCO targets the most innovative and proven technology companies from Northern Europe and Australia to represent.
"It is very difficult for a small company like us to bring in commodities so we need to bring something that is much smarter," says Rolv. "The companies we work with are brought into Abu Dhabi because they can benefit the operations going on here, not because they can make us a profit. It is because they are the best in their field and their technologies have been proven in the North Sea and other established sites." Rolv himself is central to SAMCO's success in the region because of his 16 years of residence in Abu Dhabi and long-standing relationships with Norwegian companies. "At the time there were a number of Norwegian companies looking to come to the Middle East who said they would follow if I took over and opened up SAMCO. Today, our main strength is knowledge," he comments. "I have the experience and understanding of what is needed in the industry and my partners that are supporting us also have their own expert knowledge. Therefore, we have a very good team."
Amongst its portfolio, one company that Rolv feels is doing particularly well in the Middle East is ScanWell, as it is picking up more and more work. Based in Norway, ScanWell provides equipment and services for reservoir, wellhead and process monitoring covering acoustic logging, wireless data acquisition and sampling. Experiencing similar success is HydraWell Intervention, which supplies innovative step change technologies focusing on P&A, cost optimisation and operational risk reduction, and Scottish company Rubberatkins, which supplies all SAMCO's customers with bespoke rubber moulding applications.


The most recent company to enter the SAMCO family is Coretrax, a specialist in wellbore clean up and abandonment services. As part of the company's $2 million investment to establish a fourth base in the Middle East, the company appointed SAMCO as its agent. Coretrax's Global Business Development Director, John Fraser, commented on the partnership, saying: "Through our work in the Middle East we have experienced real growth internationally and we hope to maximise further opportunities by our appointment of SAMCO, who will act as a conduit for us in Abu Dhabi. We see SAMCO as a dynamic and forward thinking company, which aligns well with our team."
Innovative ideas and cutting-edge technology lay at the heart of SAMCO's offering to the Middle Eastern market. The company TCO, for example, which is also based in Norway, designs, manufactures and installs unique glass barrier plugs and chemical systems, as well as specialising in the provision of tubing conveyed perforating equipment and services. Peak Well Systems Ltd is a globally successful company focusing on the design and manufacture of advanced downhole tools for well intervention. Another standout company is Sandaband Well Plugging AS, the globallyexclusive suppliers of Sandaband, a unique non-consolidating, non-segregating, nonshrinking and non-fracturing well plugging material. Cutting edge materials are also key to Reactive Downhole Tools, which looks to utilise high performance swelling elastomers and self-energising high-pressure cup elements to create bespoke isolation solutions. SAMCO's current representation is bolstered beyond these product and solution offerings by service providers TASK Geoscience & Fronterra, a geoscience consultancy, and Falcon Oilfield Services, which offers a broad range of services for all logging operations.
With such companies behind it SAMCO is capable of offering solutions from packers, water waste treatment and downhole shut in tools to gauge hangers and well integrity equipment. "The future is here in the Middle East," explains Rolv. "There are so many opportunities, and of course challenges, and everyday I am looking for new technologies and companies to implement into our portfolio so that we can provide the right and best solutions. The Middle East is currently full speed ahead but they do need better ways of doing things and this is why companies like SAMCO are challenged to find the best there is."
Considering this, the future for SAMCO looks very positive. With its combination of pioneering offerings and unrivalled knowledge the company is well placed to make the most of an evergrowing market. "This region is very stable for the future of oil and gas and this is not going to stop," highlights Rolv. With this in mind SAMCO offers a streamlined and well-integrated route to market for ambitious, innovative and well-proven companies looking to help develop the oil and gas industry in the Middle East. To facilitate this, and expand its own footprint further in the region, SAMCO is currently running a series of workshops to present its portfolio of companies to its clients.
SAMCO
Services: Agency based in Abu Dhabi representing innovative European and Australian companies for the local oil and gas industry
Issue 125 October 2015