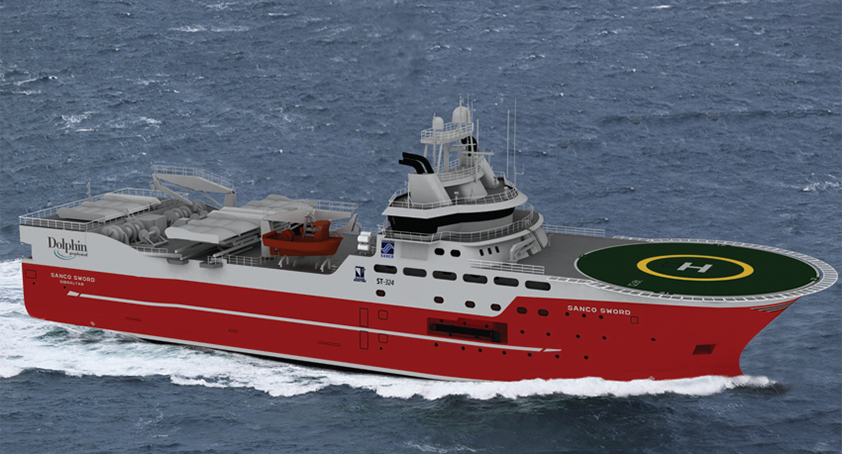 Seismic service
Sanco Shipping AS was founded in 1996. It's first vessel was purchased the same year, and rebuilt to a modern support ship for the seismic industry.
Today the company's primary task is the worldwide operation ofpurpose-built seismic ships.
From its head office located in Gjerdsvika, Norway, Sanco Shipping serves customers all over the world, as Ivar Slettevoll, CEO confirms: "Our key market is the seismic marine industry. We have seismic support vessels and seismic vessels for both towed streamer and bottom cables. We also have two new vessels under construction by Kleven Maritime. These are seismic vessels designed to tow up to 14-16 cables, and are already chartered to Dolphin Geophysical on delivery. Our fleet of seven vessels are currently working in theFar East, Brazil, Africa, Canada and the North Sea. All of them are on fixed contracts with different leading seismic companies around the world such as Dolphin Geophysical, PGS, CGGVERITAS and GEO/RXT."
Sanco Shipping AS takes care of the shipmanagement, including day-to-day operations as well as fleet renewals, financing and enteringinto long-term time-charter contracts in accordance with the board of directors of the different shipowning companies.
The main policy of Sanco Shipping is to maintain and operate a fleet of ships in accordance with national and international legislation and regulations, at charter rates ensuring the financial stability of the company.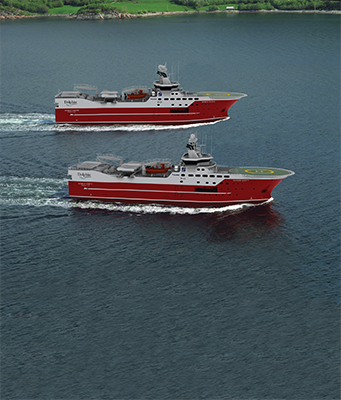 Sanco also strives to meet the important target of creating value for customers, and for being known for quality and soundness, having a reputation of being an attractive business partner that can be trusted and relied upon, earning sound profits based on manageable risk and being highly competitive among shipowners serving the same market area.
A vital addition to its modern fleet is what Sanco describes as its 'most valuable resource' – its staff off 110. All Sanco employees are well qualified and are able to demonstrate the highest standards of professionalism at all levels – indeed, Ivar believes this to be a huge strength of Sanco Shipping: "All our key personnel have been working in the seismic industry for very man years," he says. "Some of us started working on seismic vessels already back in 1981, which means that we have over 30 years of experience."
The importance is placed on Sanco employees in such a way that 'having highly competitive staff who can meet stringent requirements' is one of the company's overarching business objectives.
Employees also have a major role to play in the safe operations of Sanco. The company's Safety Management System (SMS) is applicable to all employees and third parties involved in Sanco Shipping's activities. The SMS system is a continuous improvement process and each and every employee is encouraged to actively participate in this process. To enable this process to occur smoothly, the company assures training to all employees in order to perform their individual responsibility to their full potential. The managing director of Sanco Shipping carries the ultimate responsibility for the company's commitment to the SMS system: "Each and every employee is expected to be equally committed and to be dedicated to the achievement of total management throughout the company," says Ivar. "We expect our employees to maintain high ethical standards in everything they do – both the work performed by our company and when serving our clients."
He continues: "Overall the satisfaction of our customers is the basis for our business philosophy. We will always be attentive to the challenges of our clients, and strive to find optimal solutions to their needs. We aim to be identified as a professional and sound business partner and will actively seek to establish strategic and commercial alliances.
"Expansion of the company will be from continued strength in what we do, and by taking one step at a time. Our goal is to remain financially strong with a sound liquidity, basing our investments on long-term returns. By following our philosophy and reaching our objectives, we aim to be one of the leading shipping companies within our niche.
"Despite the overall difficult trading conditions some ship operators have been experiencing, Sanco is looking forward to the future with optimism: "There are always new possibilities in the offshore market," he says. "For the next two years I believe we will concentrate on building the two seismic vessels at Kleven and have a focus on a professional and fruitful co-operation with our existing customers."
He concludes: "Looking a little further ahead, over the next three to five years, I believe the seismic market will continue to grow and we will still have focus there, but we will probably also start looking into other offshore segments for doing business."
Sanco Shipping AS
Services: Seismic vessel operator