Steely determination
Based in Sweden, Sandvik Powdermet focuses on materials technology by producing hot isostatic processed powder metallurgy components.
As a world leading company, Sandvik Powdermet offers Powder Metallurgy (PM), Hot Isostatic processed (HIP) and Near Net Shaped (NNS) components ranging from 100 grams to 15 tonnes in high alloyed steel, stainless steel, Ni and Co bas alloys and Metal Matrix Composite (MMC). It aims to lead the expansion of HIPed NNS Components through active development of components with complex geometry, fast deliveries and tailor-made properties for the offshore industries and especially sub-sea developments.
Previously owned by Metso, Sandvik Powdermet is now part of the Sandvik Group, which has 42,000 employees, representation in 130 countries and sales in excess of 72,000 billion Swedish Kronor. Sandvik Powdermet has experienced sustained growth since the acquisition and over one million euros is expected to be invested in the business. Founded in 1862, Sandvik is an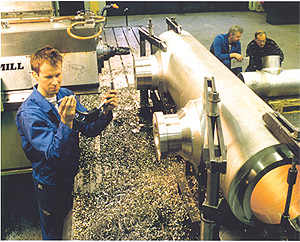 engineering group with advanced products and prominent positions in selected industrial areas. Sandvik Powdermet is a part of Sandvik Materials Technology, which is a global developer of advanced alloys and ceramic materials that serves a range of industries with innovative products and system solutions.
President of Sandvik Powdermet Carl-Gustaf Hjorth explains: "This year we became a member of the Sandvik Group and belong to Sandvik Materials Technology. This was a good move because, although we had a good situation within Metso, we were drifting away from its core business. As a member of Sandvik Materials Technology, we're in the centre of its core business and are of strategic importance for development within the oil and gas sector. We also benefit from Sandvik's massive R&D activities and global network."
Through active supplier and sub-contractor networking, Sandvik Powdermet utilises its worldclass technology to manufacture reliable components and its production facility functions within a comprehensive quality assurance system in compliance with ISO 9002. The company also operates an environmental management system in compliance with ISO 14001 2004 and occupational health and safety in compliance with OH SAS 18001. "It's important to us that we have the whole scope of approvals and we urge sub-suppliers to be qualified according to these systems as well," comments Carl- Gustaf.
The company's technology offers clients advanced solutions that are both time and cost effective: "Much of our business is directed to sub-sea or FPSO installations and we deal with companies such as equipment manufacturers or contractors," says Carl-Gustaf. "We still produce components such as manifolds, pump casings, special fittings and pieces for three-phase fluid measuring devices for sub-sea installation, and we are involved in anything that will be part of a sub-sea valve or a sub-sea manifold installation. A phenomenon called HISC (Hydrogen Induced Stressed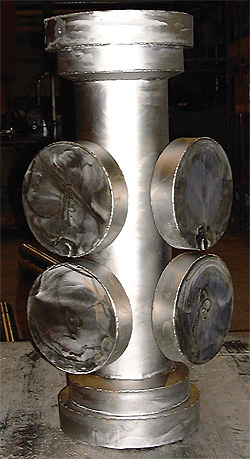 Corrosion Cracking) has led to an important breakthrough – our powder technology (HIP) has the advantage over conventional castings or forgings because we provide a very fine microstructure homogenous material, which is almost a cure. In sub-sea installation, hydrogen forms on the supported sacrificing pieces and penetrates into materials. In powder material, however, it will only touch the surface so I have a saying – no risk of HISC using HIP!"
Sandvik Powdermet's products have applications in several key sectors such as the offshore components market, where it has utilised its net shape expertise to produce complicated parts for sub-sea development projects. Components for multi-fluid analysis, wye-pieces for pipeline installations, manifolds for topside and sub-sea installations, valve bodies for choke and control valves, and swivels for FPSOs are all important focuses. It is also active in the field of general engineering where it has developed advanced solutions using P/M-HIP technology including ABB's Stressometer system for flatness measurement and control as well as a fuel valve nozzle for a two-stroke marine diesel engine, and there are a wide variety of severe erosive applications.
In acknowledging these developments, Carl- Gustaf says: "One of our key strengths is our P/MHIP technology, which is flexible so we can provide solutions without welding. For reducing machining, we can design the component into one piece instead of three. One of the beautiful aspects of our business is we can easily design a customised product and we're building long-term relationships with clients so that they can learn about our HIP technology by getting acquainted with it." Future plans include the expansion of Sandvik Powdermet's services and client base as the company branches into new areas: "We see opportunities for further growth in the oil and gas sector where we're seeing market expansion. Oil and gas will have an important role in the western world and developing countries for many years ahead, and we think there will be a ten-15 per cent increase in material use in that area.
"We're also looking into conversions as our clients are likely to change from old to new technology, which means there will not only be the normal expansion due to the market situation but expansion due to conversion as well. This year we're growing by around 70 per cent more than last, we're continuing to expand resources by employing substantially more people before July 2008 and we're also looking to expand into general engineering and medical areas as well," Carl-Gustaf concludes.
Sandvik Powdermet
Industry: Powder metallurgy and complementary technologies