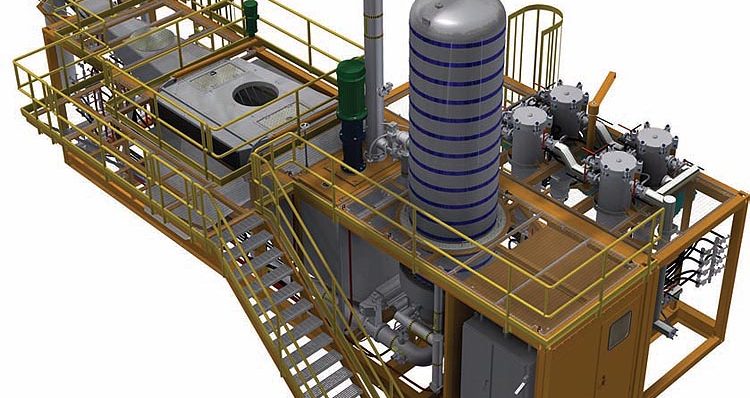 A complete solution
Celebrating its 150-year anniversary in 2012, Sandvik today is a global engineering group with more than 47,000 employees operating in 130 offices strategically located around the world.
With unique expertise in materials technology, comprehensive know-how on industrial processes and a strong belief in close customer relationships, Sandvik couples its strengths with ongoing investments in R&D. This has resulted in the company becoming a world leader in areas such as tools and tooling systems for metal cutting, equipment and tools for the mining and construction industries and products in advanced stainless steels, special alloys and titanium.
As a group, Sandvik engineers technologically advanced products for a broad range of niche markets while concentrating on five main business segments, one of which contains Sandvik Process Systems. Operating as a world-leading developer and manufacturer of steel belts and steel belt based processing systems, Sandvik Process Systems has production facilities in the Americas, Asia and Europe, a global presence thanks to high quality products and a customer-orientated sales and service network, 600 employees and a strong tradition in extensive R&D investments.
Previously featured in European Oil & Gas Magazine in June 2013, the company has spent the last 12 months focusing on the enhancement of its sulphur processing, solidification and handling systems that are used by clients within the oil and gas industries, as global product manager Tom Smith highlights: "As increased amounts of oil and gas are being processed in conjunction with more stringent regulations on sulphur content to reduce emissions that are harmful to the environment, Sandvik has spent the last 12 months finding a solution to accommodate these larger facilities that are being built to process more than several thousand tonnes of sulphur per day. As a result, on March 24th 2013, we finalised the purchase of the proprietary technology and expertise of the Brimrock Group Incorporated.
"Having reached an agreement with several key employees within the Brimrock Group, these employees have become part of Sandvik's global sulphur organisation, while continuing operations in their Canada based office. These experts not only bring vast experience in equipment design but also in the operation of sulphur plants; this, alongside the line of Brimrock products that have become part of Sandvik, will significantly extend our service offering to the sulphur industry. These include engineering and consultancy services, liquid sulphur degassing, block pouring equipment, re-melting equipment and high capacity granulation. In addition, we also provide customers with downstream handling of solid sulphur products."
Sandvik now has the capabilities and knowledge to offer a complete turnkey solution. Covering the entire process from degassing units to solidification, the company's strategic internal acquisition of Sandvik Mining &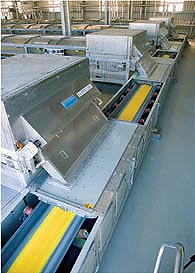 Construction's sulphur segment means it can also offer a comprehensive supply chain solution from solidification through to downstream handling, and shipping. "It was not widely announced, but Sandvik took over our sister company, Sandvik Mining & Construction's sulphur segment, which is based in Hollola, Finland, last year. This company has been designing and supplying equipment for many different types of ores and handling products for our mining group as well as sulphur products, so I would say it has perhaps 15-18 plants in existence today that are handling solid sulphur. Our sulphur handling group does everything from sulphur storage and reclamation to downstream handling, bagging equipment and truck/rail/ship loading systems," says Tom.
Through the strategic acquisitions of these two organisations, Sandvik Process Systems can now provide a high-quality complete solution to customers such as oil and gas producers and EPCs who are building the large oil and gas facilities. Wholly committed to only providing equipment that produces formed sulphur in accordance with SUDIC (the Sulphur Development Institute of Canada), Sandvik's utilisation of its fully automated model Brimrock RS1500 drum granulation processor – which can process 15 tonnes of sulphur per machine – alongside its own existing Rotoform technology – which can process up to 400 tonnes of sulphur per machine – means it can now provide the best quality sulphur processing, solidification and handling equipment on the market.
"SUDIC was developed in 1978 to create specifications that would enable a safe, solid sulphur product to be handled and shipped around the world; there is a standard quality of sulphur and a premium quality, and with our new Brimrock line of equipment we continue to only produce premium quality products that meet SUDIC standards, but at higher rates for larger plants," explains Tom. "This acquisition also means that with the predicted over-supply of sulphur on the market, customers could get more fussy about the end product they buy; our commitment to only supplying premium quality producing equipment will enable trading companies to sell an attractive, SUDIC compliant product globally, with no worries about it being off-spec or an undesirable."
Keen to get its new products out onto the market and generate interest from new and existing customers, Sandvik Processing Systems looks set to flourish over the coming years following its strategic developments, as Tom concludes: "Looking over the longer term, we would like to possibly offer the operation of plants to our customers, however that is something for the future and right now we are interested in getting this new equipment out there. We want to prove that Sandvik Processing Systems really is the best sulphur solidification and handling company out there, and to show that these products really are the best on the market."
Sandvik Process Systems
Products: Sulphur processing, solidification and handling systems