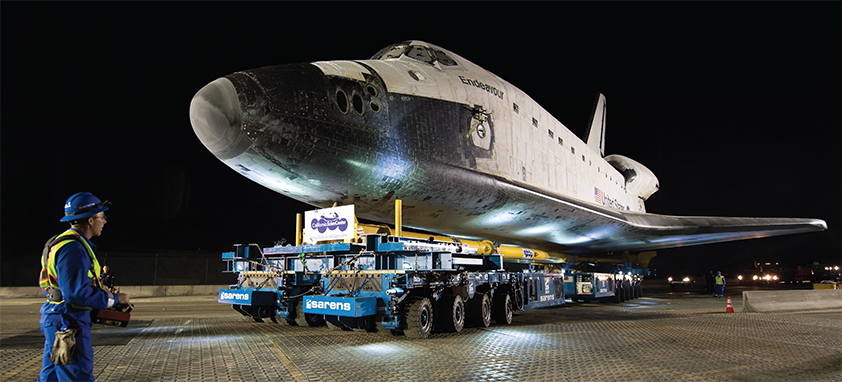 Highly thought of
As much of a giant in its sector as the equipment it operates, Sarens is a recognised worldwide leader in heavy lifting and engineered transport.
The Group utilises state-of-the-art equipment and value engineering to offer its customers creative solutions to today's heavy lift and transport challenges. The business subscribes to the model 'nothing too heavy, nothing too high' which has enabled it to open up a truly global marketplace with offices in 54 countries worldwide.
Accordingly the strategy for 2012 to 2013 has remained one of growth and expansion. In fact Sarens was awarded the title of 'Trends Gazelle Ambassador 2013', for its province Vlaams-Brabant. The initiative of Belgian financial magazine Trends, this yearly event recognises the fastest growing companies of the five Flemish provinces.
"During this period we have purchased three new crawler cranes with capacities of over 1000-tonnes, an additional 100 axle lines of self-propelled modular trailers (SPMTs), lifting towers, telescopic cranes, and new barges," notes Marcel Roovers, global sales and marketing director.
This is in accordance with the direction of the market itself, in particular the move towards bigger and heavier cargoes, which has seen cranes of above 1000-tonnes in strong demand. At the upper end of this trend is the Sarens Giant Crane (SGC-120), which was developed internally and launched in March 2011. The SGC-120 is one of the biggest cranes in the world, and has recently been used at the Cosco shipyard in Nantong, China to lift modules for the construction of the topside of a drilling platform with a total weight of 15,000 tonnes.
With 600 new employees hired worldwide in 2012, another focus area for Sarens has been improving personnel and operational safety. "In recognition of this even more of our global entities have achieved ISO and OHSAS certification including Mexico and Colombia. We have also launched the BlueSafety programme, which is a worldwide safety behaviour scheme aimed at further increasing the safety awareness of staff," explains Marcel. The focus here is on discovering and eliminating possible safety risks and encouraging a safe attitude towards equipment and all on-site activities.
Sarens' move from a localised Belgium family business to a truly multinational organisation can be seen most clearly in the scope of contracts that it has been delivering. At the turn of the year Sarens was awarded a new frame agreement by Statoil for the provision of crane and lifting operations, including transport logistic services, for the Kårstø and Tjeldbergodden onshore facilities. This contract will form an integral part of Sarens' foundation for further growth within Norway, and may foster demand for further recruitment of engineers.
Another notable contract was for the transportation of perhaps Sarens' most valuable cargo to date – the space shuttle Endeavour. After 25 missions into space the Endeavour's final journey was the 12-mile distance between Los Angeles International Airport and the California Science Centre. Months of meticulous planning saw an array of specially designed SPMTs used to transport the craft. Comprising four independent, multi-axle, computer-controlled wheeled vehicles, the SPMTs ensured precision maneuverability and stability to navigate the myriad of obstacles encountered on the two-day journey.
Closer to home, Sarens executed all the heavy lifts and site moves for the upgrade of the semi-submersible drilling vessel Scarabeo 6 by Keppel Verolme. Taking place in one of the biggest dry docks in the world, a 600-tonne CC 2800-1 and 750-tonne LR 1750 were rigged with 80-metres of main boom and superlift. The company also assisted with the assembly of two 400-tonne tunnel-boring machines in Warsaw, Poland for the construction of a second metro line.
In Bulgaria, Sarens transported two enormous fuel reactors with SPMTs from the port of Bourgas to an oil refinery. Each vessel, of 1400-tonnes in weight, 57-metres in length, and nine-metres in height, was transported through the city centre, which meant street and traffic lights, and high-tension cables had to be removed.
Meanwhile, in Brazil Sarens and its partner BSM have been awarded the crane services for the Trairi project by Siemens. This includes preassembly and final execution of the first 50 wind turbine generator units including concrete towers. With a hub height of 80-metres and weights of up to 156-tonne for the tower sections, Sarens and BSM are proud to announce that the first nacelle was put in place in mid-March. Based upon this performance, the two companies have also been awarded work for the next project of 34 turbines by Siemens.
Another important project on Sarens' agenda is the transport and installation of 16 new lock doors for the Panama Canal, a part of the renovation and enlargement of the Canal. These lock doors weigh between 1.900 and 4.300 tonnes and measure 58,7 x 10,0 x 34,7m. Starting in June, Sarens' SPMT's and barges will bring the doors from the manufacturer in the Italian San Giorgio di Nogaro to the port of Trieste and load them onto STX sea-going vessels for the sea transport to Panama. Sarens will take care of the loading and unloading of these vessels and will, once in Panama, bring eight lock doors through the canal to the Pacific side with barges. Sarens will carry out all transport and installation in Panama.
With many more international projects on its books for the coming years, Sarens' strategy for delivering these is very likely the same as it was in previous years. This is to continue to expand its business with investment into new equipment and personnel in order to be able to act on a project-basis anywhere in the world.
Sarens Group
Services Heavy lift and special transportation services