In high places
A recognised worldwide leader in its field, the Sarens Group utilises state-of-the-art equipment and value engineering to offer creative solutions to today's heavy lift and transport challenges.
In the last 12 to 18 months, the company has undergone a major expansion with growth in all business segments. Much of this is based upon investment in the future, targeted in new equipment,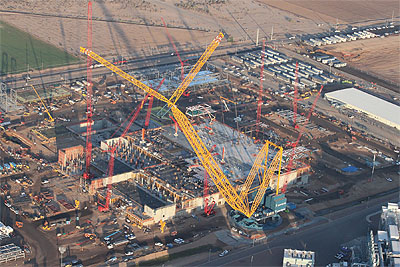 personnel, and know-how, as well as new subsidiaries across the globe. With offices in 51 countries worldwide currently to its name, the Sarens Group is moving from a localised Belgian family business into a truly multinational organisation.
Global sales director Marcel Roovers elaborates on this global spread: "We're opening up different subsidiaries in the BRIC countries (Brazil, Russia, India, and China), the Middle East a.o. Iraq, northern Africa and the Far East such as Malaysia and Vietnam. We've also established new legal entities in Eastern Europe, and carried out a number of large acquisitions including Rigging International in the US. The strategic intent for this expansion is that we follow where the business is, where our customers are, and where they want us to be."
Geographically Sarens is currently working on a number of contracts, both big and small, within the burgeoning oil and gas regions of Australia, South America, and Russia. The company also sees a lot of potential remaining in more established markets such as Northern Africa and the Middle East. As such, Sarens is ensuring that it has the presence to support this with a new additional office in Australia, and large-scale expansions in various countries across South America.
Commenting on the key to Sarens' ongoing success, Marcel says: "We are very customer-centric so we basically follow our customers and their demands, and a big part of this is innovation in equipment and engineering to make sure that we keep up with and understand what the customer wants, and to deliver on our promises. Therefore we almost work in partnership with the customer to make sure that we can provide the right solutions for them, and this is how we've become an expert in everything related to heavy lifting and special transport.
"Of course within that we have automatically expanded our equipment offering, and one of the trends we see in the market is that everything is getting bigger. A few years ago our 600-tonne model was considered a large crane, now we're talking about cranes that can lift double that capacity. At present, anything above 1000 tonnes is in strong demand, and we're facing a challenge in keeping up with this," he adds.
This shift is put into context with the introduction of the Sarens Giant Crane (SGC-120), which was developed within the Group and launched to the market in March 2011. One of the biggest cranes in the world, the SGC-120 is the only third generation, 120,000 tonne of its type, and designed to accommodate the heavy lifting requirements of refineries, oil and gas, mining, offshore platforms, and power plants.
"Since its launch, the SGC-120 has mainly been used for the construction of a new manufacturing plant in the US, but has recently been shipped over to China where it will begin work on the Cheviot Octabuoy platform project at the Cosco Shipyard in Nantong. Whilst the SGC-120 is more expensive to rent and operate, on big projects the customer's gain in time and efficiency is second to none. The crane can be delivered across the world, due to its ability to be containerised for ease of transportation," enthuses Marcel.
Another important innovation of 2011, Sarens has launched its newest barge, known as Paula. The identical sister of the Louis barge delivered last year, Paula's ocean-going capabilities make it a key addition to the Group's independence and ability to provide a complete one-stop-shop package to its customers.
Despite its massive global presence, which enables Sarens to have cranes on all continents, the company is still faced with the challenges that globalisation presents. In particular, this is the logistics of having the right crane in the right place at the right time, and the length and cost of transportation. Sarens has also witnessed the decision-making cycle shrinking from 12-24 months in advance, to just three months in some cases, which increases pressure to have equipment in place.
This creates greater competition in the market, particularly from small local operators, which may undercut larger and more global players with below market pricing. Sarens overcomes these issues through its global key account management agreements with various major clients, who appreciate the safety, quality and innovative service that they get from the company.
Although Sarens is not done with its growth plans by a long way, Marcel explains how the Group's strategy goes much deeper than endless expansion: "We will continue to invest in growing the business with new equipment, people and expertise, but increasingly we see our role moving towards being a project or engineering company where the cranes and equipment are enablers in executing this. Our ambition is not to become number one in terms of size, but to keep up the values of safety and quality and become the leading state-of-the-art heavy lifting company that is first choice for customers."
Sarens Group
Services: Heavy lift and special transportation services