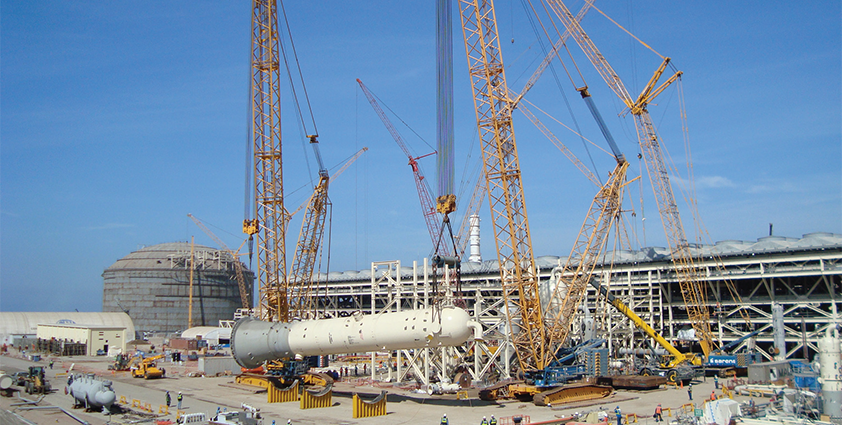 Above the crowd
Nothing too heavy, nothing too high,' is the motto of the Sarens Group, a Flemish private owned multinational, which has grown into a global specialist in crane and special transport services.
This vision, combined with Sarens' extensive expertise has helped it become one of the top companies in the world involved with heavy vertical and horizontal moves, with an enviable reputation. Today Sarens' headquarters are still based in Belgium, with regional sites in over 35 countries worldwide. These sites are primarily focused on the day-to-day aspects of the business such as crane rental, whilst Sarens' head office is engaged in the development of the company's worldwide customer base and project management services.
Johan Goossens elaborates on the company's 'projects' services: "The core focus of the business is lifting services, from simple crane rentals with operator all the way up to a full service package with site supervision, management, cranes, trailers operators and equipment installations. Our expert knowledge enables us to provide turnkey solutions to meet customers' individual requirements. Other key activities include the transport and handling of heavy goods using self-propelled modular trailers (SPMT) handling modularised construction."
He carries on to describe the key strengths of the company: "What sets us apart is certainly our worldwide presence & flexibility – we have been expanding at a rapid rate and now maintain a strong global position. We are focused on growing where our customers are based and this local approach gives us a major advantage over our competitors. For example, the major oil and gas companies operate refineries around the globe, which we can support on a regional basis with crane services for maintenance operations. Our extensive fleet and the range of creative technical solutions and engineering developed in co-operation with our client is another area where we differentiate ourselves from the competition."
The ability to tailor its services and a project-specific approach has enabled Sarens to build up a strong customer base across a number of different industries. Johan highlights the company's main market segments: "We are very active within the oil and gas and mining industry and in the standard thermal power plants market. In the future we also see more projects coming up for work on nuclear power plants. Another market sector is civil construction where we do a lot of special transports and movements of bridges. Sarens also works in the growing wind industry with offshore and onshore wind turbines.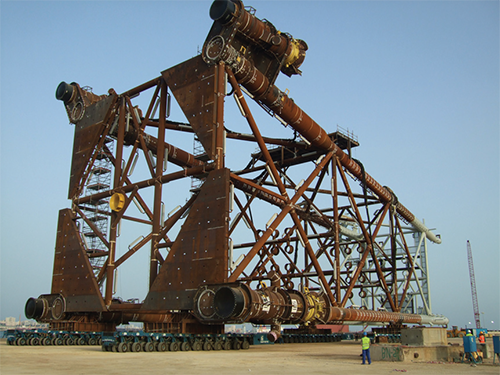 With years of experience providing professional crane services, Sarens understands the importance of not only maintaining the best equipment but also highly skilled staff that can operate this machinery effectively and safely. As part of this Sarens took the initiative to develop a training centre to help ensure new operators maintained these quality standards. "Within Belgium there is an organisation to help unemployed people develop new skills and receive training to enable them find employment. Although this system existed for skilled labour such as electricians and mechanics, there was nothing of its kind for crane operators and riggers so Sarens took the initiative and together with local authorities set up a training centre. This consists of a few cranes and equipment, where people can receive official training in crane operation, supported by the Sarens Group," explains Johan.
In order to ensure the continued quality of its services Sarens regularly invests in upgrading and maintenance monitoring (GPS) its fleet. The company also specialises in customised solutions, adapting its cranes and equipment where necessary to meet requirements. Johan comments: "Over the last five years there have been investments in excess of 50 million euros in adding new equipment to the fleet. Currently we are building our own giant crane, which once completed will be the biggest 'crane' available worldwide. This is a unique in-house development."
As the grip of the financial crisis continues to weaken and economies begin to recover, Johan describes the current conditions of the market: "Like most other companies we have seen some effects of the financial crisis. A number of projects throughout 2009 were put on hold and this has made 2010 a more difficult year for us. Despite this we are seeing a positive global trend within the energy sector following the strength of the renewable energy market with many financial approvals for wind farms. Worldwide we're also seeing quite a few oil and gas projects coming live so the future looks much brighter than a year ago."
Moving ahead, Johan is positive about Sarens continued position as a major name in crane services: "In the future we will be looking at further regional development of our markets, although this is dependent upon continued economic stability. I don't believe that much will change amongst the top five crane companies – we are in the top three and Sarens expects to maintain this position in the coming years."
Sarens Group
Services Crane operations and specialist transports