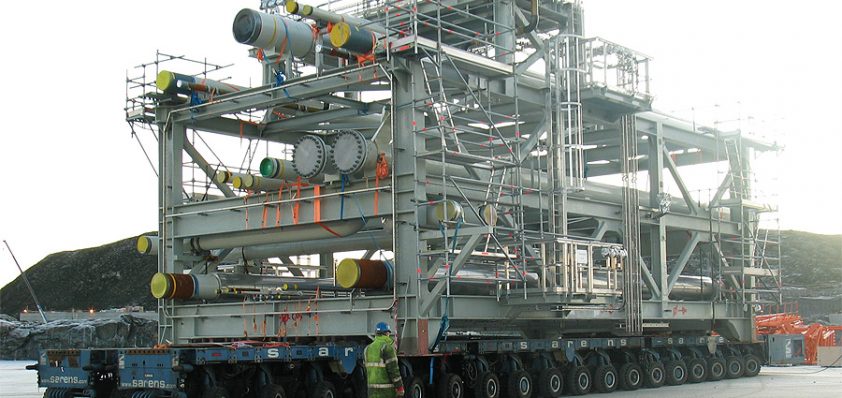 Lifting power
Sarens Transrig AS is one of Europe's premier suppliers of heavy lift and transportation services.
The company was founded 26 years ago as RMS Norway, but has since been bought by Sarens, and is now part of its worldwide group of companies. This provides Sarens Transrig AS with access to experienced personnel and specialised equipment across the globe, and the co-operative approach of the Group has produced a turnover of 315 million euros globally, of which 20 million euros is in Norway alone.
"We are able to undertake many kinds of operations," explains Helge Kvalvik, managing director of Sarens Transrig AS. "Of course we offer standard crane operations, and have access to over 750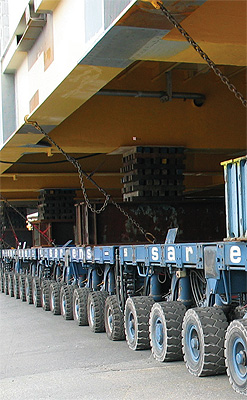 cranes, but there are many situations that may require other solutions. We also, for example, undertake skidding procedures. Skidding is a very cost-efficient and well-proven method for moving heavy structures in a straight line, and can cope with more than 18,000 tonnes.
"One of our most well-known services is the SPMT operations," he continues. "Our trailer fleet will soon exceed more then 800 axle lines, and will have a transport capacity of more then 24,000 tonnes. A good example of where this service will be used is in the upcoming Gjøa project at Aker Stord in 2009. In this project we will carry out work that will include loading out 14,900 tonnes.
"Another aspect of our business is our special tower lifting operations. These have lower mobilisation costs, because all of the equipment for the process can be transported on trucks. We very recently did work of this kind on the Aker Barents rig, where we mated the deck – which was 70 metres by 90 metres, and weighed 11,355 tonnes – on top of the hull. This involved lifting the deck 35 metres high."
Helge explains more about the sectors in which the company is involved: "We are predominantly working with the oil and gas industry, and our main clients are the construction yards that are developing offshore structures. We also have a good amount of involvement in the shipbuilding area, as well as the petrochemical and electro-mechanical industries. Owing to Sarens' global presence we can complete projects anywhere, and have worked in Europe, the US, South America, and Asia."
Helge believes that Sarens Transrig AS's success is a consequence of the company's experienced and knowledgeable staff, and the close attention that they pay to customers' needs: "We are always in discussion with our clients during the development of each operation's procedures, and this allows us to determine the right equipment for every lift. It is important that we get the construction method completely correct, and that we fully understand the objectives of the client. Therefore, we have a 'hands on' approach to each project from the earliest phase, making sure that we recognise the challenges that it presents. There are always many options on how to proceed, as we have access to a vast catalogue of equipment within the Sarens Group.
"Also, our team of engineers is very experienced. We provide full in-house training, and try to combine both theoretical and practical knowledge. It is very important that our staff have a full
understanding of safety and other onsite issues. We try to keep our workforce stable over time, and any newcomers to the company must undertake a long period of training." In order to further promote the company, Sarens Transrig AS's services will be on display at this year's ONS exhibition. This is seen as a key event for the energy industry, and Helge recognises the opportunities that it presents. "It is important to be present in order to extend our long-term relationships with our customers," he says. "Some of our clients have a project every second or third year, so it is good to meet and chat with them in the intervening period. It is also possible that we will meet with new clients and be able to extend our services in that way.
The project market is booming at present, and many construction yards are being forced to think alternatively about their methods. They might need to undertake operations that are outside the reach of their existing equipment, and so could look at securing partners like us." The company's plans for continued growth are evidenced by its acquisition, in the past year and a half, of two businesses in Norway, with which it can further look to expand its operations. "We have purchased a crane company," says Helge. "With that, we can look to offer small telescopic cranes to the big projects. We have also been establishinganother business called Sarens Montage, so we are building up an even bigger local force.
"We are in a busy period, and have a number of orders. We are not only interested in working with the major international operators, but are also taking on a lot of smaller projects, too. We want to maintain our position as one of the best project workers in the Scandinavian oil and gas market, and it is definitely a strong period of growth for the company. We have been undertaking important projects for years, and will continue to do so in the future," Helge concludes.
Sarens Transrig AS
Services Heavy lifting and transportation solutions