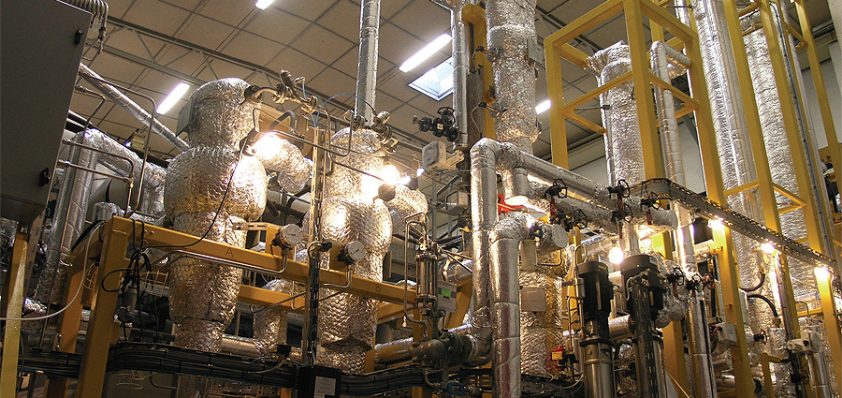 Capturing the market
Established in 2002 in Norway, Sargas has pioneered the development of ultra low emission power plant technology.
At the time of its founding, Sargas was focused on seawater desalination, but in 2003 its attention shifted to carbon dioxide (CO2) capture. Since then, the company has outlined its mission as to contribute to sustainable development and the preservation of the global environment, utilising its advanced technologies to convert fossil fuels into clean energy.
Owing to high gas prices, Sargas has, since 2005, concentrated its work on coal-fired power plants, implementing a development process in close co-operation with leading manufacturers, suppliers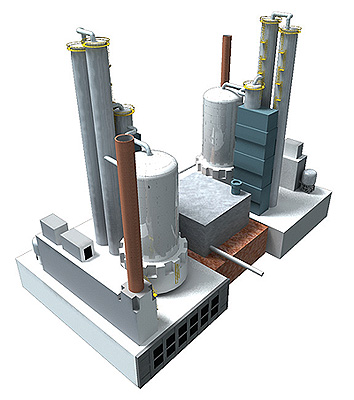 and institutions, such as KTH (The Swedish Royal Institute of Technology) and Siemens Power. The ingenuity of the system is that its design will allow for the capture of 95 per cent of the CO2 that would ordinarily be emitted from a power plant, and virtually all of the sulphur oxide (SOx) and nitrogen oxide (NOx).
Chief executive officer Henrik Fleischer elaborates on the factors that have led Sargas towards its major breakthroughs: "We have been extremely selective, and ultimately successful, in recruiting the best individuals. We therefore have some of the best minds available to us in terms of chemical engineering and technical applications, as well as an array of experts from other fields. This is crucial, because we are able to combine so many strengths into the final product.
"From a development perspective, we decided at an early stage to use 'off-the-shelf' components, for two major reasons. Firstly, they are immediately available, a necessity when answering the urgent need for CO2 capture solutions; secondly, using proven components lowers the technology risk. This is crucial in reducing the costs and ensuring a faster roll-out. There is no point in developing a complex solution which never gets used."
In June this year, Sargas publicised the results from a pilot CO2 capture plant installed at the Værtaverket coal fired power station, Stockholm – a co-operative effort with the Nordic power group; Fortum. The scaled down CO2 capture demonstration plant, constructed by Sargas, was installed adjacent to one of the plants boilers. A side stream of the coal fired boilers exhaust gas, under pressure, was diverted to the demo plant where NOx and SOx are removed and CO2 is captured under pressure. The extent to which the flue gas was cleaned met and even exceeded Sargas expectation. The results, independently verified, prompted CICERO researchers to claim that, if broadly applied, it could alter the climate change prognosis significantly.
As Henrik explains, Sargas' innovate process is noteworthy not only for the obvious environmental benefits that it offers, but also for its sheer originality within the sector: "I think that what we have created is unique in the sense that we are the first company that has taken this capture technology into a system where it is an integrated part of a power plant cycle. There is nobody out there with this type of product, directly burning coal and air without the need for a complex associated process systems. Most other capture processes are based on large volume atmospheric absorbers and oxygen sensitive organic absorbents such as amines. We are confident that a pressurised cycle is a requirement for large-scale applications. This has opened up for the use of a highly energy-efficient and oxygen tolerant mineral absorbent; hot potassium carbonate, which is a non-toxic, non-volatile chemical."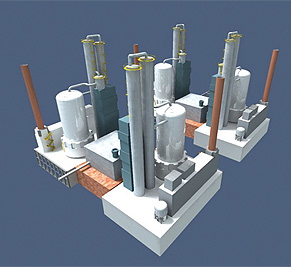 Owing to its advanced design, Sargas' system will mainly be used in new plants, which possess the necessary pressurised fluidised bed combustion technology. It may also be used for retrofitting, where the old combustor is replaced with the Sargas type combustor, which has a much smaller footprint, due to the pressurised combustion. "The first Greenfield plant may be at Husnes in Norway," says Henrik. "We are working with aluminium producers Rio Tinto – Alcan and Norwegain Hydro, and French metals and mining company Eramet. All going well, the plant could fire up at the end of 2012, and that would be the first full-scale, greenfield coal fired power plant with CO2 capture in the world. The first stage build will be a 400 megawatt plant, with plans to expand later to 800 megawatts."
Henrik reveals that, alongside its focus on the Husnes project, Sargas has started commercialising its solution to the global market: "We have selected cases of interest here in Europe, and are in discussions with several parties in the Persian Gulf. There, and in a number of other countries, it is believed that CO2 could be effectively put to work in enhanced oil recovery (EOR). We are also in dialogue with companies in the US; where an established market and pipeline infrastructure are proving conducive to long-term CO2 sales opportunities."
The level of interest that Sargas' system has generated within the industry justifiably leaves Henrik feeling highly optimistic about the future of the business: "I believe that clean energy is here to stay, and that regulators will be demanding ultra low emission power plants with increasing urgency. Even in the US, despite the fact that the federal government has no rules in place, there are several states where judges have ruled against coal-fired plants without CO2 capture, as CO2 is classified as a pollutant. That alone bodes very well for us.
"There are many proposed solutions in the market, but we feel that we are at the forefront. With our technology standing ready today and the question marks removed by our demonstration plant in Stockholm, we are confident that we will achieve our vision of becoming the leading standard in clean energy."
Sargas AS
Products CO2 capture technology