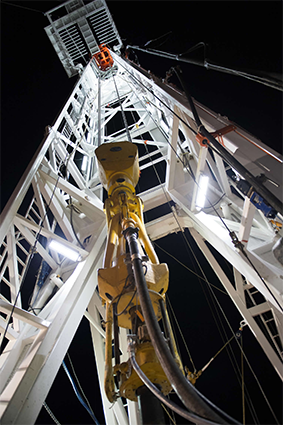 As a junior oil and gas producer, Saturn Oil + Gas uses information gleaned from the big companies to make profitable choices.
Saturn Oil + Gas picks proven winners. The Saskatoon-based oil and gas producer makes informed decisions regarding the best areas and methods to produce oil and gas – and is growing rapidly as a result. In 2018, it was ranked the best-performing energy company based on stock performance, according to John Jeffrey, chairman and CEO.
The company began in 2001 as a coal producer. When Jeffrey came on board in 2017, Saturn changed its strategy. "We abandoned all of our assets outside of oil and gas," he says. At that point, the company secured a $20 million USD note from Prudential Capital Group out of Dallas.
"There aren't a lot of new start-up energy companies because they can't get the funding they need," Jeffrey asserts. With the Prudential's capital in place and shareholder support, "we've been able to move more aggressively into areas and develop new lands for drilling," he notes.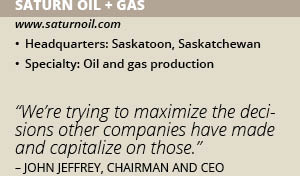 Informed Decisions
Saturn Oil + Gas studies its competitors' drilling and fracking techniques – how they drill, types of chemicals used, where in the formation they target, etc. – to determine the best approach for a specific tract of land. "We try to take advantage of the best methods for that land," says Scott Newman, Saturn COO. "We're trying to maximize the decisions other companies have made and capitalize on those."
With a geology team that collectively has drilled more than 1,000 wells over the course of their careers, the company is well-versed on which formations will produce the most oil and gas. "Our team allows us to look at smaller tracts of land that are normally overlooked for gas and oil reserves," Jeffrey says. Using this information gleaned from larger oil producers as well as its own geological team, the company assesses the best areas and methods for extracting the maximum amounts of oil.
For example, Jeffrey says that one section of land can have both light and heavy oil deposits. Most companies will only drill for one type of oil, "but we can drill both types successfully," he claims.
Jeffrey says that many of the major oil producing companies in the area distribute oil through their fixed infrastructure systems. "We have the flexibility to move oil via truck, rail or pipeline as the market dictates," he notes.
"Like some of the larger oil producers, we're not handcuffed to a pipeline, which can be an advantage," Jeffrey says. "It's more beneficial to our company economically to deliver oil into different streams across western Canada taking advantage of pricing differentials.
Local Presence
With its central headquarters located in Saskatoon, Saturn Gas + Oil has the added advantage of being closer to its drilling fields. "Many of the larger oil companies are based in Calgary," Jeffrey notes. "We're only about one or two hours away from our wells whereas [our competitors] are more than four hours from their oil wells." If issues arise, the company's teams can reach a drilling site more quickly.
Being a local presence also enables Saturn Oil + Gas to take advantage of local vendors. "Many of the vendors who work for us know the area well," Jeffrey says. "Being from the area ourselves and having attended school with many of the people who work with us, our vendors – including welders, mechanics, electricians and field geologists – know our systems and work well with us."
The company was recently the top purchaser of acreage in the Kindersley-Kerrobert area at a Crown land sale in December. Using geologic research, Saturn Oil + Gas has pinpointed several multiple horizontal well locations.
"From a market standpoint, our ability to grow is what makes [Saturn Oil + Gas] stand out," Jeffrey says. "It's looking very positive that we'll have 100 percent production growth in 2019 and more beyond then."