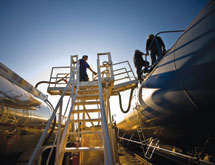 Founded in 1946, Savage Services has become a supply chain management solutions leader by customizing its offerings to meet the needs of the industries it serves. The company may have started with a single truck hauling coal and timber in Utah, but today it serves a diversified portfolio that includes the agriculture, construction, electric power generation, coal production, manufacturing, oil refining, railroad and chemical industries.
"Our company looks for ways to provide optimal and creative supply chain solutions from end to end," Manager of Commercial Development Jared Larrabee says.
The privately held company strives to emphasize both flexibility and service, the factors that defined the company when the Savage family founded it more than six decades ago. An operator, provider and developer of supply chain solutions, Savage Services currently has more than 150 locations and 2,500 employees across the country.
The company handles dry bulk and food grade materials, as well as hazardous and bulk liquids, totaling about 100 million tons of customer materials each year. Savage is organized into three business groups and a development group.
Its energy and power plant solutions group focuses on coal operations, power plant operations and oil and gas services. Its refinery and sulphur solutions group is focused on refinery, sulphur and marine operations, as well as logistics and transportation services. As for the company's railway and industry solutions group, its focus is transload and multimodal rail operations, industrial rail operations, rail infrastructure and maintenance services, rail engineering and consulting services, direct locomotive fuel services and toll processing.
Center of the Wheel
One of the company's most important undertakings in recent years has been the development of the Savage Bakken Petroleum Services Hub in Trenton, N.D. The self-financed project is a key part of the company's effort to provide quality multiservice solutions to oil and gas producers.
"The hub fills a market need in the supply chain aspects of inbound gathering and outbound flow," according to Larrabee.
Savage provides service to the oil and gas industry in the upstream, midstream and downstream phases of the business. The Savage Bakken Petroleum Services Hub plays a key role in the midstream segment for the Bakken oil play. Savage began construction in early 2011. The facility allows Savage Services to receive, stage, transload and transport crude oil to key markets and direct to refineries.
The Savage Bakken Petroleum Services Hub will help the company bring midstream and other oilfield rail services to the Bakken formation including: loading and shipping crude oil via unit trains and receiving of frac sand and tubular materials. Located on a 270-acre site, the Savage Bakken Petroleum Services Hub includes crude receiving and transloading infrastructure, as well as expansion capacity for oil field materials storage and material receiving and transloading capabilities.
"We've been doing truck to rail crude transloading since December of last year," Larrabee says. "More recently, we started receiving crude oil into tanks in July."
The Savage Bakken Petroleum Services Hub is just starting to operate at unit train capacity. The rail infrastructure was built to handle two unit trains per day. The hub has 294,000 barrels of tankage on site, five truck bays and inbound pipe connections.
The Trenton facility ties into services that Savage provides to the industry both upstream and downstream. At the upstream level, Savage provides production services, and the company has developed water and crude oil supply chain solutions utilizing fixed facilities, truck and rail assets and proprietary IT solutions to manage oilfield material movements. All of these services have been utilized in both the Uinta Basin and the Bakken formation.
As for downstream services, Savage Services provides solutions inside refineries. Among the services Savage provides are sulphur and petcoke handling, crude receiving, rail operations management and maintenance and truck, rail, barge and ship transportation and transloading services.
"Because we work upstream and downstream, we understand what needs to happen in each direction, which helps us to leverage the Trenton facility to provide industry value," Larrabee says. "Moving large volumes of crude oil by rail is a relatively new process in North America, and we know that we can work with refineries to help them develop valuable solutions."
Ensuring Success
Some of the areas the company has focused on as the Savage Bakken Petroleum Services Hub has taken shape are hiring and safety. On the employment side, it has conducted recruitment fairs to help identify job candidates. For new hires, Savage Services uses its Hire Right process to help it conduct in-depth analyses of candidates to ensure the best fit possible. The company also brings in experienced people from other Savage Services locations to help with training and installing safety and management protocols.
As for safety, the Savage Bakken Petroleum Services Hub was designed to ensure optimal safety. The hub has also taken advantage of the company's Savage Hazard Analysis and Prevention System (SHAPS) process, which proactively identifies and addresses safety concerns. The process does this by determining site-specific potential hazards and working to reduce or eliminate them before accidents get a chance to happen.
The Savage Bakken Petroleum Services Hub is already finding ways to play a major role in helping companies in the Bakken handle to outbound crude oil and inbound materials. Savage Services is looking at ways to expand the hub's capacity.
In fact, continuing to expand capacity as demand grows is likely to be the next phase for the Savage Bakken Petroleum Services Hub in Trenton. As Savage Services looks for ways to improve its supply chain solutions while at the same time bringing more value to the market, the Trenton hub will undoubtedly be a critical piece of the company's effort to provide the Bakken's oil and gas producers with solutions from source to destination. EMI