Down to the nuts and bolts
"SBN was incorporated in 1980," begins the company's business development director Harold Lim. "It was founded by Tommy Lim manufacturing hex head bolts in Johor Baru of Malaysia.
It is an associate company of the Tri-Star group, which has its head office in Singapore. Today SBN is the main manufacturing arm for TriStar, producing four product ranges: petroleum grade fasteners for piping and specials for subsea equipments; cable support systems; cathodic protection integrated systems and sacrificial anodes; and hydraulic bolt tightening tools. Our PTFE coated nuts and bolts, branded as Mastercote, leads the field in the oil and gas industries. The coating provides corrosion protection as well as reduced friction, enabling accurate tightening and easy make up and break up."
Over more than 20 years, SBN Industries has established itself as a leading components supplier to the oil and gas industry. Its in-house brands have become notable for the impact they made on first being launched. The aforementioned Mastercote brand, brought to market in 1983, is unique on the market for being fluorocarbon-coated. Its PTFE properties give it unrivalled durability, with tests showing a component's ability to survive 9,000 of salt-fog spraying with only 0.03 per cent rust by area. The Mastercote also provides nuts and bolts with a high degree of acid resistance, and is unaffected by hydrogen at 121 degrees Celsius / 2000psi, making it ideal for offshore and subsea applications.
SBN Industries's M*RAK cable support system, launched in 1993, is a high-specification solution that incorporates ladders, trays, trunkings, wire-mesh rays, channels, concrete inserts, cantilever arms, cleats, fasteners, and accessories. These can be made from a variety of materials including stainless, electro-galvanised and high-silicon steel that are then epoxy coated.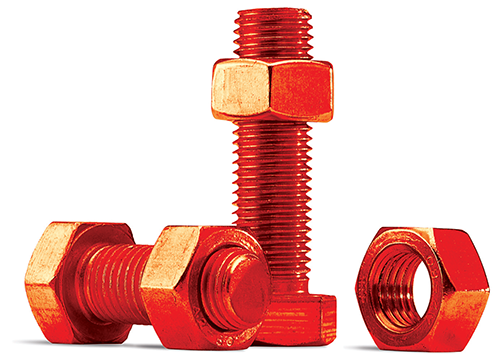 These products are brought together by the extremely high quality finishing and ease of use offered by the M*RAK name, with no special tools required for installation. The other significant brand under the company's control is Dimet. SBN Industries originally manufactured this cathodic protection integrated system on behalf of Wattyl-Dimet in 1994 before it took full control of the brand from the Australian company in 1996. As one of the oldest names in offshore corrosion protection, the anodes represent quality and reliability.
"Our key markets are the oil and gas industry and energy generation industries, and we have gained the trust of our customers by providing reliable service with good quality products," Harold explains. "We will supply even a single bolt to our customers if it is required immediately." Given the assembly of international customers on the company's roster, SBN Industries has succeeded in providing a high quality service. Major names on its books include Aker Solutions, Aker Kvaerner, Cameron, ExxonMobile, Maersk, Shell, and Technip. "We are involved in most major oil and gas projects around the world as we have operations in Houston, Dubai, Perth, Indonesia, Thailand, Vietnam, and China."
SBN Industries' facilities are also a stand out feature of the company. Its nearly 110,000 square foot factory houses a range of state-of-the-art machines to achieve high precision and speedy production times including equipment such as magnetic particle inspection (MPI) NDT testing units, charpy impact testers, PMI spectrometers, and portable XRF analysers to determine the element composition of materials. The 150 engineers, technicians, inspectors, and other staff utilising these machines are at the heart of the company's success. Over the years, SBN Industries has been awarded multiple awards and certificates from both its clients and independent organisations that recognise this quality of work.
As part of the Tri-Star group, SBN Industries also has full access to other facilities within the international organisation. This includes locations in Terengganu, Kuala Lumpur, and Sarawak. Most recently the group opened a state-of-the-art coating plant in Shanghai, China, to support the growing popularity of the Mastercote fasteners as well as general business in the oil and gas industry.
All products and services handled by SBN Industries are guided by a stringent quality policy that comprises three guidelines: to always produce superior products and best customer service; to use total quality management and a continuous programme of improvement; and to do it right the first time so as to achieve higher productivity. This is backed up by an ISO 9001 Quality System -compliant ISO 18000 HSE policy that has been successful in maintaining a very low time-loss incident average by creating a team environment, providing adequate training, and undertaking regular re-evaluations. These are joined by environmental guidelines that aim to minimise the impact the company's operations have on the environment around it through recycling, resource conservation, and controlling hazardous emissions.
Business for SBN Industries during the last few years has been increasingly strong, particularly because of the shift in maritime manufacturing towards the Far East. The company's excellent portfolio and heritage of experience makes it an ideal choice for companies throughout the oil and gas, offshore, and energy supply chain.
Always keen to maintain its pole position, SBN Industries is already looking at the future and what new markets it is able to bring its quality to. Harold concludes with a confident outlook: "Hydraulic bolt tightening tools is our new product addition. High quality and innovatively designed tools for both topside and subsea applications. The oil and gas industries are still lucrative and interesting to us, and our continuous improvement programme will keep us moving and ahead of the pack. Over the next five years, we want to see SBN Industries maintain the steady growth that we've had during the last few years."
SBN Industries SDN BHD
Products: Steel components