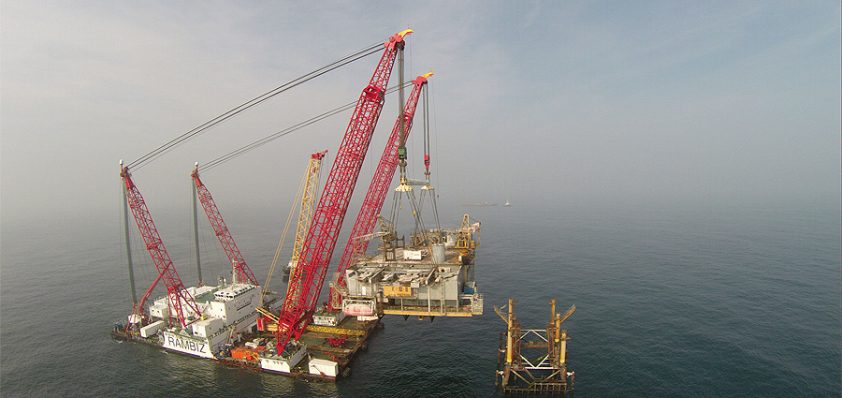 Focus on offshore wind and decommissioning
Since the company was founded in 1995, Scaldis has established a reputation as a solid, reliable and customer-focused international marine offshore contractor for transportation, installation and heavy lifting operations in offshore markets. Today, Scaldis broadly divides its business into five market sectors: civil construction; O&G; renewables and environmental; deconstruction; and salvage.
Scaldis' head office, located in Antwerp, Belgium, is home to a team of highly qualified and experienced engineers who work closely with clients to develop innovative and bespoke lifting techniques that form reliable and cost effective transport solutions.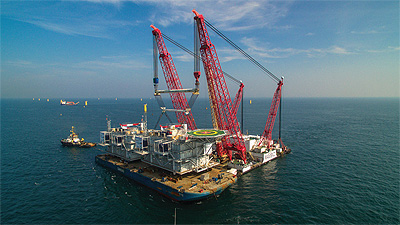 "The market for offshore structures for the renewables sector, as well as the oil and gas market, remain important to our current business and we have gained an enviable track record and reputation in these sectors," elaborates Linda Vanhaelst, Business Development and Marketing co-ordinator. "Within the oil and gas market, most large projects are currently related to decommissioning operations, because installation works is a little bit slow right now due to the low cost of oil."
In all of its operations, Scaldis prioritises teams delivering unique solutions. This is a core value and a tangible strength that runs throughout the business. With over 20 years of industry experience, the company fully understands the difficulties that clients face and knows that the best way to find the right solution is to have an open mind and an innovative approach. This method has found effective solutions for heavy lifting operations for market-leading customers including ENI, Wintershall, Perenco and ConocoPhillips. Within the wind industry, Scaldis has worked with leading names including DONG Energy, RWE and E.ON. "Scaldis works closely with its clients from the early stages of their projects in order to develop the most efficient and effective methodology for the task to be performed. Additionally, optimisation of the planning and thorough preparation is key. Being a project-driven organisation we have the strength and flexibility to achieve the tasks that we undertake," Linda reveals. "To anticipate the changes within the offshore industry, Scaldis is always looking for innovative technologies that will answer new and technically demanding challenges while reducing costs, limiting offshore time and mitigating risks. Ultimately, we develop inventive solutions that make installation both safer and more efficient."
To meet the demanding requirements of its clients within the offshore industry, Scaldis places a high level of emphasis on research and development to remain a leader in the heavy lifting field. In particular, in the offshore wind market R&D is of vital importance as the industry pushes the extremes of technology, location and water depth that all generate greater challenges in terms of equipment transport and installation. "What we are seeing in the wind industry is very rapid growth combined with new technology. Installation contractors throughout the industry must contend with the fact that the structures are getting larger and larger, and need to be installed in deeper and deeper water depths. These are essential elements to keep in mind when we develop inventive solutions to overcome the industry's challenges," Linda says.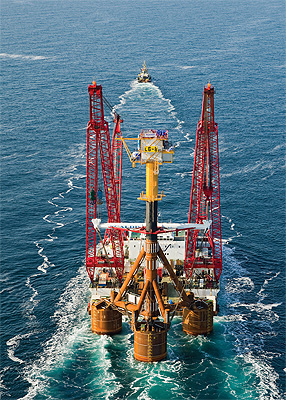 "Decommissioning is another important segment for our company, as we have removed several platforms over the past few years," continues Linda. "Decommissioning is, to a certain extent, just reversing the installation sequence we use for the offshore wind and O&G industries. There are also some interesting developments for the minimum facility platforms that are planned in the North Sea. A good example is L6-B project that originally was fabricated in Rotterdam. Our Heavy Lift vessel RAMBIZ picked up the structure in Rotterdam and sailed with the complete platform, including suction cans, to the installation site in the Dutch North Sea. The installation work was completed in a tight offshore work window of less than 24 hours."
As the company continues to develop new solutions for the expanding and evolving marketplace, it has taken the decision to invest in the construction of a new DP II heavy lift vessel. "The new vessel will be in Europe in the middle of 2017. The vessel's keel laying ceremony took place on Saturday 27 February 2016 at the Hong Qiang shipyard near Shanghai," Linda explains. "Following this event, it is now time to reveal the name of the vessel, which has been called Rambiz 4000 during the design phase. Scaldis and its shareholders are very proud to announce that the vessel will sail under the name of GULLIVER."
The new build heavy lift vessel GULLIVER will share many of the key assets of the company's RAMBIZ vessel, but will also incorporate improved features including: increased lifting capacity of up to 4000 tonnes; increased workability; fully self-propelled; dynamic positioning; skidding cranes and its own helideck. With a proven track record and the future arrival of the GULLIVER vessel, Scaldis is on track to remain an important offshore fixture for years to come. "We look forward to the arrival of our new build vessel so that we can take on even more and bigger challenges to serve our clients better," Linda concludes. "With the new vessel, Scaldis is ready for the future."
Scaldis NV
Services: Heavy lifting and transportation