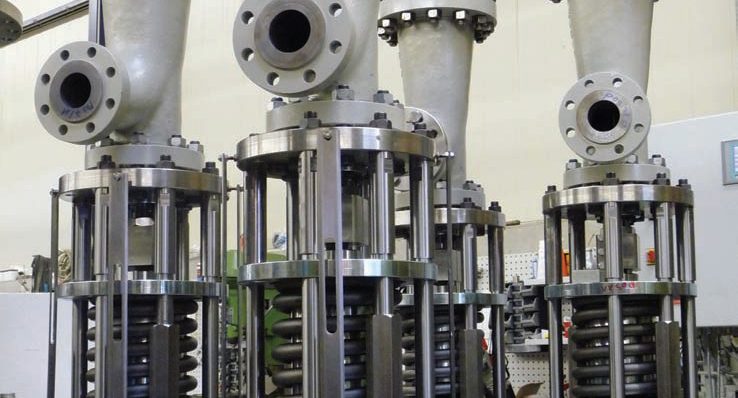 SchuF Armaturen und Appararebau
Ever advancing
SchuF was established in 1911, providing innovative valves invented by its founders, to the chemical industry.
Today the company focuses on industrial and process critical valves, with its speciality in process control valves seeing the business garner significant success in the petrochemical, refining, and
plastics and polymer sectors in recent years. Within the SchuF Group, SchuF Armaturen und Apparatebau is particular focused on manufacturing control valves, switch plugs, special diverter valves, and other highly customised valve types.
Today, SchuF valves can be found all over the world wherever refineries and petrochemical plants are located including the US, South America, Europe, India, South East Asia, China, Taiwan, Japan, South Korea, Australia and Africa. For this reason the SchuF group is present in more than 60 countries worldwide, with the most recent expansions to this network taking place in 2010 when the company built a new production site in the UK and established a sales office in Singapore and Thailand. In recent years, SchuF has recognised the strongest growth in oil upgrading such as liquefaction and gasification industry in China, refineries and oil production in Brazil and Mexico, and the oil production and transportation sector of the Middle East.
Dr. Martin Frank, CEO of the SchuF Group, highlights which characteristics of the company have helped drive its success: "One of our key strengths is our readiness for innovation and customisation. Our customers are looking for solutions to solve certain process issues, and to improve process efficiency. SchuF Fetterolf provides customised solutions in particular for severe applications such as high temperature, high pressure and difficult media. In co-operation with our customers we design and manufacture to meet their specific needs and achieve the best results."
In demonstration of this, SchuF will be showcasing a number of new products to customers at the Achema 2012 exhibition, taking place in Germany later this year. Dr. Frank elaborates on each of these developments in turn: "We have patented a valve that combines several single on, off and control valves in one body, and is designed for extreme service conditions as found in oil upgrading and coal liquefaction handling flashing media with around 20 per cent highly erosive solids content at pressure drops of over 200 bar at 500°C.
"Our second new product, the TruEPlug, is a special rotary plug valve that achieves true double block and bleed service in one closed valve body and therefore replaces traditional two valve and spool piece arrangements," he continues. "It is equipped with two special moving shields, which are fixed to the central plug, and in the closed position combines the advantages of both soft and
metal sealing. Typical applications that we envisage for the TruEPlug include tank storage isolation, meter stations, loading and unloading terminals, and branch line isolation."
The company's third new product, the P-Globe valve, has been designed for applications that require intermittent pigging such as in the gas, oil, chemical, cosmetic and food industry to remove highly viscous liquids from pipelines. Installed into a straight pipeline the P-Globe incorporates the optimal pressure drop and sealing characteristics of the globe valve and a full bore unimpeded flow path.
"Industries that store, forward or process hazardous chemical or hydrocarbon substances rely on the crucial ability to isolate pipelines in order to avoid leakage and product cross contamination," explains Dr. Frank. "The Cam-Slide is an advanced line blind system that assures absolute positive line isolation in a convenient, fast and safe way. Its sliding design is ideal where space is limited, and in applications such as hydrocarbon pump and loading stations, storage terminal isolation, FPSOs, oil and gas tankers, and branch line isolation.
"Finally, we have created the patented MultiProbe Bottom Outlet valve with an incorporated infra-red sensor that enables customers to incorporate PAT technology into a reactor bottom outlet valve. This means they can monitor chemical reactions inside the reactor in real-time, providing immediate data on critical process control parameters. Equally, if problems arise during the reaction, the parameters can be modified before the batch is completed," he adds.
Indeed, as a company that has delivered over one million valves during its 100-year history SchuF show no signs of slowing down. In fact the company holds ambitions of doubling its turnover in the next two years, on the back of a market that is well developed for high end valves. The challenge here though is for the business to increase its production and sourcing capabilities to meet the rise in demand. With this in mind, Dr. Frank concludes with how SchuF is approaching these concerns: "We have already begun to implement investment and efficiency programmes in our US, Brazilian, German, English, Indian and Irish plants. This includes hiring new staff, purchasing new machines and creating supply chain efficiencies. We also have intentions to invest in new sites in the UK and US, with expansions in Germany and Ireland, and in the next five years hope to have added a new factory in China or Vietnam to our portfolio."
SchuF Armaturen und Appararebau
Products: Control valves