Moving the score
Providing engineering, sales, testing, certification and training services, along with the management of valves and related accessories, Score Danmark is a part of the worldwide Score Group.
Employing more than 1600 people worldwide and operating in more than 40 locations, Score Group carries out the testing, servicing and repair of gas turbines. With a global backup of various specialists and engineers, together with the world's largest stock of valves and accessories, Score Danmark is capable of offering a solution to any requirement. Located in the city of Esbjerg, the Danish subsidiary of Score Group is responsible for offering services to clients in mainland Europe, Qatar, Greenland and Kazakhstan.
Committed to ensuring safe operations, whilst providing a quality service for all of its customers, Score Group has an excellent track record of serving the oil and gas industry, one that spans nearly 30 years. This legacy comes as a result of applying the company's collective knowledge with its experience of working with various products alongside a drive to engage and develop close, mutually beneficial working relationship with clients.
One of the company's core values is that it pays particular attention to its role within local communities and its responsibilities towards safety and the environment. It is the company's policy to foster good relations with local communities wherever it operates around the world, employing local people where possible and maintaining strong relationships with local schools, where Score Group offers students the chance to become apprentices. The backing of local community events continues to this day through the distribution of resources and the encouragement of education.
Safety is the number one priority within the Score Group of companies, where there exists a lasting commitment to providing a safe working environment for all of its employees and those affected by its work. Due to the diverse range of activities the company undertakes and the inherent risks that come from this type of work, it is essential to make sure no one is injured as a result of its operations. To achieve this the company operates in accordance with a comprehensive health and safety programme guided by the OHSAS management system standard. This system has been approved to the OHSAS 19001:2007 standard by Lloyd's Register of Quality Assurance since 2002 and all of the company's products are processed and supplied in accordance with ISO 9001 standards.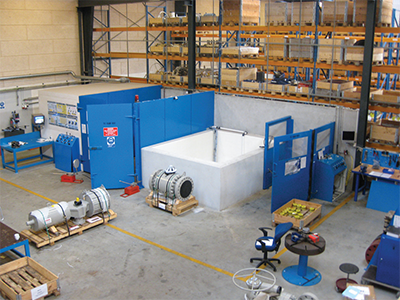 Since its formation Score Group has built and expanded its range of services to the point where today it includes valve sales, repairs and modifications, training, enhanced testing, welding solutions, surface treatments, subsea assemblies, condition monitoring and automation. Score Group also offers a unique valve and actuator service to support the specialist needs of an operator's deep sea field developments. A dedicated, technically qualified team of engineers and project managers are on hand to offer independent and impartial advice on the optimum choice of valve and provide stability through to delivery. To do this they have access to a multimillion pound inventory that helps exceed clients' needs within the desired timeframe.
Being a subsidiary of a global mother company allows Score Danmark to call upon its support and possess more core competences than any other valve supplier operating throughout the world. Coupled with the fact that it boasts the largest stock of products within the valve industry it is easy to see why customers are always keen to return to the Score Group of companies when seeking a solution to their problems.
Having handled itself well in the time during, and immediately after, the global economic crisis, Score Danmark, and the wider group as a whole, can take great pride in the fact that it was able to retain its best people. This conscious move to not trim the workforce in an effort to make a small short term saving in outlay has helped leave the company in a particularly strong position now that the market is slowly beginning to blossom again. With that booming market the business has seen a number of orders from clients, including a Maersk framework agreement to supply standard valves for the next three years with two one year extension options.
The company stresses a belief that the growth of the business is directly tied to the development of its people, and as a result, training and guidance is provided to allow team members to realise their potential. Together the company and its employees work as one to achieve Score Group's aim of being the very best in its field, providing the highest quality of standards to its customers and bringing continued improvements to its stakeholders. With this success in mind Score Danmark is grateful for the continued co-operation with its suppliers, particularly in meeting its very stringent and difficult deadlines, and proving that team work brings success.
Score Danmark AS
Products: Valves and accessories