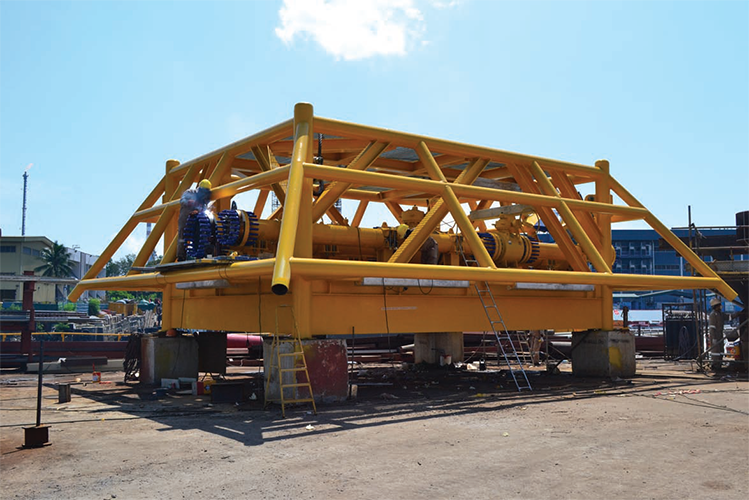 Flying high
Seagull Marine Pte Ltd is a Singapore based company offering steel pipe repair and fabrication works, marine machineries and electrical equipment overhauling for marine and offshore going vessels.
The firm was established in November 2003 and carries ISO 9001 certification, which is representative of the company's dedication to exceeding its customer's requirements.
The company offers an extensive range of services and has a specialisation in the fabrication of steel structures including hang off platforms, topside offshore grillage, ROV grillage structure, riser clamps, lifting clamps, jumper clamps, tensioner frame and layover arches, gang ways, spreader bars, spreader frames, heavy lifting trunnion, topside barge bumper structure and gas buster tanks and chutes. It also boasts a strong portfolio of hydraulic services including hydraulic power units, lifting and transfer devices, open and closed loop winches,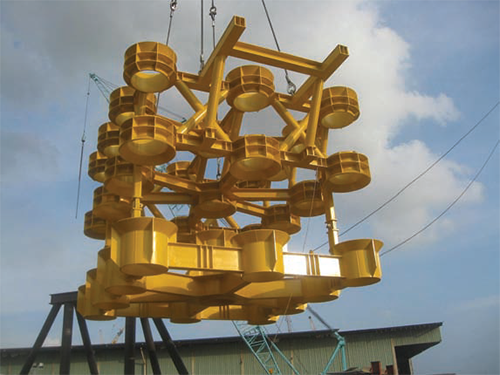 piston, vane, gear and gerotor type pumps and motors, cylinders, control valves and accumulators, ROV units, steering gear, control consoles, servo motors, grabs, jack up systems and pneumatic systems. To ensure that the highest level of quality is achieved, full hydraulic performance and function testing is carried out in accordance with manufacturer and industry standards and the relevant certification packages are issued at the close out of each project.
Seagull Marine is also able to provide an extensive package of CNC machining services, steel repair and fabrication, pipe repairs and fabrication, mechanical solutions, electrical equipment servicing, afloat repairs, voyages repairs, tank cleaning services and shipyard representation. Currently the company is the resident contractors of Keppel Shipyard and Keppel FELS. It also tenders services to Yu Lain Shipyard in China and Desan Shipyard in Istanbul. The company emphasises the quality of its work and its welders and welding procedures are class approved and able to comfortably undertake duplex steel avesta, aluminum low temperature (up to minus 101° Celsius), SUS 304, SUS 316L, high tensile and hardox welding. All of the firms steel fitters, welders and supervisors possess valid seaman books, which enable them to travel and sail with vessels, which allows them to carry out steel renewal work during a voyage. Repairs range from installation of bilge tanks, steel renewal in water ballast tanks and general outfitting works.
To ensure that its services are delivered conscientiously, throughout its business Seagull Marine places the utmost importance on health and safety and as an ISO 9001:2008 certified company it upholds and practices contemporary standards. It operates a dedicated safety department with a full time workplace safety and health officer and has been awarded Ministry of Manpower recognition and the Singapore administered Bizsafe Star Standard. It also operates to Occupational Health and Safety Management System Standard (OHSAS 18000). The safety standards and regulations are constantly instilled into the company's workforce to encourage a culture of responsible, sustainable practice and a healthy working environment.
Complementing its wide range of products and services Seagull Marine cultivates a growing equipment portfolio and has recently multiplied its fabrication activities especially in offshore structures and installation. The firm's steel and pipe fabrication workshop currently accounts for 30,000 sq ft in area, and the company is equipped with lathe machines, drilling machines, milling machines, one each of ten and 20 ton overhead crane, welding machines and lifting hoists and equipment. Continuing to expand grow its capabilities, the company has recently acquired a hydraulic plate-rolling machine. A fleet of trucks, forklifts and cranes ensures that it has full logistical support in executing its compliment of services.
Through its years of experience and continual focus on excellent customer service Seagull Marine has developed an impressive collection of partners and clients operating all over the world. The company has been regularly serving established clients like BW Fleet Management, Frontline Tankers Norway, Saipem Singapore, Bergebulk, Sapura Acergy, FMC Technologies, EMAS Offshore, DOF Subsea, Anglo Eastern Ship Management, Maersk Tankers, LDD UK, Coastal Energy and V Ships UK among others and the firms clientele base is steadily growing year after year.
Customers and customer service are at the heart of Seagull Marine's operation. It is keen to ensure that it is hitting and exceeding its clients' targets and implements a customer feedback programme to enable it to track its progress and better address it customers' needs. Every project undertaken by the company is rated by management of the project, schedule, quality of work from respective trade (hull/steel, mechanical, piping, electrical, cleaning, staging and general fitting) and customer service. Based on all feedback gathered from projects in 2010 and 2011, almost all projects were given either good or very good ratings for services rendered. Surajit Chanda, fleet manager comments that: "Seagull Marine is an exemplary ship repair vendor who thrives on their farsighted management team policies, hardworking and customer friendly workforce."
Seagull Marine has worked tirelessly to ensure that its works are carried out to the highest possible standard and has been rewarded with a wealth of loyal customers and vital repeat business. As the company heads into the future its impressive product portfolio and client base will undoubtedly see the company increase its market share and global profile.
Seagull Marine Pte Ltd
Services: Marine engineering solutions