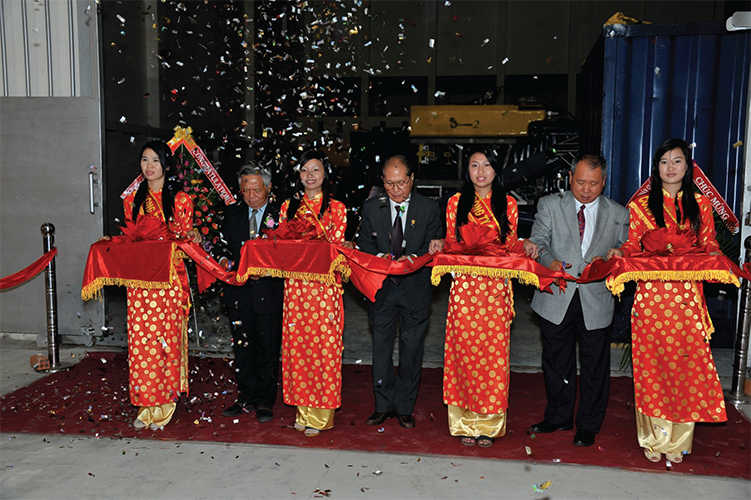 Seahorse Services Corporation
Equipped for the future
Established in 2006 in Vung Tau City, Vietnam, Seahorse Services Corporation (SSC) offers a broad spectrum of services to clients within the oil and gas industry through the operation of its seven remotely operated vehicles (ROVs) and associated equipment.
Speaking to European Oil and Gas Magazine, chairman and founder Duc Nguyen begins: "After six years of selling spare parts for ROVs I decided to open up my own ROV operations company in Vietnam in 2006. I am the first ROV dealer in Vietnam and the first to set up training for my personnel, including the training of the country's first ROV supervisor. Although we started with nothing, I had the most knowledge of ROVs in Vietnam at the time and knew how to tackle the market; with these two critical factors satisfied, the company grew from nothing to today having seven ROV systems in operation."
With a mission to provide high quality, safe ROV operations, provide cost effective maintenance and refurbishment services and to deliver well skilled, competent and efficient manpower to the ROV industry, Seahorse Services has the experience to meet and exceed customer expectations throughout the full lifecycle of a project. As the owner and operator of a diversified fleet of work class (WROV), light work class (LWROV) and observation class remotely operated vehicles (OBSROV), the company has experience in advanced inspection, IRM, site survey, drill support and subsea construction services. Furthermore, it provides ROV suitable tools such as 3D sonar, underwater hydraulic grinder and cutter, sonar profiler scan, VX ring removal, PH meter and boom camera to the offshore oil and gas industry.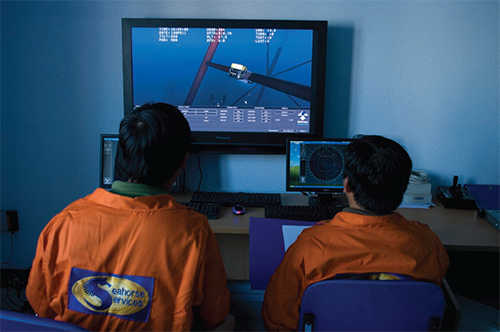 Mainly operating in Vietnam's domestic market, Seahorse Services has approximately 40-50 returning customers, the majority of which are also involved in joint ventures with Petrovietnam; a state-owned organisation that implements the exploration and production of oil and gas with the aim of meeting domestic and export demand. "Approximately 90 per cent of our clients are related to the Government, as most foreign oil and gas companies work as a joint venture with Petrovietnam; these are the partnerships that we chase," says Duc.
Despite being faced with the challenge of operating in a competitive market, Seahorse Services champions the maintaining of fair prices for high quality services. "Foreign companies tend to come over here and offer a very low price, which makes it difficult for us to compete against major firms. However, we have been able to continue expanding our operations due to our 10,000 square metre facility that is located in close proximity to all of the oil and gas projects in Vietnam. This gives us a big advantage to save cost and times when it comes to mobilising and demobilising," says Duc. "On top of this, we speak the local language and can interface easily with infrastructure and logistics, which is a major advantage when it comes to developing customer relations and keeping prices reasonable."
In a competitive environment, SSC has the facilities, equipment and expertise to confidently offer high quality ROV refurbishment and maintenance services to customers. Benefiting from a European manager with more than 25 years experience in ROV engineering, the company also has 30 experienced engineers and 15 technicians at its workshop with a 10,000 square metre facility that boasts a wide range of equipment and tooling such as lathe, milling, electronic workshop, hydraulic test bench and buoyancy modification.
"I am very proud of our facility," enthuses Duc. "Compared to other workshops in Asia ours is easily one of the biggest. We have one 600 square metre shop for the light work class and observation class ROVs and an 800 square metre ship with a 20 tonne crane for the work class ROVs. On top of this, we have a test pool, which is 12 meters long and eight metres wide; this is a unique strength for us as it has a three-knot current to test ROVs under real working environments. We have everything in-house, including a paint shop, machine shop and electronic shop so we can refurbish ROVs to be as good as new."
Working to quality standards in accordance with ISO9001: 2008, ISO14001:2004 and ISO18001:2007, the company has not had a single accident since its formation in 2006, which is due to its compliance of IMCA operation/maintenance procedures. "From day one of operations SSC has been a member of IMCA; we follow its procedures every day and appreciate the insight and knowledge the organisation has provided us to operate ROVs. It is my opinion that IMCA is worth every penny of its annual fee; without membership gaining projects would be very difficult because it is a requirement to follow IMCA regulations for most existing and potential clients in Vietnam and Asia," says Duc.
Nevertheless, the company's impressive safety record and reputation for quality has not been easily accomplished. "The engineers and technicians in the third world have a different mind set because they mainly come from an agricultural background and therefore have very little concept of accuracy. With this in mind, our main focus has been not only on following IMCA's training syllabus but also going beyond this by offering more simulation and real-time training in our test pool to ensure our staff have a comprehensive understanding of industrial quality. This has proven challenging because, even though we have an advantage from low cost labour, we do spend time and money on training and also end up with a lot of damaged sophisticated hardware. This is a challenge we have faced for the last seven years," explains Duc.
With a business plan in place throughout 2014, SSC will continue focusing on the training of its personnel while also searching for mutually beneficial partnerships with diving and construction firms in neighbouring countries around South East Asia. "We have a steady flow of ROV leasing contracts in place, so 2014 will be business as usual with our clients. However, over the next three to five years I believe our big achievement will be our people and we hope to have three or four homegrown supervisors over this time frame. Sometimes we hire supervisors from employment agents, but due to lack of regulations within the ROV industry people can say there are a supervisor when they can't even pilot an ROV. We want to develop fully trained, high quality staff that have the capabilities to take on this role; this is our major goal," Duc concludes.
Seahorse Services Corporation
Services: Repair and maintenance of surface/subsurface structures