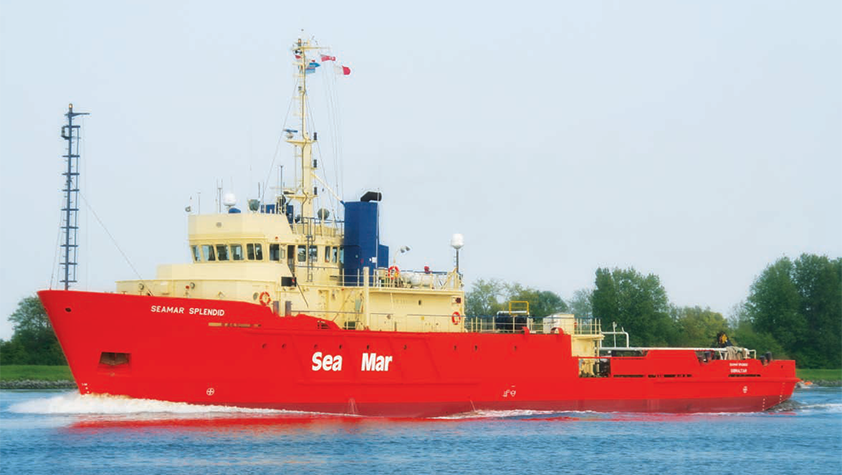 Complete service package
SeaMar Services BV is a market-leading agency services business that works in the offshore and shipping industries.
The company is widely known as the SeaMar Group of companies, which with its subsidiaries offers an all-round service package for the offshore and marine sectors in the North Sea market. This package encompasses such services as vessel management, vessel agency services, shipping, customs formalities, freight forwarding, and other services such as purchasing, vessel brokerage, and office/storage facilities.
Based in Den Helder in the Netherlands, SeaMar Services was established in 2000 by current managing director, Leo Balkema, who himself has more than a quarter of a century of experience in the sector. Speaking to European Oil and Gas in 2009, Leo said of the company's establishment: "We have a small team, which is very experienced in the industry, and which is familiar with vessel management. When I started the company, my database of clients came from the 15 years that I spent as operations manager, then general manager, of DSND/SeaTeam in the Netherlands. My colleagues have also been working in this industry for very many years. Because of this we are able to react quickly and competently to our clients' needs. We have been recognised for our flexibility and our know-how within our logistics operations. It is key to our success to ensure that lines of communication between ourselves and the customers are always open, and that we have a very personal approach."
Since Leo established the company it has continued to develop, both increasing in size and in the range of services it is able to provide. Early on in its life, as its service package increased and its list of clients grew, the company moved to a modern well equipped office space and warehouses, from where it still operates today. Continued expansion means that today SeaMar Services provides agency management and logistics services to the major offshore construction, survey and diving companies in the industry, operating a 24 hours per day, seven days per week service in every port in the Netherlands.
This extensive network is successful in large part due to the dedicated and highly experienced personnel that the company employs, all of whom have a wide range of knowledge in various aspects of the marine and offshore markets and a strong network of suppliers built on a solid, trusting relationship. As a mark of its quality, in October 2012 SeaMar Services was ISO 9001 : 2008 accredited by Det Norske Vertitas, and in June 2013 it received its AEO (Authorised Economic Operator) Certificate from the Dutch Customs.
It is in the field of vessel management and vessel agency that SeaMar built its reputation among clients such as DeepOcean, Subsea 7, Oceanteam, GSP Offshore (Grup Servicii Petroliere SA), Bluestream, and Fugro. Under this banner, the business covers all aspects of agency and management, so providing such services as vessel and project management, crew management, vessel brokerage, logistics support, and vessel agency services for vessels that visit Den Helder, Ijmuiden or any other port in the Netherlands.
In terms of vessel management, SeaMar is capable of managing a clients' vessel in an efficient and effective manner, carrying out manning, maintenance, dry-docking, certification, flag state issues, and HSE. It also is responsible for International Safety Management (ISM) and International Ship and Port facility Security code (ISPS) issues.
For clients visiting ports in the Netherlands SeaMar represents a reliable ship's agency with a 24/7 service and extensive supplier network, giving it the capability of fulfilling all vessel requirements at ports such as Den Helder, Ijmuiden, Beverwijk, Velsen, Amsterdam, Rotterdam, and Eemshaven. Services here, depending on client requirements, can include berth arrangement and pilot booking, pre-arrival notifications to port authorities, custom's clearance of cargo, immigration services, stevedoring, forwarding, stores and provision, and waste disposal including sludge and special waste.
To handle its activities in the shipping industry, SeaMar has a subsidiary, SeaMar Shipping BV, which was initially launched in 2001 and then re-launched in 2009. Since that time the subsidiary has been the owner and operator of the 'SeaMar Splendid', a modern vessel that can be utilised for air diving, survey and seismic support operations.
Speaking in 2009 at the time of the relaunch Leo said: "SeaMar Shipping is a ship owning company, launched in 2001 to widen our service package. At that time I bought a four-point mooring support vessel called 'Inspector'. We then began to do underwater, pipeline and platform inspections in the southern sector, and that last job we did was for Devon Energy in Brazil, as part of a geotechnical project. After that I decided to sell the vessel, as she was becoming a little too old. Now, in 2009, following the recent acquisition of the MV Highland Sprite from Gulf Offshore North Sea Limited, we have started up SeaMar Shipping once more."
Naturally, since that time SeaMar Shipping has continued to expand and the subsidiary now has various vessels for air diving, survey, seismic support and guard duties that are either owned or under management by SeaMar. The range of vessels gives SeaMar Shipping the opportunity to undertake a range of projects for prestigious clients. For example, in December 2012 the business announced that its vessel, SeaMar Splendid, had been awarded a five year contract with GDF Suez E&P Nederland to support the company's campaigns on the Dutch Shelf over the period 2013 to 2017. This charter commenced in March this year, with the vessel currently operational from Den Helder.
Another SeaMar subsidiary currently growing is SeaMar Subsea BV, which along with SeaMar Shipping is the other ship owning subsidiary of the SeaMar Group. Early in 2013 SeaMar Subsea entered into a contract with Shipyard de Hoop for the construction of a multi-purpose offshore support vessel that will be manned and operated from the Netherlands and registered in Den Helder. The DP2 class vessel is custom-designed to stringent environmental control specifications, with its diesel electric powerplant providing low fuel consumption, clean ship/green passport/SPS2008 and high comfort class notification. Upon delivery it will be the first offshore vessel to be built in the Netherlands to this specification, an indicator of SeaMar's innovative approach to its business.
The state-of-the-art vessel is set to be completed and delivered in the second quarter of 2014, and as well as its 'green' credentials it incorporates a number of other innovative design features such as a long jib length crane, triple moon pools, large under deck workshops and a four point mooring system.
Combined, these will give it the ability provide a range of support roles to the offshore oil and gas and renewables markets. In April SeaMar announced that the vessel has entered into a five year charter contract with DeepOcean, where it will be used for survey, IRM and trenching projects for DeepOcean's oil and gas and renewables clients. Upon completion the vessel will be named 'Deep Helder'.
SeaMar's services are not just confined to the ocean however, as the company can provide a full freight forwarding service whereby it can arrange for goods to be transported by air, sea or road to any destination. By air, for example, the company offers a complete collecting and delivery to airport service, as well as undertaking packing of dangerous goods according to IATA regulations, customs documentation and the handling and delivery of inbound shipments. Similarly, by road customers can rely on SeaMar to offer full loads/groupage, 'hot shot' courier services, oversized shipments and cargo insurance.
In many respects it would be simpler to note the services that SeaMar does not provide to its clients, which at present are few and far between. The company, through its dedication to services has developed the ability to offer a complete A-Z service package. With the company continuing to build on its reputation by adding additional niche services to its portfolio, there is little doubt that for customers in the marine and offshore industries, SeaMar is a name that they can truly rely on, whatever their requirements.
SeaMar
Services: Logistics and management services