A simple solution
Operating under its philosophy of 'improving by simplifying,' SEAONICS AS is a Norwegian company with the main area of focus being the design and production of innovative lift and handling equipment, as well as associated solutions for the marine and offshore industries.
The company was founded in May 2011 and successfully managed orders valued at several million Norwegian Kroner during its first year in operation. Today, SEAONICS continues to strive to supply market leading products and unique solutions to its clients.
In only a short time SEAONICS AS has distinguished itself as a trusted supplier of offshore lifting and handling equipment across a number of sectors including reservoir exploration, subsea construction and offshore supply. Additionally, the company differentiates itself from many of its competitors in that it supplies solutions for ocean trawling and oceanographic activities. While operating in a diverse coverage of market sectors undoubtedly protects SEAONICS from the turbulent nature of the maritime environment, there are also many similarities between the two industries, for example the demand for equipment. As SEAONICS' sales manager Jan Kjarstad explains: "The reason we stay involved in this area is that modern trawler winches operate 24/7, 365 days per year in extremely rough weather and harsh conditions. It acts like a proving ground for our products because if our winches can survive this kind of treatment then they are more than capable of operating in the oil and gas industry, so it is a mark of our overall quality."
The success of its strategy of offering a technically innovative product portfolio across a far reaching collection of applications is illustrated by the continued growth of SEAONICS in the years following its inception. During 2013 for example, the company enjoyed a turnover that doubled on the previous year, reaching 170 million Norwegian Kroner. Similarly, in terms of growth since SEAONICS was last featured in European Oil and Gas Magazine during May 2013 it has doubled its staff to include as many as 40 employees between its Norway and Poland offices. Commenting on the factors attributing to the company's growth Jan says: "We have seen increased sales and have grown very well into the offshore market, which accounts for most of the revenue. However, the strong supply of equipment to fishing vessels has also led to an increase of sales."
The increased revenue is partly due to the success of the SEAONICS Launch and Recovery Systems (LARS), which have performed very well in field operations. They are driven by permanent magnet motors with low gear ratios and increased efficiency. The LARS systems have increased the credibility in the market and have led to several repeat purchases. In addition we are now also delivering moonpool hatches and side doors, which are designed to improve the working conditions and safety for the crew. This completes the Launch and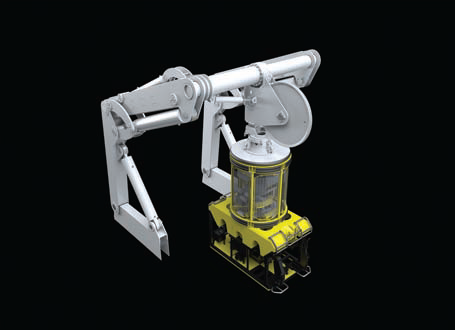 Recovery System as a complete package for the ship owner.
SEAONICS offers different types of drive solutions. The SEAONICS hybrid drive unit gives increased redundancy, speed and power. The hybrid drive unit is a state-of-the-art solution for safe load holding, speed and acceleration on winches, cranes and other advanced handling equipment. The machinery is powered by a combination of hydraulic and electrical motors. SEAONICS' hybrid solution reinforces redundancy, with two separate and independent drive systems controlled by a SEAONICS patented control system.
The hybrid drive unit boosts speed and power, yielding an increased flexibility of available speeds at different loads, with regeneration of electrical power to the vessel.
SEAONICS is now targeting the Inspection Maintenance and Repair (IMR) market through a partnership with Castor Drilling Solutions, which specialises in offshore drilling equipment. The complimentary competence between the two companies has been combined in the development of module handling towers for IMR vessels together with ship owners and end users, with good results.
Working with a host of trusted partners and suppliers, SEAONICS has built a strong network of clients and continues to grow. One such example is Oswald Elektromotoren GmnH of Germany, which supplies electrical machinery at a premium quality. SEAONICS has for a long time successfully employed Oswald PM motors with permanent magnets within its systems.
As 2014 continues SEAONICS is optimistic that it will enjoy further growth and success well into the future, as Jan concludes: "Of course there are a lot of challenges, there are many competitors out there and as a company we need to be in every area of the market with unique solutions that are also produced economically. It can be a very competitive market, however the future looks very bright, we have new customers and new products in development and we are looking to grow more. We are continuously working with customers and end users to improve their operations."
SEAONICS AS
Services: Lifting and handling equipment for marine and offshore