Hub of activity
A subsidiary of Johor Port Berhad, Seaport Worldwide is the landowner and master developer for the new 2255-acre Tanjung Bin Petrochemical and Maritime Centre (TBPMC), which is being developed in the region.
At the cost of 2.4 billion Malaysian ringgits (RM) the centre is one of the flagship projects in fulfilling the Malaysian Government's ambition of transforming south Johor into an oil and gas hub, supported by other major developments in the area.
With the entire site being developed in two phases, Seaport Worldwide is currently engaged in actively marketing phase one to attract potential investors. "From the marketing that we have done we are not short of interested investors," notes Mahusni Hasnan, chief executive officer of Seaport Worldwide. "At present we already have one tenant, ATT Tanjung Bin Sdn Bhd (ATB) which is a subsidiary of VTTI (a joint venture between Vitol and Malaysian maritime conglomerate, MISC). On the other hand, Seaport Worldwide is in talks with at least three other potential clients, which have shown their interest in taking up storage land at TBPMC. These are all international companies including oil traders and tank storage companies working with petroleum and petrochemical products.
"We are looking at signing agreements at present and have already put in place memorandum of understandings (MOU's) with some potential clients, and will complete the full agreements early next year. As for Phase Two, we have started to carry out soft marketing activities and the responses thus far have been positive. We are not short of enquiries and potential clients wanting to visit our development," he continues.
To facilitate the growth of the hub, in its role as master developer Seaport Worldwide has put in place the necessary infrastructure for oil and gas activities, such as a centralised waste collection and management facility, security services, sewerage collection and treatment plants, road maintenance, fire, rescue and emergency response facilities, and a one-stop centre for utility provision. These facilities will enable investors to take advantage of common services such as pilotage, towage, and mooring, and the use of liquid bulk jetties. By putting in place this standard infrastructure, Seaport Worldwide allows its investors to focus on building their own more specialist requirements and facilities.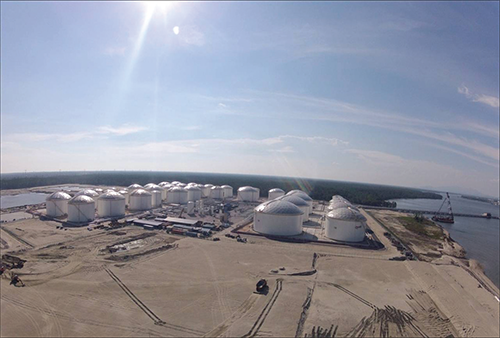 Location is a key factor in the potential success of the TBPMC as its position directly opposite one of South East Asia's major transhipment hubs, the Port of Tanjung Pelepas (PTP), means it offers investors the ideal site for establishing a petroleum hub in the region. In addition, the centre is situated at the mouth of the Pulai River, placing it at the centre of east to west and north to south trade routes, and adjacent to the Straits of Malacca Shipping Trade Lanes. As part of the development the TBPMC is also constructing a bridge across Sungai Pulai that will connect the Port of Tanjung Pelepas (PTP) to Tanjung Bin making it easier for people to move into the facility.
"We are in a very sheltered area away from the open ocean, yet with a natural deep draft of 17 metres, small to medium sized vessels can easily access the site to load and unload cargo," elaborates Mahusni. "Our geographical position is in a very strategic corner of the international shipping routes, which means we attract customers from the Middle East and further west, as well as Singapore, China, Korea and Japan to the east."
The development is also set to benefit from announcements in June that the Ministry of Finance Malaysia had approved the gazettement of TBPMC as a Free Trade Zone area. In addition, the Ministry also appointed Johor Port Berhad as the Zone Authority, making it responsible for all Free Zone matters within the area. This is hoped to attract more players towards the TBPMC to make it the new business centre for international oil traders in the region.
The strategic position of the TBPMC means it is ideally placed to take advantage of the growing demand for storage space in the region. Likewise, the centre is hoped to become an encouraging factor in persuading global petroleum trading companies to use Malaysia as a platform to enter the Asia Pacific market. "The Malaysian government is promoting south Johor as a new oil and gas hub across all upstream, midstream, and downstream activities, which is where TBPMC sits," describes Mahusni.
"Through our location we actually provide alternatives to the established Singapore market for tank storage, and in doing so we offer a very competitive and conducive business environment to our potential investors compared to other tank storage locations around the region. One of the ways this is being achieved is through tax incentives offered by the government subject to meeting certain criteria. In the next five to seven years we see TBPMC as forming a critical part of the downstream oil and gas supply chain, not only in offering tank storage capabilities, but also in the wider role of providing marine services and warehousing facilities," he concludes
Seaport Worldwide
Services: Oil trading, storage and processing