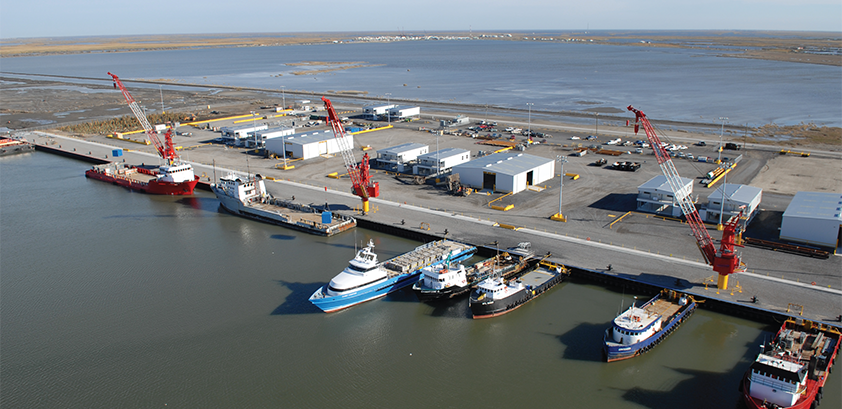 Providing a lift
Based in the coastal town of Great Yarmouth, Norfolk, Seatrax UK Limited manufactures and delivers a range of API 2C kingpost cranes to the world's offshore and marine industries.
These cranes are specially designed for numerous offshore applications including semi-submersibles, drill ships, FPSOs, TLPs, accommodation and lift barges, fixed platforms and quayside locations.
Widely recognised and respected for their high standards of operational safety, robustness of design, cost-effectiveness and ease of maintenance, each and every Seatrax UK crane is based on proven design principles and components that can be configured to a client's individual specifications. It is this that has gone a long way to ensuring that the company has remained at the forefront of the deepwater lifting sector.
From its prime location on the southeast coast of England and with its direct access to the North Sea and international waterways, Seatrax UK has been operating independently as the European arm of Seatrax Inc' since 1996, where it has been steadily building up a broad, diverse customer base.
Seatrax has remained at the forefront in the supply of 'kingpost' type cranes for many years by providing inherent crane safety through design and not through the dependence of gadgets. During that time it has established a great deal of patents for its designs. As such, all cranes are covered by third party certification, with those destined for North Sea or European customers having appropriate regulatory compliance and 'CE' marking in accordance with the European Machinery Directive.
"2010 saw what could be described as a continuous rise in the volume of enquiries, however this contrasted with a degree of reluctance from clients to actually place orders, something that the company put down to the continued effects of the financial crisis of 2009," states Graham Manning, sales and marketing director of Seatrax UK. "It was towards the end of 2010 that the situation within the oil and gas industry around the world began to show more positive signs of returning to growth. This was further evidenced when order volumes began returning to a steady level, with Seatrax UK securing its fair share, thus keeping its workforce busy and allowing the company to continue its support of smaller businesses in and around its local area."
A year later, in light of the success the company had been having, Seatrax UK was able to identify a trend in the market where clients were requiring the use of larger cranes: "In the last two years it has become increasingly noticeable that cranes are getting larger and larger in size," Graham continues. "Proof of this can be seen in one of the more recent machines manufactured by the company, which weighed in at over 350 tonnes, making it one of the largest kingpost type cranes ever built in the UK. This particular machine has since been successfully delivered to a UAE based construction company and has just completed sea trials prior to first use."
Taking these trends into account, the company began a programme of investment in its Great Yarmouth facility, adding new stores, workshop buildings and a range of new equipment with the aim to improve its capability and capacity: "What the company also found at that time was that finding enough skilled staff was actually becoming a problem," Graham highlights. "To counteract this we subsequently embarked on a recruitment drive, taking on a number of apprentices as well as semi-skilled or partly trained men and women looking to improve their own abilities.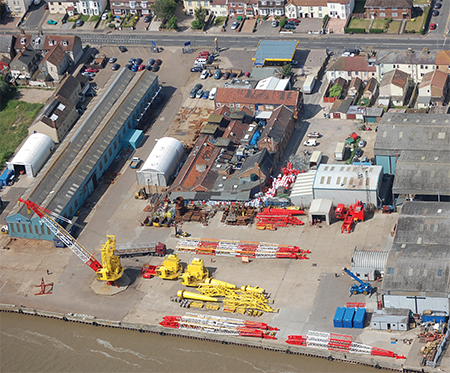 "With a raft of orders already being secured, 2012 continues in much the same way as 2011 ended for the business, Seatrax UK's investment drive remains ongoing with its workforce increasing in size, while the company has also acquired new land adjacent to its current premises, which will be developed into additional storage space and facilities."
Over the last couple of years, the company has prospered from a surge in new build jack-up and drill ship projects coming from Asia, with Seatrax UK recently securing several contracts in China. As its global reach continues to increase, it has become all the more imperative that the company is able to call upon its unique set of skills, strengths while promoting the technical benefits and operational advantages available with Seatrax cranes
Seatrax UK's 'kingpost' design itself is one of these key strengths, due to the fact that once installed it becomes an integral part of the supporting structure. Unlike the bolted slew bearing assembly type cranes, this type of welded connection has never failed due to gross overload through vessel entanglement.
Considering what else Seatrax UK has to offer, Graham asserts: "Customer focus, flexibility, high product quality and hard earned experience all contribute to the company's success. Seatrax UK's cranes, along with those delivered by Seatrax in Houston, have been installed on all types of facilities and applications, including fixed platforms, jack-ups, drill ships, FPSOs, pipelay or heavy lift barges and semi-submersibles, and that has provided it with a wealth of invaluable experience.
"Furthermore, Seatrax UK firmly believes that its crane design represents the safest form of offshore crane mount as it is welded directly to the supporting structures pedestal, whereas many other types of crane have a ring of bolts that attach the crane to the pedestal, which, if subject to a gross overload condition, can see a catastrophic failure. Seatrax's design eliminates this most critical point of failure along with downstream slew bearing repair and/or replacement – which is very expensive, time consuming and creates a huge headache for downstream operations."
This year, such strengths have been rewarded in the form of two awards presented at the 2012 Great Yarmouth Spirit of Enterprise Awards honouring the 'Overall Business of the Year' and the 'Great Engineering/Manufacturing Business of the Year'. "Seatrax UK took the decision to enter the competition this year as a way of not only showcasing its success and achievements over a long period of time, but also to encourage local business and provide a mark of recognition to its workforce for the high quality machines they are so good at producing," Graham enthuses.
"For many years Seatrax UK has stayed beneath the local radar somewhat, steadily going about its business manufacturing and delivering offshore pedestal cranes around the world," Graham adds. "By having a relatively small management team that keeps a constant close eye on its manufacturing activities and costs, in order to ensure competitiveness is maintained, Seatrax UK has been able to input a significant amount of overseas money into the local economy from its continued export of safe, reliable, high quality machines."
The company's expansion has also, understandably, brought with it several new challenges that it has had to overcome in order to maintain its strong market position. One of the more noticeable of these has been the increase in cheaper competition from the Asian region. The majority of these companies have the sole focus of winning orders by building the cheapest possible product, while paying little or no interest in furthering offshore crane safety, technology or reliability. It is therefore the job of Seatrax UK to emphasise to its customers, both old and new, its dedication to delivering quality and reliable products that will ultimately bring long-term benefits and savings.
"Looking ahead, with the implementation of API 2C's latest 7th Edition crane specification, Seatrax will be working hard to maintain its position at the top table of the offshore crane industry," Graham says. "By improving safety through design, rather than simply adding gadgets or accessories, the company can be confident of achieving continued growth, with periods of consolidation to underpin its performance and ability to deliver.
"The UK offshore sector is just one area where the company is striving to enlighten the industry on the merits of kingpost cranes and improve its market share as it looks to continue developing as a global 'offshore crane industry' player in the years to come."
Seatrax UK Limited
Services: Crane designer and manufacturer