Pioneering spirit
Great Yarmouth based designer and manufacturer of offshore cranes Seatrax (UK) Limited has had a successful, productive and busy year since it was last featured in European Oil and Gas in June 2012.
"We have continued to maintain and secure a level of business that will see us all the way through to mid 2015; and in relation to our steady growth we have taken on a number of new employees bringing our workforce to the 100 mark," said Graham Manning, sales and marketing manager of Seatrax.
"During the last 12 months most of our contracts have come from China, where many shipyards are actively engaged in the building of new jack-up drilling rigs. But other contracts have also been secured from UK and Middle Eastern clients. The continued search for new oil and gas reserves is fuelling the jack-up rig building boom, as the drilling contractors look to expand their fleets or upgrade/improve their older units, and with three cranes usually installed on each rig there continues to be a high demand for equipment such as cranes," Graham continued. "While the market is very tough, we see that the industry in general is really quite buoyant, this is further evidenced by the fact that our suppliers and competitors are also busy, meaning that money is being spent – ensuring the industry and manufacturing sector we are in, looks to be in a very healthy position indeed."
From its advantageous position in Great Yarmouth on the East Anglian coast, and with direct access to both the North Sea and international waterways, Seatrax UK has been independently operating as the European arm of Seatrax Inc. since 1996.
Today the company is internationally recognised as a pioneer in the supply of kingpost cranes and is known for its dedicated focus on crane safety through design: 'instead of depending on gadgets and add-ons!' according to Graham. A number of patents have been established over the years for these designs.
Seatrax cranes are based on proven design principles and components that can be configured to each client's unique specifications, resulting in them being widely recognised and respected for their high standards of operational safety, design robustness, cost-effectiveness and ease of maintenance.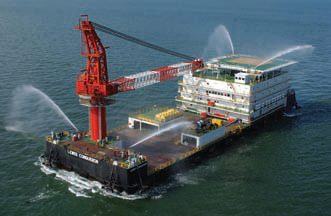 Working with many major oil and gas companies over the years such as Shell, BP, Chevron and ConocoPhillips, Seatrax now has hundreds of cranes in service worldwide and although it has a wide range of models available, the most popular machine being produced at the moment seems to be the model S7232. "This machine is fast becoming the 'benchmark' crane for drilling jack-ups with its useable capacity of around 83 tonnes easily covering the larger offshore service lifts," confirmed Graham.
Away from manufacture, he went on to highlight other new areas of development: "We have also seen a significant increase in the need for technical services, support and spare parts around the world and in this regard are looking to expand our Great Yarmouth facilities to ensure that we can continue to react accurately and promptly 24 hours a day.
"To assist with this Seatrax has introduced a range of 'in depth' training programmes covering the operation and maintenance of its cranes which were put together by its team of service engineers," states Graham.
The company has also noticed a trend over the last three years in which clients were requiring increasingly larger cranes; this was proven when Seatrax manufactured what was considered to be the largest kingpost crane ever built in the UK, which weighed in at over 350 tonnes and was destined for a construction-based offshore company in the UAE.
Taking these developments into account, the company began an investment and recruitment drive in 2012 which shows no sign of stopping, as Graham highlights: "We have and are continually improving the facility, which is now definitely bearing fruit, for example, we have enhanced our workshops, are currently revamping our road frontage and also have plans to extend the workshops to cater for the larger machines. On the labour front, we have taken on a number of local apprentices as well as semi-skilled or partly trained staff who can further develop their skills with us – enabling them to become fully trained members of our workforce."
As a pioneer in deepwater lifting, Seatrax has maintained this position in the marine industry with the introduction of its modern fleet of portable rental cranes. Designed in 2008 and manufactured from 2009, each portable rental crane provides exceptional safety, reliability, proven modular assemblies and simple maintenance procedures. "These cranes can be configured to meet customers' specific needs, are easily deployed and quick to assemble, while in full compliance with API 2C design and manufacturing standards," says Graham. "For the most part, the standard offshore rental cranes currently in use were mainly re-configured, long serving platform style cranes, some perhaps up to 30 to 40 years old, and as a rental machine they weren't built to any recognised international specification. This prompted our engineers to design a modern, state-of-the-art portable rental crane fleet, presenting the market with cranes that can be shipped, lifted and built on any platform, drilling rig or vessel around the world."
Looking ahead, Seatrax will be focusing on the successful completion of its current projects, the promotion of its burgeoning portable rental crane fleet within the UK and European offshore sectors and solid growth in its service and support activities.
By continuing to improve safety through design, the company is confident it will achieve and maintain growth, underpinned with periods of consolidation to ensure future performance and a continued ability to deliver.
Seatrax (UK) Ltd
Services: Crane designer and manufacturer